Why CBD cigarettes?
Welcome to the best CBD cigarettes of 2023. Smokable hemp has come a very long way since the "bush weed" days of 2016 (I recall the first time I smoked a hemp joint and almost lost a lung from the harsh smoke and coughing).
Today, not only do you have a multitude of great brands, strains, and varieties to choose from, but with regular cigarette sales on the decline, CBD cigarettes have stepped up to become a force to be reckoned with. But with so many to choose from, how do you know which are the best?
Rigorous testing to find the very best
This year, I acquired CBD cigarettes from 13 different brands, both popular and lesser-known ones, and put them through a rigorous testing process over a period of two months (seriously!), before finally naming winners.
I researched the companies, looked at lab reports, cut them open to look inside, had them independently tested (!) for potency, poked, prodded, and squeezed, and finally… I smoked them.
In this article, I'll tell you who the winners are and highlight my main reasons for choosing them. But if you'd like to find out more about the testing process or would like to read full reviews of each brand tested, then you can do so by following the links below.
Best CBD Cigarettes 2023
On the hunt for the best CBD cigarettes of 2023, I realized that what makes a CBD cigarette good or the best to one person may be quite different from another, as we all have different smoking preferences and needs.
What do you hope to get out of a CBD cigarette? Is it your preferred CBD delivery method, or are you looking for a tobacco substitute? Either way, I've got you covered.
It quickly became clear to me, within the variety of brands I tested this year, that the cigarettes could be split into two different categories.
Those that had very noticeable CBD effects, which will be ideal for people specifically looking for the CBD experience, whether it be for symptom relief or sublime relaxation.
Those that had less noticeable effects from CBD, which may be ideal for people looking to satiate a desire for smoking tobacco, as well as those looking for much lighter symptom relief (for example, mild anxiety).
So, for the purposes of this article, the best cigarettes for effects will be called the best CBD cigarettes and the best cigarettes for the physical smoking experience (as tobacco alternatives) will be named best hemp cigarettes.
Best CBD Cigarettes: The Winners
Our best CBD cigarettes for effects had three clear winners that immediately stood out from the rest of the competition. All three of these brands offered potent and noticeable effects, including almost immediate full body relaxation and an overall improvement in mood.
They also had, by far, the highest quality contents when we dissected them (you can see for yourself in our "what's really inside your CBD cigarettes?" article). These three brands were actually the only ones that looked like they were made with pure CBD-rich hemp flower, so it makes sense that they had the best effects.
Best effects and best value
After smoking one of these cigarettes, I notice that I carry my shoulders inches lower as I feel all of my muscles relax immediately. I feel very calm, positive, and feel a heightened sense of focus. I really like the way they make me feel.
In all honesty, the effects I felt after smoking a Vance weren't quite as strong as our second place winner (Toast), but at nearly a quarter of the price ($10 for a 10-pack), these cigarettes offer phenomenal value for money and should be your number one choice if you're looking for a potent and relaxing CBD smoke, but need to be careful with your budget.
They pull through just like a normal cigarette (think reds rather than lights) through a high-flow, biodegradable filter. The hemp paper used for the roll is very thin, so you're smoking almost nothing but pure hemp flower.
I noticed that these cigarettes burn more slowly than many of the others, meaning you can enjoy your smoke for longer, taking your time between tokes.
Vance also offers a Pure brand cigarette with an advertised potency of 150mg, which I actually think might be too strong for my needs. This one is already pretty spot on with how I like to feel after smoking CBD, but if you're looking for an even more potent smoke, then perhaps the Pure brand will be better for you.
Vance Global also runs full panel third party lab testing to ensure that all of their cigarettes are free from any harmful contaminants, such as pesticides, heavy metals, microbials, and mycotoxins.
How this company is able to provide such great quality, highly potent cigarettes at this price is anybody's guess.
Best luxury pick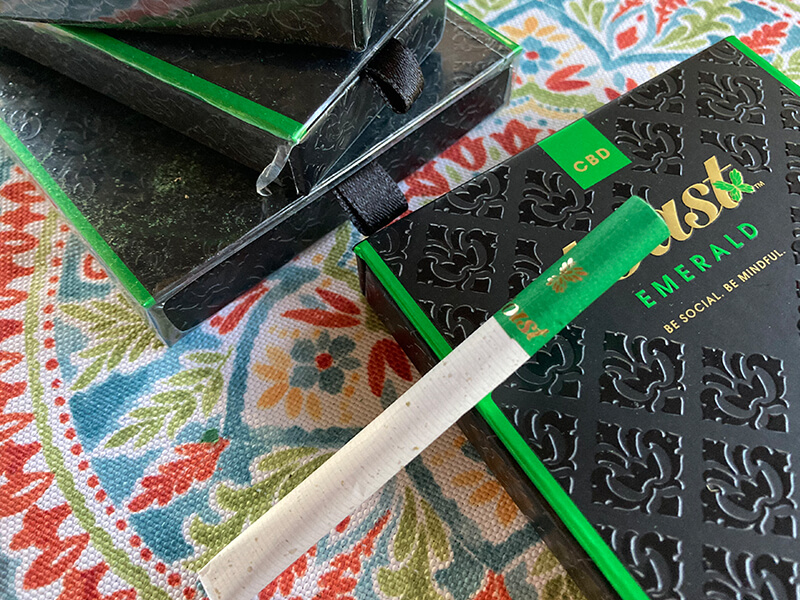 At $38 for 10 smokes (or "slices" as they call them), Toast Emerald cigarettes hit your wallet as heavily as they hit you, making them our top luxury pick.
As expected for the price, they are packaged beautifully in a stylish case with magnetic closing and a humidity pack to keep them fresh. I think they would make a great gift to yourself, as well as others (ideal for taking along to a dinner party).
Expect an awesome body buzz that sinks you deep into the couch, a smile to be pinned on your face, as well as a feeling that borders on giddy.
Toast Emerald cigarettes pull through smoothly, although I do find myself having to take smaller tokes, as the action is a little fast for me. I noticed that these cigarettes also burn a little faster than Vance.
Toast Emerald also runs full panel third party lab testing to ensure that their cigarettes are free from any harmful contaminants, such as pesticides, heavy metals, microbials, and mycotoxins.
Toast Emerald CBD Cigarettes Cut Open
🔬 Lab Testing
Their Claim: 100mg
Our independent testing: 122mg (view our lab results here)
Best smoking experience and strain specific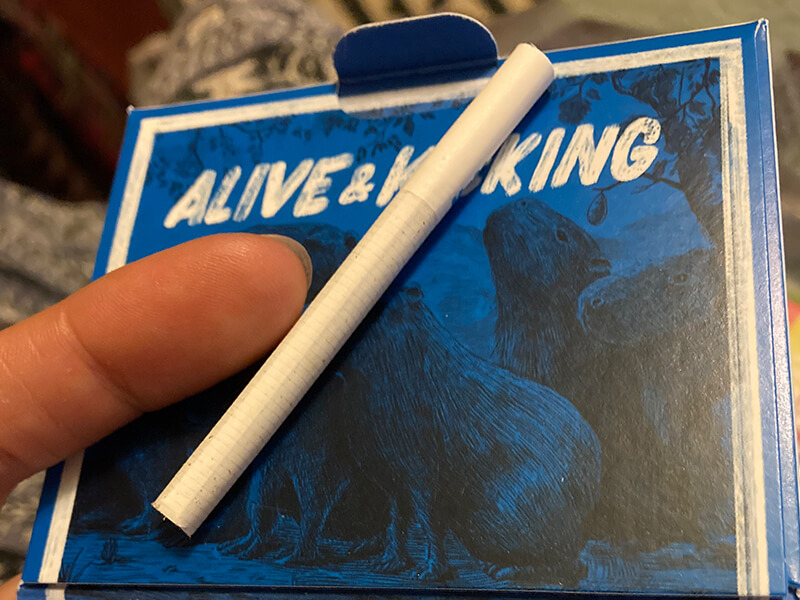 Like the others, Alive & Kicking had noticeable, enjoyable effects and they were also my favorite to smoke, physically. I didn't consider them for a higher position than 3rd place due to the fact that their third-party testing only verifies the terpene and cannabinoid profile of each strain (and not the safety). However, the company tells me that this is changing very soon which is great.
March 2022 EDIT: Full panel test results are now available, which is fantastic!
Alive & Kicking cigarettes contain just 0.35g of hemp flower, making them half the size of the others, so you know that quality is high as they're still managing to deliver over 60mg of CBD in each mini-smoke.
As a personal preference, this smaller size provided me with the most manageable portions. Their skinnier filter also offers a much slower, lighter toke, making them ideal for people that usually find cigarettes too harsh.
I also love the fact that their cigarettes are strain specific as it means that you can enjoy the same variety that you would find shopping for pre-rolls. It also means you can shop for a specific cannabinoid and terpene profile to match symptom-specific needs (for example, choose a strain high in beta-caryophyllene for enhanced anti-inflammatory effects, or one that's high in pinene for increased concentration).
At $29 for a pack of 14, they're not the cheapest smokes around, but they're definitely worth every penny.
Alive & Kicking CBD Cigarettes Cut Open
🔬 Lab Testing
Their Claim: 68mg in the hemp strain '78 Llamas
Our independent testing: 60mg (view our lab results here)
🤑 Never pay full price on CBD again!
Join the newsletter to get notified about the best deals on CBD so you never have to pay full price again.
By submitting this form you confirm that you have read and are agreeing to our privacy policy.
Best Tobacco Alternatives
It was important to me that I didn't dismiss the other cigarettes in the line-up just because they didn't have a really strong effect. As an ex-smoker, I know that hemp cigarettes also have great value as tobacco alternatives and if you plan on smoking them more regularly, then (like me) you might want something a little weaker that has more subtle effects.
My favorite hemp cigarettes were Oklahoma Smokes and Crème by Sugar, followed by Blaz and Plain Jane, as all four of these brands offered similar pleasurable smoking experiences, as well as some subtle CBD effects.
Best overall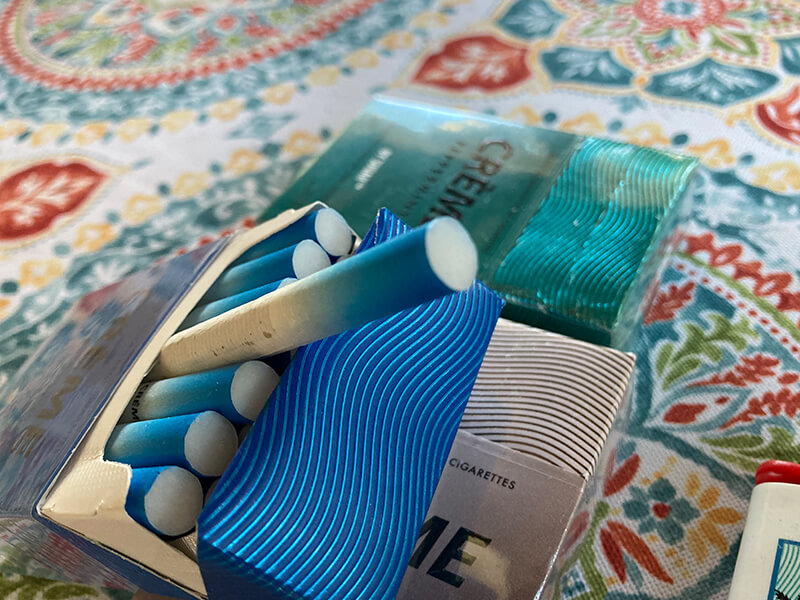 Crème by Sugar is one of the most affordable brands we tested at just $11.50 for a pack of 20. They offer a smooth, harsh-free smoke and subtle uplifting and calming effects. I really like the taste of these cigarettes a lot more than the others I tried, perhaps thanks to the slightly sweetened filters. They also have some nice flavor options including peppermint and vanilla.
They did very well in both experiments, with less than 10% discrepancy in potency and my peek inside the cigarettes landed them fourth place as they were much higher quality than all of the other cigarettes in this price range (possibly also contributing to their more palatable taste).
Crème by Sugar also provides comprehensive lab reports to show that third-party laboratories have tested their cigarettes for both potency and purity of product.
Best eco-friendly choice and most comprehensive testing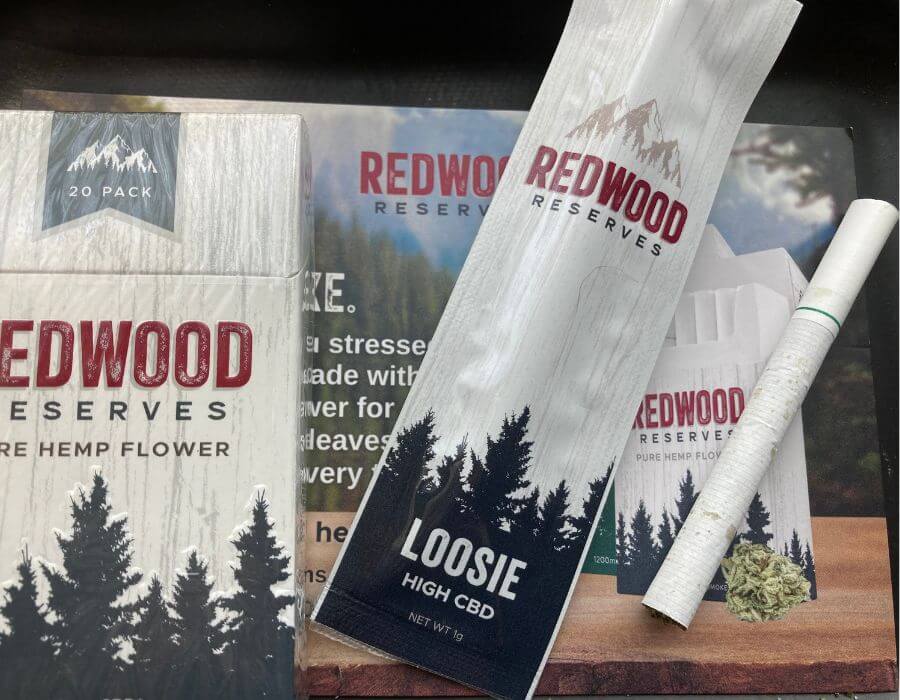 The team behind Redwood Reserves grow all their own hemp on their farm in Oregon, so I expected the quality of these farmer-owned cigarettes to be really high, and it is.
With their white filter tip, Redwood Reserves cigarettes look very natural and their filter is biodegradable (which I love). I was worried that this type of filter would pull through too fast, but it actually worked really well at slowing down the smoke as it pulls though, making it surprisingly smooth on the throat.
Each cigarette contains 60mg of CBD and they are a pleasure to smoke. Fresh-tasting and smooth, with nice gentle, chilled effects.
Redwood Reserves are also available in menthol and they have one of those flavor-crush filters that only activate the minty flavor when you crush the little ball inside. I really liked these, usually crushing the ball about halfway through the cigarette to enjoy a refreshing minty finish.
Redwood Reserves also offers comprehensive safety testing, as well as terpene profiling, so you know exactly what you're getting in each new batch of cigarettes. They are slightly more expensive at $12.99, but you can save money by buying cartons and by setting up a subscription.
Best low-odor smokes (for discretion)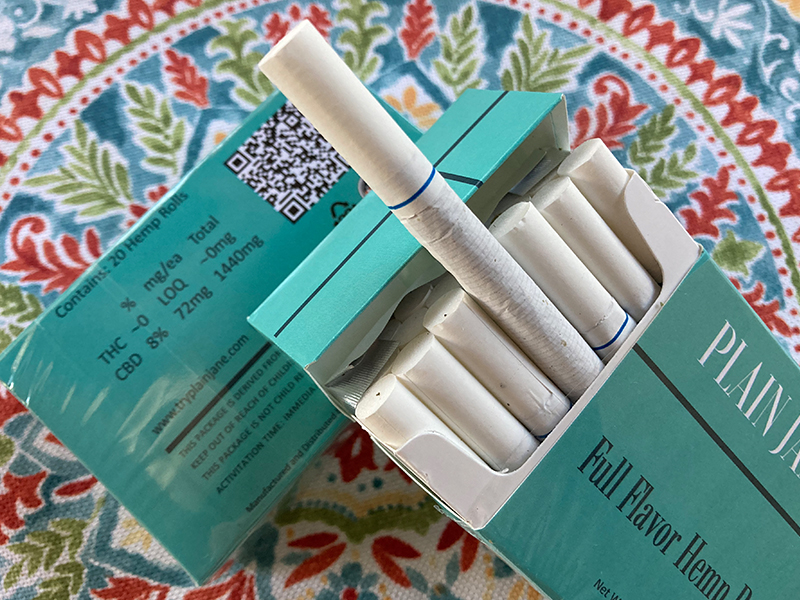 Plain Jane cigarettes also offer an enjoyable smoking experience, somewhat similar to Crème by Sugar and Redwood Reserves but, unfortunately, they don't conduct any purity or safety testing.
Plain Jane is, however, more affordable as they're sold in packs of two or 20 for $3 or $13 respectively. Their full flavor cigarettes taste pretty nice, pull through smoothly, and have subtle effects that certainly seem to take the edge off when you want to unwind and relax.
However, for the price ($12.99 for a 20-pack), I think you're better off with one of the other options here. What I DO want to recommend here is their special low odor cigarettes (they come in a white pack), which would be well worth the investment if you were looking for something a little more discreet.
Most of the hemp's natural odor is filtered out using water (I believe), allowing you to enjoy an odorless CBD smoke (that doesn't make other people think you're smoking cannabis).
Best CBG cigarettes
Best for focus and energy
This best CBG Cigarettes category is newly added (September 2022) so that I can recommend these "Focus" CBG Cigarettes from TIMBR Organics, which I've totally fallen in love with this summer.
I've tried one other brand of CBG cigarettes in the past and wasn't overly impressed by them, but these CBG cigarettes are a different story entirely.
They're a real pleasure to smoke as they pull through gently (so they aren't harsh at all) and they taste really great, not much different from how you'd expect a CBD or CBG pre roll to taste.
Each pack contains 1000mg of CBG, meaning you get 50mg of CBG in each smoke and the company has lab reports available online to verify this claim.
They don't have any purity testing at the moment, which is a shame, but at $13 or so for a pack of 20, these smokes are really affordable and I highly recommend anyone that enjoys the effects of CBG to try these out for themselves.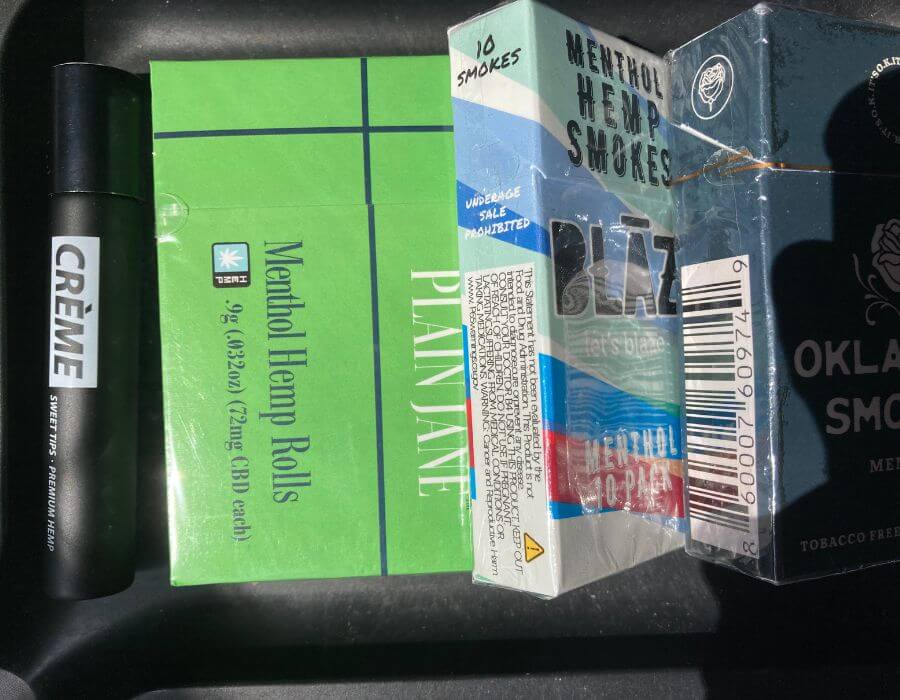 Best menthol CBD cigarettes
If you prefer menthol cigarettes, then you'll be happy to know that it is possible to get menthol-flavored CBD cigarettes, but not every brand offers this as an option. I've tried about seven different brands offering a menthol option, but my stand-out favorites are Crème by Sugar's peppermint variety.
UPDATE (May 2023): I also highly recommend the menthol-crush cigarettes by Redwood Reserves (now that I've tried them).
What are CBD cigarettes?
CBD cigarettes look just like traditional tobacco cigarettes, except they usually contain high-CBD hemp material instead of tobacco. Although, it is also possible to find CBD cigarettes that contain a blend of smokable herbs that have been infused with CBD.
CBD cigarettes allow you to consume CBD through the process of inhalation, which allows the CBD to reach your bloodstream a lot quicker than many other CBD delivery methods, offering more immediate symptom relief. CBD cigarettes are also becoming very popular with people that want to give up smoking tobacco, as a healthier and non-addicting alternative.
Is smoking CBD better than cigarettes?
Smoking CBD is better than smoking tobacco cigarettes, mainly because CBD isn't addictive like tobacco is. This means you'll find it much easier to go without and you'll probably smoke a lot less often. Hemp also contains a whole host of beneficial cannabinoids and terpenes.
You can learn more about smoking hemp vs tobacco here.
What are CBG cigarettes?
Like CBD cigarettes, CBG cigarettes contain hemp instead of tobacco, but high-CBG strains of hemp are used in place of high-CBD strains. The first ever CBG cigarette brand on the market was qiwi cigarettes. They boast several hundred five star reviews, but I couldn't find any 3rd party lab reports online.
CBD cigarettes vs pre-rolls: Which one should you choose?
How do CBD cigarettes stack up Vs. CBD pre-rolls? They both offer a convenient alternative to rolling your own, but what are the main differences and which one will suit you better?
Structural differences
Let's start by looking at how CBD cigarettes differ from pre-rolls from a structural angle.
Like traditional tobacco cigarettes, CBD cigarettes have a different filter and paper that create a very even draw with identical firmness and behavior each and every time.
On the other hand, pre-rolls (or your own homemade joints), have a variety of rolling papers and filter options, making each joint unique from another. Pre-rolls can also sometimes get packed too tightly or loosely, causing the cherry to drip to one side. I've never had this happen to me with a CBD cigarette, aort from once or twice when it was very close to the end (almost finished).
Differences in discretion
Smoking CBD cigarettes can also be much more "stealth" than smoking a joint, as they often look like regular tobacco cigarettes.
Plain Jane also offers low-odor CBD cigarettes (https://shrsl.com/3d01t) that may, at times, be preferable to a pre-rolled joint that will always look and smell like cannabis.
Quality and strain differences
When you buy loose CBD flower, it's much easier to check the quality of the hemp flower, than it is with CBD cigarettes or pre-rolls. You can see exactly what you're getting, can choose the strain that you want and consume it however you want.
Unfortunately, pre-rolls and cigarettes can sometimes be made with low quality and/or old hemp buds or even packed with trim, seeds and stems. This is why, as part of the testing process for best CBD cigarettes, I cut one cigarette from each brand open to take a look inside. If you want to see what we found (that way you don't have to waste any of yours), check out our "what's really inside your CBD cigarette?" article.
Always make sure to buy your cigarettes and pre-rolls from a reputable vendor so you get the best CBD flower possible.
Pre-rolls come with the added bonus of offering strain specific smokes, whereas most cigarette brands will use an unnamed, unknown blend of hemp flower to create their products. However, one exception to this is Alive & Kicking, who does offer small-batch, strain-specific, pure hemp bud cigarettes.
Smokability
Pre-rolls come with a cardboard crutch at the mouth end which not only makes it feel nicer in your mouth, but it also helps act as a barrier between you and the resin/tar produced by the burning plant. However, it doesn't do anything to filter the smoke coming through and some people can find these intense draws of smoke too harsh on their throat.
CBD cigarettes are usually much easier to smoke, thanks to the more robust filter that's included as standard. Filtered smoke feels much milder on the throat, making it easier to take larger, deeper draws.
They may also filter out some of the tar, toxins, and irritants that are produced in the process of combustion, but this positive health effect may be negated by the fact that you are able to take deeper draws, drawing the "bad stuff" deeper into your lungs.
Some people also worry that filters could potentially reduce the effects felt from the smokable hemp flower by filtering out some of the good compounds. Unfortunately, there's no science available to say whether this is true or not.
Summary
| | | | | | | | | |
| --- | --- | --- | --- | --- | --- | --- | --- | --- |
| Brand | Award | Price/package | Price/cigarette | Advertised potency (mg of CBD per cig) | Our lab results | % Difference | Price CBD/mg | Purity & safety testing |
| Vance Global | Best effects | $10 / 10-pack | $1.00 | 100mg | 97mg | -3% | $0.01 | Yes |
| Toast Emerald | 2nd best effects | $38 / 10-pack | $3.80 | 100mg | 122mg | +22% | $0.031 | Yes |
| Alive & Kicking | 3rd best effects | $29 / 14-pack | $2.07 | 64mg | 60mg | -4% | $0.035 | No |
| Blaz | Best tobacco alternative | $10 / 6-pack | $0.60 | 50mg | 52mg | +2% | $0.011 | No |
| Creme by Sugar | 2nd tobacco alternative | $12 / 20-pack | $0.60 | 50mg | 54mg | +4% | $0.011 | Yes |
| Oklahoma Smokes | 3rd tobacco alternative | $16 / 20-pack | $0.80 | 50mg | 49mg | -1% | $0.016 | Yes |
| Plain Jane | | $13 / 20-pack | $0.65 | 72mg | 64mg | -8% | $0.01 | No |
| Green & Wild | | $8 / 20-pack | $0.40 | 60mg | 68mg | +8% | $0.005 | No |
| Pacific Roots | | $13 / 20-pack | $0.65 | 46mg | 46mg | 0% | $0.014 | Yes |
| Rollies | | $15 / 20-pack | $0.75 | 114mg | 63mg | -51% | $0.01 | Yes |
| Shaman Smokes | | $10 / 20-pack | $0.50 | 40/16mg (CBD/CBG) | 27/16 (CBD/CBG) | -13% | $0.018 | No |
| Wild Hemp | | 13 / 20-pack | $0.65 | 75mg | 52mg | -23% | $0.012 | No |
So, there you have it. Our top recommendations for best CBD cigarettes and best hemp cigarettes for 2022. Why not have some fun and try different vendors until you find the product that works best for you?
If you're looking for the best CBD effects from a cigarette, then check out Vance Global, Toast Emerald, and Alive & Kicking. Or if you're looking for a hemp alternative to tobacco, I suggest you head over to look at what Crème by Sugar or Oklahoma Smokes has to offer.
If you've ever tried any of these brands and have something to add or share, then please do so in the comments below. I hope this article helps you find some awesome CBD smokes!
If you're still with me (all the way down here in the summary), then don't forget, you can also learn more about our testing process and results by checking out the links below. We've got full reviews on all 12 cigarette brands, including photos of what they look like inside and the lab reports that we had done.