⚡️ Featured product
Beautiful, potent, and highly effective CBD version of Girl Scout Cookies with 18% CBD.
On vendor's website
Genetic Lineage of Girl Scout Cookies CBD
Girl Scout Cookies CBD was created by the CBD Crew by crossing the original Cookies strain with an anonymous high-CBD strain. The CBD Crew's aim is to provide high-CBD strains for people suffering from illnesses as wide-ranging as anorexia, nausea, pain, asthma, spasticity, and stress. The CBD Crew is a joint venture of the Resin Seedbank and the Mr. Nice Seedbank.
The genetics of the original Girl Scout Cookies strain has always been cloaked in mystery. One website might tell you that GSC is a cross between Durban Poison and OG Kush while others claim that it's from parent strains Grandaddy Purple and Cherry Pie Kush, so which is right?
In an interview with CannabisNow, the breeder (Jigga) says he's never released the true lineage and he purposely put out several different rumors in order to deter and prevent copycat strains.
But wherever the world-famous GSC originally came from, it lends potent, beautiful, and fragrant buds to this highly sought-after CBD strain.
View the best CBD flower of 2023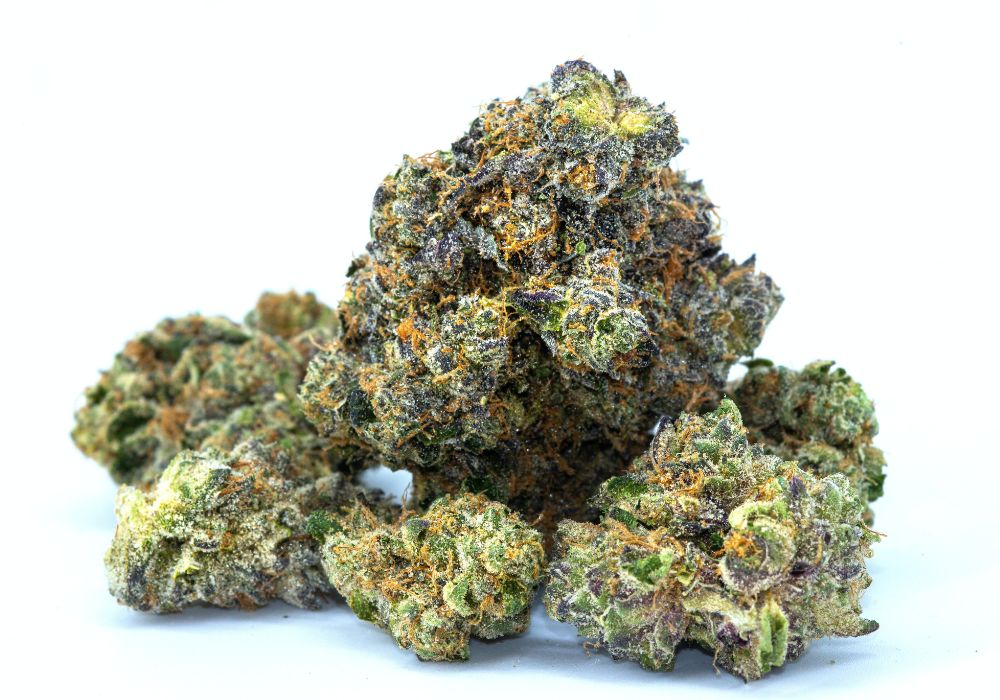 Girl Scout Cookies CBD Flower Strain Review
Before you buy your Girl Scout Cookies CBD flower, you should check that the vendor can produce a lab report that shows that the Delta-9 THC percentage is below or equal to 0.3%. If a strain contains more than 0.3% Delta 9 THC then it is classified as a cannabis strain and is not legal on the federal level.
You should also note that Delta-9 THC is different from the total THC amount quoted on the lab report. The total THC amount can be higher than 0.3% since it also includes Delta-8 THC.
Effects
This strain is potent (usually 16-18% CBD) and has a complex terpene profile which will leave you feeling uplifted and happy, but with beta-caryophyllene starring as the dominant terpene, GSC is also very soothing, almost numbing (and dumbing), to the senses.
This makes GSC a great night time strain when you want to unwind from the day's stresses. I wouldn't recommend it for times when you need or want to be productive as I feel too lazy after smoking it and find it difficult to focus and concentrate.
This strain is best categorized as an indica dominant strain due to its sedative, sleepy effects. Its potency and ability to relax you also makes it a popular medicinal strain for a variety of illnesses.
Common use cases for Girl Scout Cookies CBD are;
Pain (especially arthritis and migraines)
Insomnia
Stress
Flavor Profile
Girl Scout Cookies CBD draws many of its delightful traits from its OG GSC parent, its delicious dessert-like flavor being one of them. The diverse terpene profile sets up a pungent citrus-earthy stage, with a sharp and sweet background of vanilla, cherry, and chocolate.
Dominant terpenes:
Beta-caryophyllene
Limonene
Myrcene
Linalool
Pinene
Aroma
CBD Girl Scout Cookies is a highly aromatic strain that will delight the senses of those with even the faintest of sweet tooths, because cracking open a bag of GSC flower is reminiscent of opening a box of cookies. Cherry chip cookies to be exact.
Breaking apart the nugs just deepens the confectionary citrus aroma, meddling it with the more earthy aromas of cinnamon and cloves. You won't want to wait long before lighting up and seeing how she tastes.
Visuals
Cookies plants produce buds that are medium to large in size and classically beautiful. Bright, vivid green flowers that are generously cloaked in frosty trichomes with pale yellow and orange pistils.
Buy Girl Scout Cookies CBD Online
Every vendor and their dog was selling CBD Girl Scout Cookies flower a year or so ago, but I'm guessing a lot of folks ran out, as only one of our recommended vendors is selling it now.
Best vendors of Girl Scout Cookies
CBD Incubator score
i

Reviewed by our independent team
Plain Jane has a particularly beautiful, potent, and highly effective batch of Girl Scout Cookies in their inventory at the moment, weighing in at 18% CBD, which I highly recommend you check out (while it lasts).
The size and aroma of these buds will have you ordering more immediately and you can now order Plain Jane's CBD flower in jars too (at a small extra cost) to further protect and prevent the delicate and prolific trichomes from falling off the flower while they're in transit.
Coupon code: PLAINJ10