⚡️ Top 3 Arete products
Amazing, clean high with nice flavor and true euphoria.

⭐️ Very potent edibles
On vendor's website
High quality CBD flower that is perfect for anxiety & stress

⭐️ A+ grade flower
On vendor's website
Sound sleep with a real full spectrum gummy.

⭐️ Great for pain relief
On vendor's website
My introduction to Arete Hemp
I was introduced to Todd Campanella (owner of Arete Hemp) a few months ago, via a mutual acquaintance of ours, who spoke very highly of the products that Todd is producing at the moment, especially in the gummy, flower, and vape categories.
I asked Todd if he was willing to have some of his products tested by us here at CBD Incubator (where we highlight the good, the bad, and the ugly) and to say he was keen is an understatement. I received a box full of goodies less than a week later.
It's going to take me a little to test all of these products, but it's reassuring to be in touch with someone that's so confident in the performance of their products!
As you can see in this article about the best THCa hemp flower, a number of their strains made it to my "best of" list for 2023.
Arete Hemp Review Summary
Arete Hemp has one of those heartwarming, good news stories behind it that makes you want the brand to be successful immediately. Family-owned Arete Hemp was born from a solid belief in natural health and wellness, after Todd cured himself from Lupus, an autoimmune disorder, through diet and exercise alone.
He is a big believer in plant medicine and his passion for producing quality, healthy products is evident in his small-batch processes and his product's short, organic ingredient lists.
The high potency and affordable prices of all Arete Hemp's products make them the ideal choice for more experienced users and those looking for moderate to severe severe symptom relief.
Pros
Small-batch products and flower
Best THCa flower on the market (NEW)
Highly potent and effective formulas
All products tested by third party labs
Unique product selection
High quality, organic ingredients
Vegan-friendly gummies
Excellent customer forum with a wealth of resources straight from their customers
Supports charities
Cons
Not all third party lab results verify purity (only potency)
Potency may not be suitable for inexperienced users
Arete Hemp Reviews
From small-batch exotic CBD flower strains, to live rosin CBD tinctures to hella-potent THC gummies and carts, Arete Hemp really does have something for everyone.
Below I've highlighted some of my personal favorites so far.
Arete Hemp flower review
Arete split their flower into two different sections to distinguish between their luxury indoor grows and their more budget-friendly outdoor grows.
Their luxury hydroponics range includes a whole host of rare and exotic chemovars such as Arete Hemp Bordeaux flower, Atomic Haze and Dragon's Breath. Their outdoor flower collection also has a great range of exotic strains but you can also find some popular classics here, including Bubba Kush and Sour Lifter.
I was sent two different strains of Arete's CBD flower from their luxury range to try and was bowled over by the quality and size of the buds in both. This really is top-shelf hemp right here!
Both strains were fresh and cured perfectly which came across in how smoothly they smoked.
This is one of the great things about small-batch flower because they don't grow a lot of each flower strain, you know what you're buying is always from a fresh harvest.
Both strains had very strong, impressive terpene profiles which will have your nose stuck in the jar for much longer than normal, but there were huge differences in the way they smelled, tasted, looked, and felt.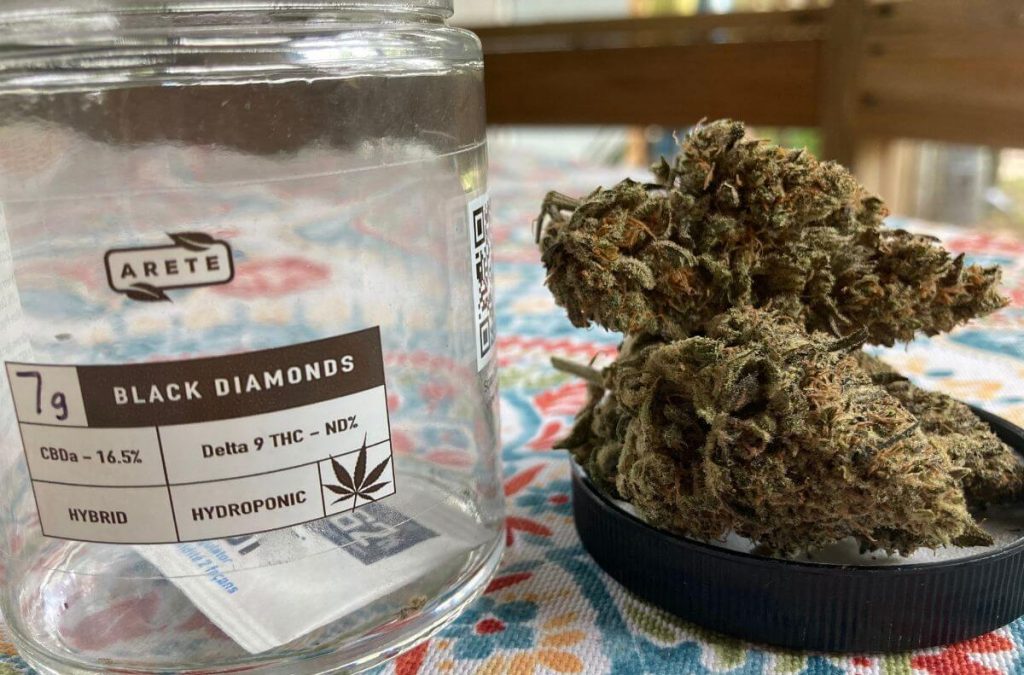 I started off trying the Black Diamond CBD flower which had beautiful, big dark green and purple buds, covered in trichomes that made the buds look like icing sugar had been dusted all over them.
This strain had quite possibly the smoothest hit I've ever had from hemp, or cannabis at all for that matter. It hit smoothly and then tasted wonderful, with strong diesel overtones and a faint clove-y, fruity, aftertaste. Black Diamond is nothing short of an absolute pleasure for the senses and I highly recommend that the connoisseurs among you get involved before it runs out.
According to Arete Hemp's website, this strain was grown by one the world's best cannabis growers (I believe it) and even they (Arete Hemp) were bowled over by how well this rare and exotic strain turned out.
Effects-wise, I found this strain to be very relaxing and imagine it would be great for anyone suffering from anxiety due to the calming effects of the CBD, myrcene, and beta-caryophyllene. The potent mix of CBD and beta-caryophyllene will also make this strain very popular with people suffering from pain and wanting to reduce inflammation.
I'm really looking forward to enjoying this strain again this evening. It's not overly sedating so I wouldn't say its use should be specifically limited to the evenings, but I do personally prefer more energizing strains for more productive weekdays.
Candyland is what we'd call a trimmer's dream due to its incredibly dense and heavy bud structure. Despite Candyland also being sent in a 7g jar, this quarter ounce looked so much smaller than the Black Diamond quarter ounce! Candyland's buds were more "perfectly" formed and were much brighter vivid green with vibrant orange hairs.
Again, the flower smelled out of this world when you took the lid off the jar, but strangely the terpenes didn't translate over to the taste department so well. It landed flat on my tongue, no sour gas, no skunk… I don't get it, where have all the candy aromas gone?
I checked out the terpene analysis of Candyland online and found that terpinolene is the dominant terpene, which only happens in around one in 10 strains, and very rarely within a CBD strain (I think this might be the first I've seen!).
Perhaps this flower strain will taste better in a dry herb vape? Luckily I've just been sent the AirVape Legacy Pro to review, so I will test my theory out and report back soon!
Effects-wise, this is a great daytime strain for me as it leaves me feeling uplifted and motivated, calm and focused, perfect for a day of work or errands. Emerging research also shows that terpinolene may possess some important therapeutic properties, including the ability to reduce the risk of heart disease.
Arete Hemp gummies review
It's safe to say that Arete Hemp has some of the most potent edibles on the market right now. Most companies are releasing gummies that contain between 10 and 25mg of CBD, so you can imagine my surprise when Arete Hemp's gummies land on my desk, with potencies of 50 to 75mg of CBD.
And check out the cannabinoid content of their cookies…
Delta 9 THC – 22.6mg
CBD – 143mg
CBG – 39.9mg
CBC – 15.7mg
Total cannabinoids – 221.2mg
Yes, holy cow indeed!
All the gummies I tried were also supremely enjoyable and had a great texture to them, which just goes to show that you don't need gelatin to make great gummies (yes, they're vegan too 🌿).
Arete Hemp's Dream gummies are by far the most potent CBD sleep gummies I've tried so far. With 50mg of CBD, 20mg of CBN, and 3mg of melatonin, they are literally double the dose of any other sleep product I've tried.
A word of warning to inexperienced users… You may want to start with half a gummy at first!
I dove straight in with a full gummy and slept more soundly and for longer than I have in ages. The first time I took one, I think I woke up once at around 3am and then not again until after 8am, which is super late for me!
I do, however, feel a little slower or groggier in the morning than usual when I take these, but nothing that a coffee or CBD tea won't fix within minutes.
The Euphoria gummies offer an amazing feeling of relaxation and relief. With 15mg of Delta 9 THC, 75mg of CBD, and 50mg of CBG, these gummies are loaded with cannabinoid goodness. I felt very relaxed, happy, and dreamy after consuming one of these over the weekend.
I also slept very soundly that night!
Arete Hemp Delta 8 review
Arete Hemp Delta 8 products are branded under the name Limitless. I've tried Limitless in the form of a vape cart (Blue Dream – very giggly and wonderful after just three or four puffs), but it was the Limitless gummies that actually impressed me most. Limitless gummies contain over 30mg of THC, which is made up of 20.3mg Delta 8 THC, 7,7mg of Delta 9 THC, and 1.5mg of Delta 10 THC.
The added Delta 9 THC really helps to round off these gummies and the high you achieve is more classic (less chemically feeling) than the usual Delta 8 high. These gummies didn't do much for my husband (who has a high tolerance for THC), but they worked a treat for me.
After just one gummy I felt euphoric, positive, giggly, totally stress-free, and I also experienced an incredible body high. These gummies would work wonders for pain and muscle cramps, as it felt like a wave of relaxation melted all my body's tension away.
It felt like a really clean high too, with no paranoia or anxiety creeping in, just bliss… and then munchies. Yes, I got the munchies pretty bad on these gummies – haha!
Arete Hemp THCa diamonds review
Diamonds are the hottest high THCa concentrates around and Arete has the best THCa diamonds around. It's fair to say that I've tried more than my fair share 😆 and these are definitely the most potent diamonds on the market today!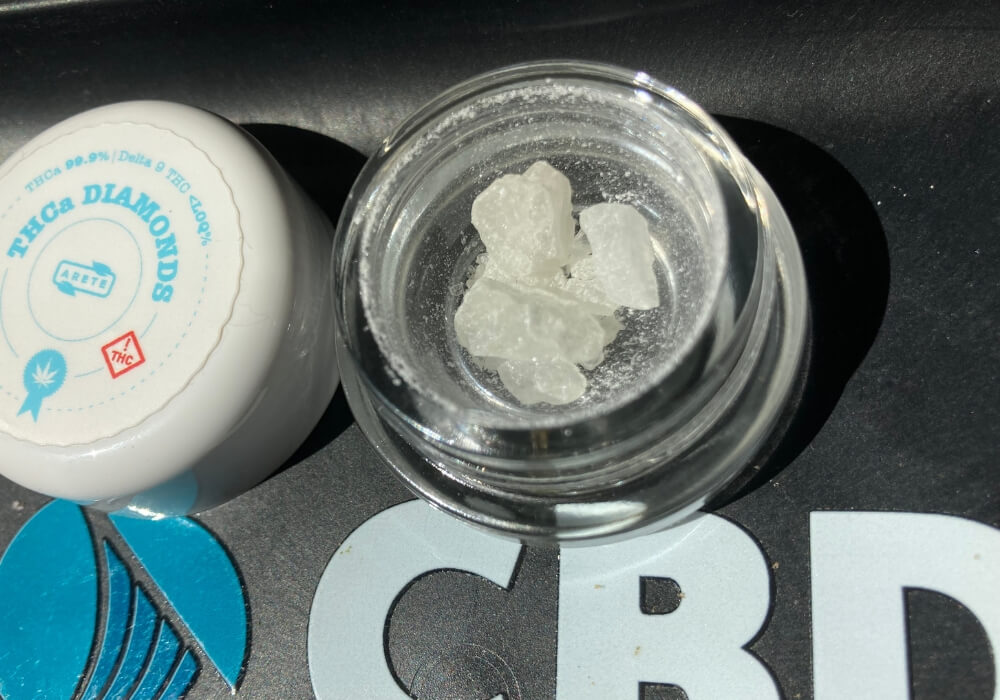 Choose Arete Hemp if: You want the purest, most potent THCa diamonds on the market
Arete Hemp's THCa diamonds weigh in at an incredible 99.96% THCa, making them the purest, most potent diamonds I've ever seen and tried.
Because of the lack of taste, I don't usually smoke or vape diamonds on their own, preferring to just add a crystal or two on top of a bowl of flower to increase the potency of what I'm smoking. They're really easy to use and I love having them on hand as I can change the experience of literally any flower I have lying around within seconds.
THCa flower is actually quite low in other cannabinoids, so if you add these THCa diamonds to your CBD or CBG flower, you'll enjoy a much richer cannabinoid profile from each hit. It alters the experience completely and boosts symptom relief too.
You can also use these diamonds to massively increase the strength of the THCa flower you're smoking to get super (dooper) high.
Pros
Purest THCa diamonds on the market
Third party lab tested for potency and purity
Easy to use
Use them to enhance any hemp flower you have lying around
Cons
Not my favorite to dab (no taste)
Is Arete Hemp legit?
Yes, I can 100% assure you that Arete Hemp is a totally legit supplier of quality, small-batch CBD products and flower. My experience of Arete Hemp has been very enjoyable, with some of the most potent, most delicious, and most effective products I've ever come across.
Why choose Arete Hemp?
These are some of the reasons why we love Arete Hemp's products (and why you should too).
Small-batch products and flower
Small-batch usually translates to more care being taken and better quality in the end product. Small batch cooking and cultivation allows greater control over the entire process. For us, the customers, small-batch means we'll always be investing in freshly baked cookies and freshly harvested and cured flower.
Cannabinoids are prone to degradation, so small-batch practices go a long way in assuring you that you're getting what you paid for. Products produced on a larger scale may be left sitting around for too long in the warehouse and start to lose potency.
Highly potent and effective edibles
As mentioned previously, Arete Hemp isn't shy when it comes to potency and their gummies are the most potent I've come across so far. So, if you feel like you need higher doses of CBD, when it comes to sleep gummies or playtime gummies, Arete Hemp is sure to impress you.
In fact, everything from their flower, to their live rosin tincture, to their cookies, have extremely high potencies, so Arete Hemp could be a one-stop shop for people that depend on higher doses for chronic pain or other severe symptoms.
Affordable prices
At first glance, Arete Hemp's products may seem a little expensive against others, but when you actually look at the cost keeping the potencies in mind, Arete Hemp actually works out to be more affordable (per mg price) than most other brands out there.
All products tested by third party labs
All products manufactured and sold by Arete Hemp come with third-party lab results to verify their potency. Their hemp flower is also accompanied by terpene testing to provide more information about the potential effects of each strain.
The Limitless gummies also come complete with purity testing which includes residual solvent testing, to ensure their semi-synthetic cannabinoids (namely the Delta THC's that have been produced from CBD) are clean and safe to consume.
Unique product selection
I also like the product selection that is offered by Arete Hemp, that is a little different from other vendors. They don't sell any topicals, for example, but do have a great selection of products made from (a vastly superior) live rosin extract (CBD oil and vapes).
I also love their edibles selection, which includes delicious cookies, TH-Cereal bars, and gummies, their Limitless range that includes all of their Delta 8 offerings. And not forgetting their selection of exotic, small-batch premium CBD flower.
High quality, organic ingredients
Arete Hemp are committed to producing healthy and nutritious products, with a NO JUNK policy. All of their products have a short ingredient list with no fillers or additives. In fact, all their ingredients have the word organic or unbleached before it, which we love.
Supports charities
Arete Hemp also likes to give back to the community and does this by supporting a handful of charities. A portion of all profits made by Arete Hemp is donated to charity, which is just lovely to know.
Verdict
We've probably made it quite obvious by now, but we were massively impressed with the quality and effectiveness of the products sent to us by Arete Hemp. Their high potencies and affordable prices makes them an ideal choice for more experienced users and those looking for more symptom relief.
Arete Hemp sell direct to the public, so you just have to visit their website to check out their product selection and see what hemp strains they have available at the moment. Spend over $100 and receive free shipping to anywhere in the states.