⚡️ Top Delta 9 THC gummies
Hemp derived Delta 9 gummies are as good as the real thing
When Delta 9 THC first appeared on the legal hemp market, I didn't really know what to think. I just couldn't quite wrap my head around the fact that there was now a legal way to access Delta 9 THC in my state. Can it really be as good as the real thing?
Well, the short answer is yes. Hemp-derived Delta 9 products can be just as good, if not better (thanks to third-party lab testing), than the stuff you see for sale in dispensaries.
Over the years, I've tested hundreds of different brands and products and today I'm going to share my top 5 best legal delta 9 gummies available in the USA right now. Sticking with this shortlist will ensure you receive high-quality products that actually work (and you don't waste any more time or money on duds).
What are the best Delta 9 gummies?
I'm sorry to say that for every good brand out there, there's at least two more selling weak, inconsistent, or completely ineffectual products. Due to the lack of regulation in the hemp industry, you need to be really careful about where you buy your Delta 9 edibles from.
Finding a brand that is as effective and as potent as they claim to be is actually harder than you might think, but I've tried hundreds so you don't have to…
My top 5 best Delta 9 gummies review of 2023
It occurred to me recently that while I have a lot of experience with D9 gummies (well, Delta 9 edibles in general), I'd never actually gotten round to putting pen to paper and deciding who does it best.
So, I put together a list of my favorite ten or so Delta 9 gummy brands and reached out to them for fresh samples so I could try them all again (look, this job is harder than it sounds, OK?).
This time I shared samples with a small team of testers and collated notes and scores from each before narrowing them down to a final five, which I've highlighted and reviewed below.
Hopefully my list of the best Delta 9 gummies on the market will help you navigate this overcrowded marketplace with more confidence and find a good Delta 9 gummy brand to move forward with.
I've been a big fan of Galaxy Treats' products ever since they appeared on my radar last year. Their product line-up is slightly more limited than some other brands, but what they do, they do extremely well.
At this time, their products are limited to edibles (mostly gummies) and vapes (carts and disposables), but they have a great range of legal highs on offer, including cannabinoids Delta 8 THC, Delta 9 THC, HHC, and THC-P, as well as kanna gummies (nature's MDMA) and Amanita Muscaria mushroom gummies.
Extra Strength Gummies Overview
$34.99 – 20 gummies per jar
2,500 mg of Delta 8, Delta 9, and THC-P in each pot (125 mg in each gummy)
Pros
Some of the most potent products on the market
Vegan-friendly
Great variety of fruity flavors
Comprehensive third-party lab testing for potency AND purity
Very affordable
Cons
Contain artificial flavors
Gummies contain more D8 than D9
Review
Like all the Galaxy Treats products I've tried, these gummies taste amazing and the end result is incredibly potent and effective. I felt pretty wasted for hours after taking them. Very happy and high as a kite.
Galaxy Treats warns on their website "do not drive or operate heavy machinery…" – NO KIDDING… I wouldn't dare! In fact, when you're taking these gummies I'd plan for a good 5-6 hours of downtime to enjoy their intensely euphoric and spacey vibes.
I originally reviewed Galaxy Treats last year, but these Extra Strength gummies didn't exist back then, so it was interesting to see how they stacked up against their Delta 9 Moon Babies.
I'd say their OG Moon Babies are better for those looking for a mild to medium high (one or two gummies). Whereas these new gummies are better for people who are looking to get high af. If you don't enjoy feeling high, then it's safe to say that this is definitely not the product for you!
I checked that they had lab reports up on their website for these new gummies and found them straight away, not only verifying the product's cannabinoid content, but also their purity and safety (having been tested for heavy metals, microbials, mycotoxins, residual solvents, pesticides, and foreign materials).
According to the lab reports, these gummies actually contain more Delta 8 than anything else. But with 13-15 mg of Delta 9 THC in them (depending on which flavor you get) they still have a similar (or higher) amount of D9 than most other D9 gummies I've come across.
Although these extra strength gummies are fairly new, they've already racked up a whole host of five star reviews from happy customers, including comments such as:
"It was like a 6hr event where your soul leaves your body" Anthony (03/06/23) and "Helped me tremendously with my sleep and pain. I'd like more melon flavor" LeeAnn (03/05/23).
Two of our testers at CBD Incubator also compared the effects to an out-of-body type experience, especially during the first few hours.
These gummies are quite possibly some of the best Delta 9 edibles I've tried, especially when you take the price ($35) into account. My only complaint is that none of their Delta 9 products are available in my favorite blue raspberry flavor (BlueRazz only appears in their Delta 8 products at the moment).
Use code CBDINC20 for 20% off
Another brand that impressed me from the get-go was R&R CBD and just last year they launched a sister brand for their legal THC products, named SummitTHC.
I wanted to see if they upheld the same impeccably high standards when it came to quality, taste, and performance, as they do with their CBD products…
Spoiler alert! They do.
Well, they wouldn't be on this list if they didn't, would they?
At the time of writing, SummitTHC has just three products in their line-up (they want to build slowly to maintain their high quality levels), including top-rated Delta 8 gummies, brand new HHC gummies (which I've not tried, yet), and the Delta 9 gummies featured here.
Delta 9 Gummies Overview
$42.49 – 20 gummies per bag
300 mg of Delta 9 in each bag (15 mg in each gummy)
Pros
Premium quality, organic ingredients
Natural flavors and colors
Most delicious gummies I've tried (and great texture)
Comprehensive third-party lab testing for potency AND purity
Risk-free, 30 day money-back guarantee
Affordable
Cons
Small product range at this time
Review
If you're looking for the best Delta 9 gummies for medicinal purposes (as opposed to recreational purposes), then I highly recommend SummitTHC's Delta 9 gummies.
Rather than focus on producing a product that will get you high as a kite, much of this company's efforts go towards making sure their products are as safe, effective, and consistent as possible, paying for more comprehensive third-party lab reports, testing for more analytes (more pesticides, more microbials, etc), than any other brand I've come across.
That's not to say that you won't get high when you take these gummies, because you will, especially if you take more than one! It's just to say that if you're looking for the best quality, purity, and safety on the Delta 9 THC market, then look no further than this brand right here.
These gummies taste amazing (just like their CBD gummy-rings) and are incredibly effective.
I sometimes take one gummy to help me relax in the evenings or on weekends and find that the 15 mg dose is about perfect for me to experience a mild but noticeably pleasant and floaty high.
Two of these gummies also provides incredible relief from pain, but you need to be prepared to take a few hours off whatever you're doing as you definitely can't work or run errands on this high of a dose. In fact, when it comes to SummitTHC's Delta 9 gummies, two would probably be my maximum dose.
Total Score
i

Independently tested by CBD Incubator
Use code WELCOME20 for 20% off
Hometown Hero (full brand review here) has been supporting and raising money for military veterans since 2015, but it was just a few years ago that they decided to jump into the hemp industry with a goal to widen legal access to veterans that could potentially benefit from cannabinoid therapy.
Over the years I've seen their product range, and loyal customer base, grow exponentially, so I was excited to try their products when they got in touch with me earlier this year, but I was also pretty nervous as I really wanted to be able to give them some positive feedback.
Thankfully, there was a lot to love (phew).
Live Rosin Delta 9 Gummies Overview
$60 – 10 gummies per bag
250 mg of Delta 9 THC in each bag (25 mg per gummy)
Pros
Choose your terpene profile (sativa/indica/hybrid)
Premium live rosin extract
Every purchase raises money for veteran's charities
Comprehensive third-party lab testing for potency AND purity
Risk-free, 14 day money-back guarantee
Cons
Not as affordable as some options on this list
Review
When it comes to Delta 9 edibles, gummies are just one of the offerings from the Hometown Hero team, along with flavored taffy candies, marshmallow and cocoa squares, and krispy squares, to name just a few.
The quality is really high across the board and the gummies featured here, in particular, are made with live rosin hemp hash, which is generally regarded as the most superior extract type on the market. This is largely due to the fact that it doesn't use heat or chemicals to extract and the result is a more accurate representation of full-spectrum hemp plant matter (and the all-important cannabinoid and terpene content).
Their small-batch production methods mean that the product consistency is spot on, when it comes to quality and potency from one (massive) gummy to the next. According to their website, their products are also tested no less than 6 times from seed to sale, to ensure their absolute safety before reaching you at home.
Hometown Hero also boasts a fantastic customer service team and a 14-day money back guarantee, meaning you can try out their products at home for yourself, completely risk-free.
The only negative aspect of this product for me is the price as, at $6 per gummy, they're not the most affordable Delta 9 gummies around. The higher price may prove to be a barrier to those with chronic conditions, looking for a product they can afford for everyday consumption.
Having said this, Hometown Hero does offer a subscribe and save option, free shipping, and a rewards program, which all contribute to a much more affordable price. Plus, don't forget that every purchase you make with Hometown Hero directly supports veterans in need.
In the year 2021 alone, Hometown Hero donated over $100,000 to veteran charities and supporting a brand like Hometown Hero makes you feel all warm and fuzzy inside (or is that the Delta 9?).
Total Score
i

Independently tested by CBD Incubator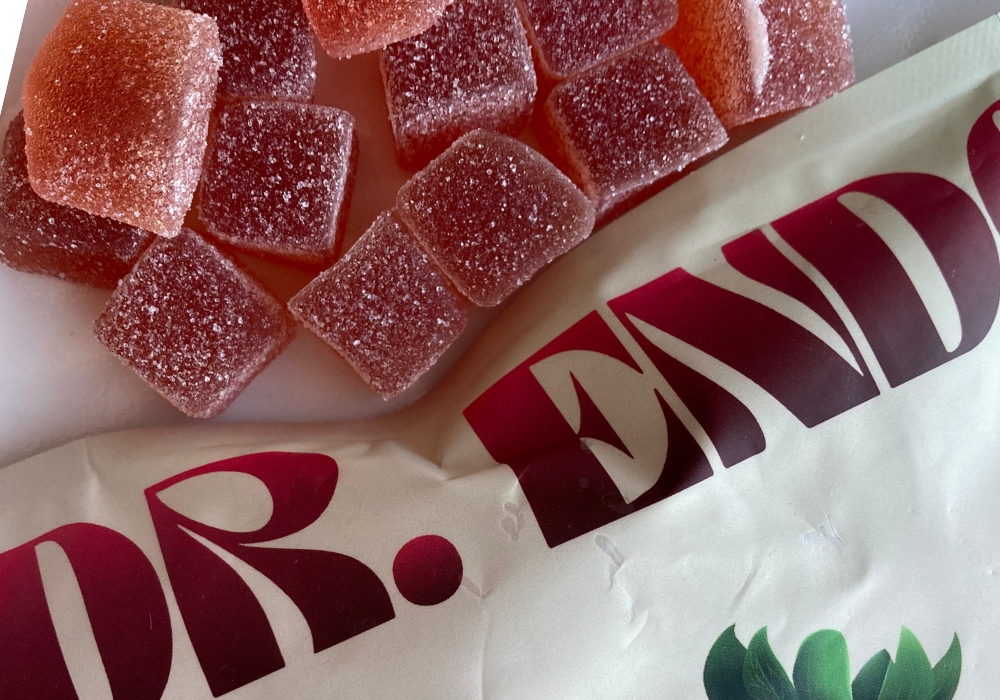 Over the years I've watched as their product line-up has slowly diversified into THCa flower, gummies, and more. These D9 gummies are fairly new to the market and are produced under the Dr. Endo brand.
Let's take a closer look at why I included them on this list.
D9 THC gummies overview
$64.99 – 60 gummies per bag
300 mg of Delta 9 THC per bag (5 mg of THC in each gummy)
Pros
Premium live resin extract
Shop by terpene profile (indica, sativa, or hybrid)
No artificial ingredients
Accurate dosing made easy
Cons
One of the more expensive options available on this list
Review
If you've heard that low doses of THC can significantly decrease intensity of chronic pain, improve mood, and help relieve stress, then you'll love these Dr. Endo Delta 9 THC gummies by Secret Nature CBD.
These gummies contain just 5 mg of THC in each tasty bite and, depending on your tolerance to THC, there may not be any immediately psychoactive effects from taking just one, but that's kind of the point of microdosing THC (health benefits without the high).
I love that these gummies are dosed with a smaller amount of THC per gummy (5 mg) as it makes accurate dosing, in 5 mg increments, so easy. Plus, a single gummy (or half) is ideal for microdosing, whether you're hoping to achieve long-term pain relief or reach your peak flow state in athletic pursuits.
Total Score
i

Independently tested by CBD Incubator
Use code 15LIFE for 15% off
Over the years I've tested and written about Binoid's huge selection of cannabinoids, including Delta 8, THC-P, and THC-O, as well as many different product types, such as vapes, tinctures, and gummies. But their Delta 9 hemp edibles didn't actually exist back when I first wrote about them (read my full review of Binoid here).
I hope to update the review soon, but in the meantime you can read about their hemp Delta 9 edibles here instead.
Delta 9 Gummies Overview
$37.99 – 20 gummies per pot
200 mg of Delta 9 THC and 1,000 mg of CBD in each pot (10 mg of THC in each)
Pros
Very affordable
Premium live resin Delta 9 extract
Each gummy also contains 50 mg of CBD
Thousands of positive customer reviews
Cons
Not the best option for recreational users
Don't sell straight Delta 9 THC gummies
No purity tested is carried out (potency only)
Review
Binoid approached the Delta 9 THC market a little differently from others by combining their Delta 9 with CBD at a ratio of 1:5. This THC and CBD mix makes these gummies fantastic for medicinal use as you've got a decent concentration of two different powerhouse cannabinoids in one product.
This 1:5 ratio of THC to CBD could also be ideal for people who used to smoke weed but had to stop due to anxiety. I find that the high amount of CBD in these gummies really smooths out the Delta 9 high, allowing you to enjoy mild intoxication while feeling totally relaxed in both mind and body.
And while these might be some of the best CBD & Delta 9 gummies on the market, I wouldn't necessarily recommend them to everyone reading this article for a couple of reasons.
Firstly, recreational users may want to avoid a cannabinoid blend that contains this much CBD, as the CBD may inhibit some of the intoxicating effects of the THC content.
Secondly, unlike the other four brands on this list, Binoid hasn't had their gummies tested by third party labs for purity (verifying that they're free from pesticides, heavy metals, microbials, mycotoxins, and residual solvents). They do provide potency testing on their website, but that's it for the moment.
Having said that, by keeping these and a variety of other costs down, Binoid is able to offer you these gummies at a much more affordable price than many other online vendors. And I can vouch for the fact that they're effective and tasty, making them a great option for those on more of a budget.
Dosage-wise, I would take one gummy for anxiety and/or stress or two+ gummies for pain, inflammation, and sleep.
Total Score
i

Independently tested by CBD Incubator
Use code CBDINCUBATOR25 for 25% off
How did we choose the best Delta 9 gummies?
All of the hemp-derived gummies featured on this list first met the following criteria (in order to be considered):
Third-party lab reports published online
Extracts made from US-grown, organic, industrial hemp plants
Responsive customer service team
Favorable customer reviews
Affordability
Then, during the real-life testing, testers were asked to consider the following:
Effectiveness
Dose consistency
Third-party lab results for purity
Taste and texture
Affordability
All of the products that made it to our top 5 list were highly effective and delicious and I would happily recommend any one of the products featured here to my family and friends.
Are Delta 9 gummies strong?
In terms of their ability to intoxicate, Delta 9 gummies can be very strong indeed. If you've never taken Delta 9 THC before, I recommend that you start with a dosage of around 5-10 mg Delta 9 THC. For me personally, around 30 mg is the upper limit of my comfort zone, but I know some people who will take a lot more and very much enjoy the experience.
Which Delta gummy is the strongest?
Delta 9 THC is more potent than all of the other Delta THCs, including Delta 8 and Delta 10 THC, so a gummy that contains 15 mg of Delta 9 THC will actually get you higher than a 25 mg Delta 8 THC gummy.
In terms of intoxication, gummy for gummy, the Extra Strength gummies that feature at #1 in our list (by Galaxy Treats) are, by far, the strongest Delta gummies we've ever tried, containing nearly 15 mg of Delta 9 THC, as well as a massive 110 mg of Delta 8 and THC-P..
How many Delta 9 gummies can I take?
In all honesty, you can take as many Delta 9 gummies as you like. The gummy strength can vary from brand to brand, so you're better off just starting with one gummy (or the suggested serving size) and then working out a more personalized dosage from there.
Just be aware that, while no human has ever died from overdosing on THC, you may experience adverse side effects from taking too much, including dry mouth, red eyes, nausea, diarrhea, anxiety, and paranoia.
How many Delta 9 gummies to get high?
The number of gummies you'll need to get high will depend on a number of factors, including the potency and effectiveness of the product, as well as your tolerance (to THC in general).
A dose of around 5-10 mg of Delta 9 THC is enough for many people to get high, but regular THC users may need double or triple that dose in order to feel the same effects.
So, what is the #1 Delta 9 gummy?
I'm afraid to say that picking just one Delta 9 gummy as the BEST Delta 9 gummy in the world just isn't possible, because the number 1 best will be different from person to person, from one day to the next.
For example, my number 1 Delta 9 gummy today will be one that curbs my anxiety but doesn't intoxicate me too much. This evening, the best Delta 9 gummy for me will probably be something that leaves me feeling a little more relaxed (and intoxicated). But ask me on a weekend and I may be in the market for something even more potent as I don't have to worry about experiencing a weed hangover the next day.