#6 Best mushroom gummies
Welcome to a world where taste and transformation entwine as we explore the best mushroom gummies of 2023. Whether you're seeking expanded consciousness, cognitive enhancement, an immunity boost, or a moment of calm, we've got something here for you.
The shroom gummies recommended here have all been tested personally by one or more of the CBD Incubator team for their effectiveness. Keep reading to find out how you can elevate your well-being and ignite your taste buds with these magical mushroom gummies.
What are mushroom gummies?
Mushroom gummies are a new and delicious way of taking a dose of magical or medicinal mushrooms. Instead of having to measure out powders or swallow down capsules, the mushrooms are infused with a tasty, fruity, chewy base, making them more convenient, easy, and palatable to consume.
Mushroom infused gummies may be crafted using mushroom extracts or a blend of the mycelial biomass and fruiting body.
Do mushroom gummies work?
As long as the mushroom gummies are from a quality, reliable source, mushroom gummies can and do work. All of the different types of mushrooms that feature in the gummies listed here (whether it's amanita muscaria, lion's mane, or cordyceps) come with a long list of benefits that are backed by scientific research.
Many people are surprised to find out that many modern-day pharmaceuticals are derived from fungi, including penicillin and lovastatin.
A full 40 percent of the drugs behind the pharmacist's counter in the Western world are derived from plants that people have used for centuries, including the top 20 best selling prescription drugs in the United States today.

Source: United State Department of Agriculture
As long as you buy your mushroom infused gummies from a reputable supplier, they can achieve a multitude of benefits including; relief from pain and anxiety, a healthier immune system, boosted brain function, better energy levels, and more.
We've done the research, so stick to one of the brands listed below to make sure you get what you pay for. All of the brands recommended below are:
Lab-tested by third parties to verify potency and purity
Real-life tested by us (against many different brands) for effectiveness, taste, and affordability
Mushroom gummies review
If you're looking for the world's best mushroom gummies, then we've got you covered. OK, maybe not the world 😆, but we did do some pretty thorough testing in both the US and UK to find our top 6 brands featured here.
Best magic mushroom gummies for a psychedelic experience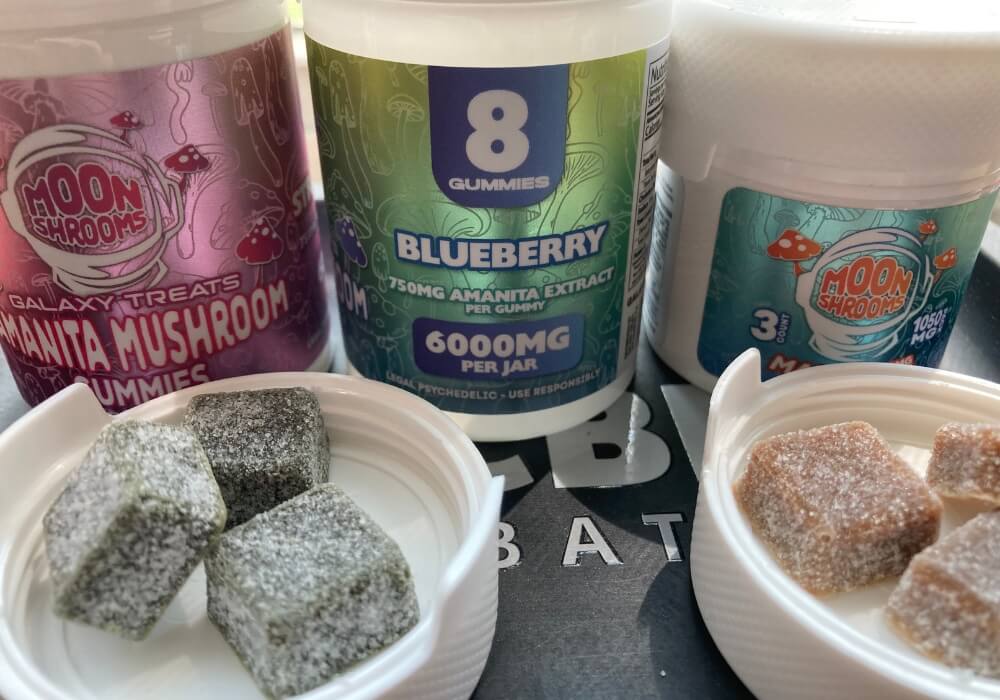 Galaxy Treats Moon Shrooms (750mg) contain a large dose of mind-expanding and transformational amanita muscaria.
It took ages to test the gummies that fell into this category, simply because it's just not possible (or healthy) to spend day after day on another planet. But test we did! And these high-dose Moon Shrooms from Galaxy Treats came back as winners from every tester involved in this "psychedelic" category.
They're definitely very different from psilocybin mushrooms I've taken in the past, but as far as legal shroom gummies go, these are the best psychedelic mushroom gummies you can buy.
If this is your first time experimenting with amanita muscaria, I highly recommend that you start with half a gummy to make sure they don't disagree with you, as they can make some people sick.
In all honesty, taste-wise, these gummies didn't score the highest. I mean, they're pleasant enough, but I've definitely tasted better. However, I still think they're the best amanita mushroom gummies for two reasons; the effects and the affordability.
The effects after taking just one gummy are very pleasant indeed. They took a while to come on (around an hour and a half, I think) and at first, I felt more energized and stimulated, but it was almost like a second phase kicked in about an hour later (time escaped me). In this second phase, I felt more relaxed, sedated, and blissful.
I felt happy and floaty, and I also became hyper-aware of my surroundings. Colors and sounds around me became more intense and music seemed to take on a completely new meaning.
However, these effects were still very mild in comparison to other psychedelics I've taken so, if you're looking for a more transformational experience, you might want to experiment with taking more. But these gummies definitely offered more noticeable effects than the other amanita gummies on the market (gram for gram).
Price-wise, these gummies also beat the competition out of the water. They're the most affordable amanita mushroom gummies on the market (6000 mg for just $35.99)!
Galaxy Treats also sells a range of quality cannabinoid products that can be used for recreational and/or medicinal purposes including: Delta 8 THC, Delta 9 THC, HHC, and THC-p, in the form of vapes, gummies, and other edibles. If you'd like to learn more about Galaxy Treats' products, including their award-winning Moon Babies gummies, check out my full review of Galaxy Treats here.
Best mushroom gummies for anxiety and general wellness
CBDfx Wellness Mushroom Gummies contain a blend of mushrooms (including turkey tail, lion's mane, cordyceps, chaga, shiitake, red reishi, and maitake mushroom) with a broad-spectrum CBD booster (THC-free). A single serving (2 x gummies) contains 50 mg of functional mushrooms and 50 mg of CBD.
Like most other people, I tend to suffer from anxiety from time to time. In some case the trigger is obvious (important work events or the day after having a few drinks), but I do also sometimes find myself feeling anxious for no good reason at all sometimes.
Luckily, it doesn't seem to matter what's causing my anxiety as these gummies nip it in the bud. It does take around 30 minutes for the gummies to kick in, but once they do, it's like a wave of calm washing over you. It feels like my brains been rewired to think more positively and the knots/butterflies in my stomach completely disappear.
This combination of functional mushrooms and CBD also works wonders in helping to lift my mood, and improve focus and motivation levels. In fact, I started taking these gummies on a more regular basis and have definitely noticed improvements in my concentration and productivity.
If you'd prefer a more relaxing "wellness" blend of mushrooms, then CBDfx also has an "Unwind" CBD/adaptogen formula, but it's only available in a tincture at the moment.
These Wellness Mushroom gummies are my new favorite product from CBDfx (previously it was their Wellness CBD/CBG tincture), but they have a wide range of high quality CBD products (for humans and pets), as well as some legal THC products. Check out my full review of CBDfx here.
Best cordyceps mushroom gummies for energy and endurance
Troomy believe that feeling good should be both natural and easy. They want their products to help you find your "true-me", and these cordyceps gummies will work wonders at providing you with an extra boost of energy and adding a spring to your step.
Troomy's cordyceps mushroom gummies contain a whopping 800 mg dose of cordyceps mushroom extract in a 2 gummy serving. At $34.99 a bottle, they're not the cheapest gummies on this list, but you could easily split the dose in half and still achieve great results with 60 x 400 mg doses.
After taking these gummies, I definitely noticed a difference in my performance when I was at the gym or working out at home. In fact, I've stopped taking my regular pre-workout drink in favor of these. I have to take them a little sooner (about 40 minutes before working out), but they feel so much more natural (no more tingling), giving me a workout boost with all the caffeine and chemicals.
These gummies also scored highly with our team of testers who agreed that these gummies offered significant benefits to energy, stamina, and endurance levels, offering a more affordable and healthy solution to daytime fatigue than other options on the other market (coffee and energy drinks).
Like the other gummies produced by this brand (daily blend, calm, sleep, and focus), these gummies are absolutely delicious, proving that you don't need artificial ingredients to make a great-tasting and texture gummy.
These gummies contain all organic and natural ingredients, and the brand utilizes pectin instead of gelatin, making them vegan-friendly too.
When you receive your order, you'll also receive a postcard and leaflet with easy-to-digest information about the most popular medicinal mushrooms (and their uses), making them a great option for newcomers to this market.
Best reishi mushroom gummies for immune support, healthy aging, stress, and sleep
Fungies Reishi Mushroom Gummies contain a massive 500mg of reishi mushroom to provide everyday stress relief and improve sleep, as well as support healthy immune function and healthy aging.
Two of our testers started sending in positive feedback after just a couple of days, reporting improvements in sleep. Then, within a couple of weeks, all three of our testers reported feeling much more relaxed, less fatigued, and less run down than they had before the testing started.
Out of all the reishi mushrooms gummies we tested, these gummies received the highest test scores across the board, which was half expected as they contain a much higher amount of reishi mushroom extract than many of the others.
As an added bonus, these gummies taste amazing (delicious apple flavor) and cost just $19.95 for 60 servings. That's just 33c per day, dropping down to 27c per day if you set up a subscription.
More potent, more effective, and more affordable – what's not to like?
Alongside these reishi mushroom gummies, Fungies also produces cordyceps mushroom gummies, for energy and endurance, and lion's mane mushroom gummies, which are great for focus, memory, and general cognitive function. Both are manufactured to same high quality and standards as these, so you can feel confident in picking whichever one you think you need the most (or all three!).
Best mushroom gummies for microdosing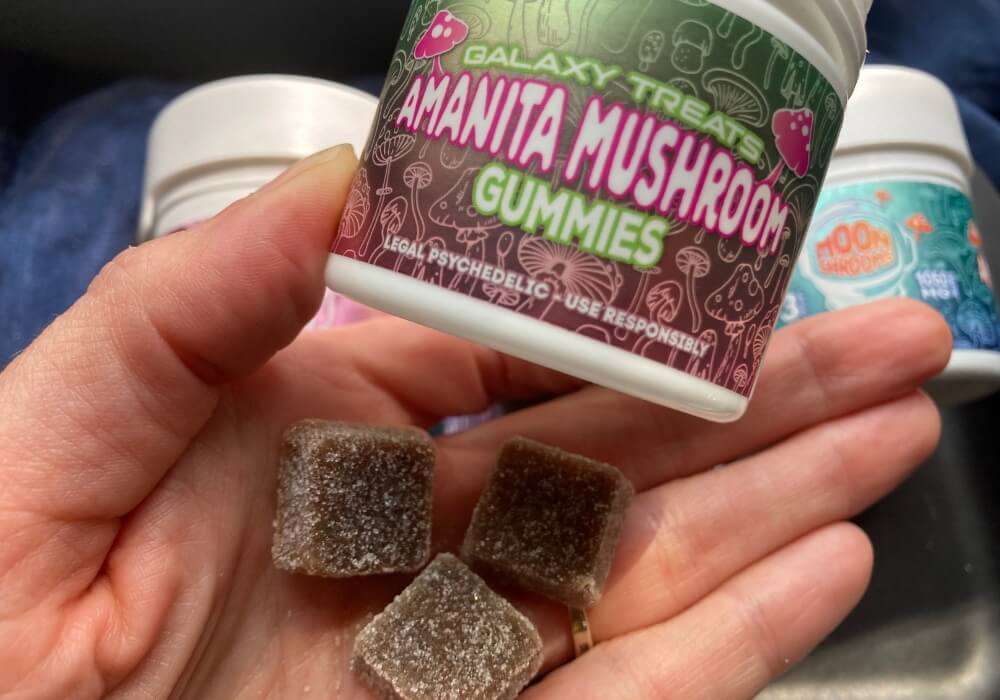 Not to be confused with the Moon Shrooms at position #1 on this list, these lower dose amanita mushroom gummies from Galaxy Treats contain 350 mg of amanita muscaria per gummy. They're not officially promoted to the microdosing market, but they are the most ideal option for it.
As I mentioned previously, of all the amanita muscaria gummies we tested and researched, Galaxy Treats Moon Shrooms got the best feedback and are, by far, the best quality I've seen on the market. The purity and quality of a product becomes even more important when you're considering taking it on a regular basis.
Like all of the products sold under the Galaxy Treats brand, these gummies are third-party tested for potency and contaminants. A surprising amount of these types of gummies claim that they are tested, but they have no proof online and didn't reply to my emails when I asked to see it.
Although it's relatively early days, these gummies are producing real results from our testers that include small reductions in pain, improved sleep, and more consistent reports of boosted mood, energy, and focus.
I've taken these gummies too and definitely noticed an elevation in mood and energy, but the focus I get from them is different from the focus that CBD or lion's mane gives me. With these gummies, I feel like I take more notice of things. Colors, sounds (everything?) seem to be more vibrant and I wonder if that's one of the contributing factors to the boost in mood and energy I feel.
I've tasted better gummies (they're not disgusting – they're just not great), but when it comes to results (and price), they're the best.
Best lion's mane mushroom gummies for memory and focus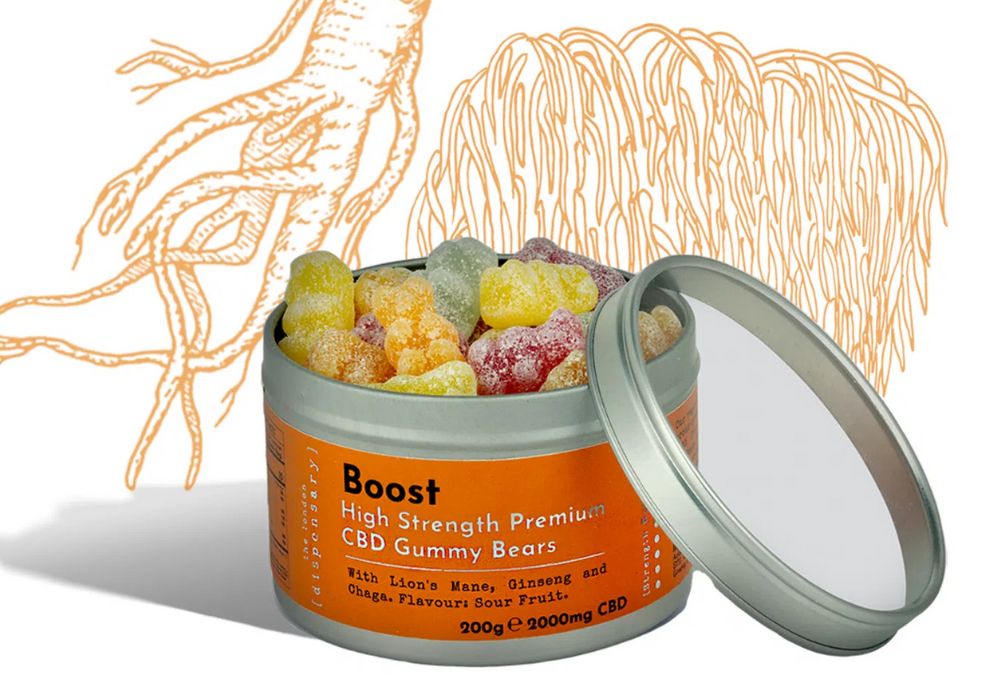 The London Dispensary Boost Gummies contain a blend of two medicinal mushrooms (lion's mane and chaga), as well as ginseng (a natural energy booster), and CBD (also great for focus).
This brand is one of those brands that's just too easy to like, both on and off paper. This award-winning company operates sustainably, is environmentally-friendly, and sources their ingredients ethically.
If you're based in the UK, I highly recommend setting up a subscription to these gummies as, not only do you save yourself a ton of cash (30%), but you also receive a special subs package. The first delivery of gummies arrives in a dark-colored glass jar for safe storage and then your monthly refill shows up in fully compostable, mushroom-grown packaging.
You also receive instructions on how to turn your packaging into flowers as it's seeded with wildflowers. How cool is that?!
Off-paper, the effects also shone through. Every single one of our testers loved the way that these gummies made them feel. Some noticed effects from day one, while others noticed improvements within the first week.
The testers primary complaints consisted of; brain fog/memory problems, fatigue, and/or depression and these gummies worked really well to improve, uplift, energize, and focus the entire team.
These gummies make a fantastic nootropic supplement and they might also be the best mushroom gummies for fibromyalgia too (as claimed by two of our testers that have a lot of experience with traditional mushroom supplements and CBD).
These gummies come in a variety of delicious flavors and there's literally nothing bad I can think of to say about this product, apart from the fact that they don't deliver to the US (yet).
We're not the only ones to appreciate The London Dispensary either, as their Balance CBD Oil (containing CBD, ashwagandha, gingko biloba, vitamin D, and vitamins B5, 6, and 12) also won Best CBD Oil for Anxiety in the UK Beauty Shortlist Wellness awards for 2023.
Until this company starts delivering the US, I recommend that US-based customers choose Fungies Lion's Mane mushroom gummies (Fungies featured at #3 on this list).
Mushroom gummies benefits
Mushrooms offer a range of benefits that make them a hugely valuable addition to our diets and lifestyles. They are widely known to support immune system function, promote heart health, and aid in managing blood sugar levels. They are also a good source of dietary fiber, which aids digestion and helps maintain a healthy weight.
However, certain mushroom species, such as amanita muscaria, lion's mane, cordyceps, and reishi, contain even more beneficial compounds than others, which is why they're considered to be medicinal mushrooms.
According to a scientific review published in Frontiers in Pharmacology in 2022 the power of mushrooms is even greater than you might think: "Approximately, 130 medicinal activities like antitumor, immunomodulation, antioxidant, radical scavenging, cardioprotective and antiviral actions are assumed to be produced by the various varieties of medicinal mushrooms."
The specific benefits offered by mushroom gummies will (of course) depend on what type of mushroom infusion you pick. So, to help you pick which mushroom gummies might be the best for you, here is a quick guide to the most popular mushroom gummies on the market and the main benefits you can expect from each.
Amanita muscaria mushroom gummies – best for psychedelic experiences and for microdosing
Amanita muscaria (aka fly agaric mushroom) contains muscimol, which has been shown to relieve stress and anxiety, ease pain, and promote more restful sleep, by interacting with the GABA-A receptor.
These medicinal benefits are best achieved by microdosing amanita muscaria (low, regular doses) as, when taken in higher doses, muscimol is also psychoactive.
I recently wrote an article about the benefits of microdosing mushrooms for pain, depression, PTSD, and more, but that particular article focused on psilocybin mushrooms which are, of course, illegal and inaccessible for the majority of us.
Amanita muscaria is less well known, but it is currently exploding in popularity as more people learn of the unique medicinal properties that can be accessed, without any psychedelic effects, through the power of microdosing.
Amanita muscaria is also popular amongst recreational users. When it's taken in larger doses, it can act as a deliriant and hallucinogen, inducing feelings of euphoria and changes in sensory perception.
Is amanita muscaria psychedelic?
Technically-speaking, amanita muscaria is distinguished as a "deliriant" as opposed to a "psychedelic", as this mushroom acts on different receptors compared to psilocybin. However, it definitely possesses psychedelic qualities. So, if you are seeking a psychedelic experience then, as far as legal mushroom gummies go, amanita muscaria is the closest you'll get at this time.
Lion's mane mushroom gummies – best for improving cognitive performance and for anxiety
Lion's mane are a highly sought after mushroom, largely as a nootropic supplement, as research has also shown that lion's mane can boost brain cell growth. It displays significant benefits to brain health, including the ability to improve focus, mental clarity, memory, and mood.
Lion's mane is also considered to be one of the best medicinal mushrooms for anxiety, and is also used for stress reduction and depression.
Is Lion's Mane psychedelic?
Lion's mane mushrooms contain many beneficial properties but they are not psychedelic or psychoactive and, therefore, will not make you feel high or intoxicated in any way.
Cordyceps mushroom gummies – best for boosting energy and for respiratory health
Cordyceps mushrooms have been shown to optimize oxygen uptake and are widely used for their ability to boost energy and endurance, making cordyceps mushroom gummies extremely popular with athletes looking to boost their performance, as well as other people that are looking for a natural pick-me-up.
Cordyceps have also been shown to possess significant antioxidant and anti-aging properties.
Are cordyceps psychedelic?
No, cordyceps mushrooms are not psychedelic and will not intoxicate you in any way.
Reishi mushroom gummies – best for immune health and for depression
Reishi mushroom gummies should be your go-to mushroom gummy when you're feeling run down. Aside from supporting a healthy immune system, they are considered to be one of the best medicinal mushrooms for depression and stress..
Reishi mushrooms are also commonly used to help boost energy levels and relieve anxiety and they're highly antioxidant and anti-neurodegenerative, making them highly sought after for their anti-aging properties.
Is reishi psychedelic?
Reishi mushrooms are medicinal, but they're not psychedelic and won't make you feel high.
How to microdose mushroom gummies
Like microdosing anything, the secret to microdosing mushroom gummies is in taking a very low dose on a regular basis to spread out the effects over a longer period.
The recommended microdose for amanita muscaria is anywhere between 175 and 350 mg, but if you've never taken amanita muscaria before, then you should start at the lower dose and work your way up if needed.
When microdosing, the effects will be subtle, so it's really handy to keep a short diary that you can keep notes in, including the date and amount of your microdose, as well as how you feel each day with regards to your symptoms and/or emotional wellbeing.
Summary
Having a mushroom supplement like this delivered in a delicious gummy format is a convenient and tasty way to get your daily dose of functional mushrooms. They're also super handy for helping people overcome their taste aversions to mushrooms by delivering all of the health benefits of mushrooms in a tasty, fruit, morsel.
Much more than just a tasty gummy or nutritious snack, mushroom gummies contain an variety of active ingredients that can help improve cognitive function, support a healthy immune system, enhance your mood and boost overall feelings of wellness, amongst other things.
Now you know which brands have the best mushroom gummies on the market, which ones will you be adding to your daily routine?