⚡️ Top #5 best THCa vape carts
I test so you get the best
Over the last few months I've been testing every THCa cart I can get my hands on in order to find the very best THCa vape carts on the market in 2023. In this article, I'll tell you about my top five favorites and where you can buy them online, so you can enjoy all the benefits of Delta 9 THC, regardless of your location within the USA.
What is THCa?
As you may already know, THCa is the acidic precursor to the familiar Delta 9 THC that we all know and love. It is highly abundant in cannabis and hemp plants and is legal in all 50 states, making it easily accessible no matter where you are.
In its raw form, THCa does not possess any psychoactive properties. Research suggests that it may, however, reduce inflammation and offer relief from nausea and vomiting. Studies also show that THCa displays neuroprotective properties that help protect against degenerative brain diseases, such as Alzheimer's.
When THCa is exposed to heat and/or light, it undergoes a process called decarboxylation. During this process, THCa releases a carboxyl group (CO2) and transforms into Delta 9 THC. The medicinal benefits mentioned above are retained and the psychoactive properties are activated, allowing users to also experience the euphoric, recreational effects of cannabis.
Can THCa carts get you high?
THCa carts can absolutely get you high. When the THCa in the cart is exposed to the heat from your vape battery, the convection heating transforms the THCa into psychoactive cannabinoids with every puff.
In fact, vaping is considered one of the most efficient ways to convert THCa into THC because controlled heating exposes the THCa to the ideal temperature (to trigger the decrab process) in a precise manner.
Also read my article on the best THCa flower of 2023.
Top 5 best THCa vape carts
It may surprise you to know that many products marketed as THCa vape carts actually contain very little THCa at all. I honestly can't tell you how many "THCa carts" I've tried over the last few months that turned out to be made up of (mainly) Delta 8 with just a small amount of THCa (less than 1% in some cases!).
Presumably you only need a begrudging dash of THCa in order to advertise its presence on the label.
And you wouldn't know it to look at the packaging because, going by the advertising on the boxes, you'd think that these carts were pure THCa. However, one look at the product's lab reports tells a completely different story.
That's why I made this list in the first place. Not only can I assure you that all the products on this list actually contain THCa, but I'll also tell you exactly how much.
I identified the best THCa vape carts based on:
First-hand experience
Ingredient and cart quality
Third party lab testing results
Affordability
Here are my top picks so far in 2023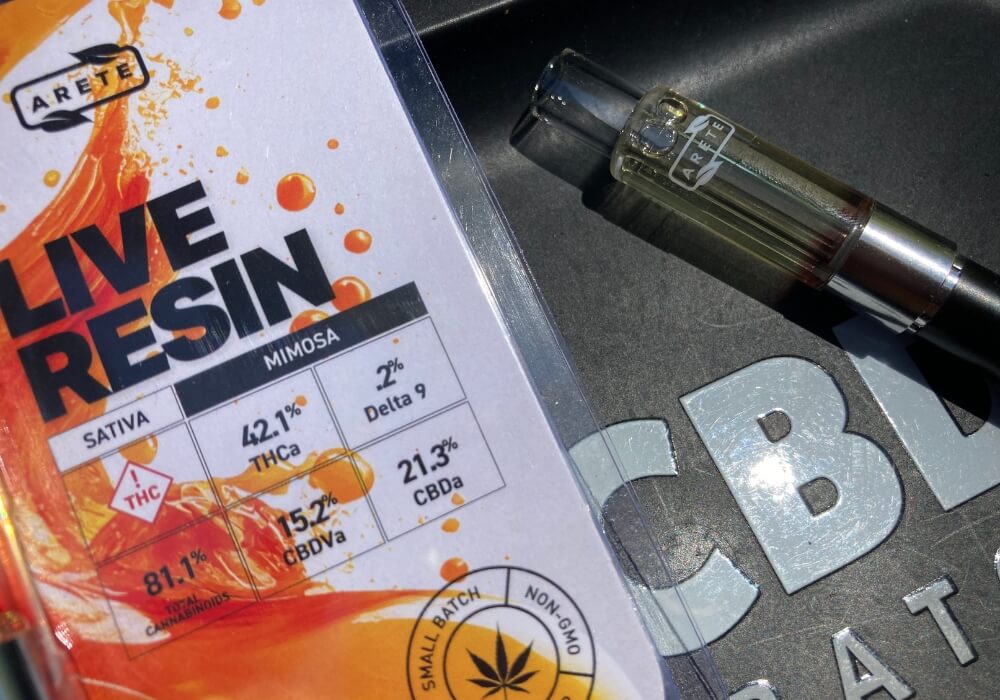 If there's one thing I love about vaping, it's the flavors. And with Arete offering a whopping 13 different strain options, I really hoped to like these carts, so that I could eventually work my way through them all.
Now, having tried (more than) a few of them now, putting them at the no#1 spot in this list was a no-brainer. I love the effects and taste of every single one I've tried so far.
I usually tend to prefer indica strains, but I must say that my favorite overall (so far) is actually a sativa, Blue Dream.
This cart had me absolutely floating. I found myself inspired and ready to create and I was truly tapped into my inner child.
That's not to say their indicas didn't deliver. In fact, the Cherry Pie THCa cart had me giggling all night (even though nothing was funny). I was pretty nervous to try GG4. Since I smoke this strain quite often, I was concerned that the vape cart wouldn't live up to the flower. But man, can these Arete THCa carts hold their own. I was deeply relaxed throughout the evening, eventually falling into an incredibly peaceful sleep.
It's fair to say that no matter the particular strain, Arete's Live Resin THCa vape carts offer a perfectly smooth hit, packed with delicious steam-distilled terpenes and enjoyable effects. The blend of THCa and CBD is ideal, creating a balanced peacefulness and euphoria that is truly delightful.
And, although the amount of THCa and CBD in each strain is the same (the company uses the same distillate blend for all their carts), each cart manages to offer a unique and exceptional experience, thanks to the variety of terpenes contributing to the entourage effect.
You can also get some amazing discounts by buying bundles of 6 or 7 carts at a time (just $149.99 for 6 carts)!
Strains
Hybrids — GG4, Fruity Pebbles, Venom OG
Sativas — Ghost Train Haze, Jack Herer, Durban Poison, Mimosa, Blue Dream
Indicas — 9 Pound Hammer, GDP, Yoda OG, Forbidden Fruit, Cherry Pie
Ingredients
42.2% D9 THCa (from hemp diamonds)
CBD live resin
Steam-distilled terpenes
Pros
13 strains available
Third party lab tested at 42.2% THCa per cart
Superior, all-glass cartridges
Zero additives
Cons
Not the most potent option on this list
About Arete Hemp
Arete is a family-owned company that is committed to offering organic hemp products of the highest quality. They are able to trace every ingredient from the seed to the final product and there are absolutely no "junk" additives. On top of this, Arete conducts in-depth third party lab tests on all of their products to ensure purity and potency (these can be found on their website).
Read my full Arete review here.
Binoid boasts being the first company to bring THCa vape carts to the market, and their expertise is evident. The THCa content of these carts is super high, making them ideal for those looking for the highest high, as well as those with severe symptoms, like chronic pain.
I personally struggle with a lot of back and shoulder problems (hello, writer problems) and these carts offered me exceptional relief. It was like the relaxation of a week's worth of massages delivered with a single puff.
These carts have one of the highest THCa concentrations I've seen on the market, which intrigued me, so I decided to conduct an experiment. I did a blind test to see if I could tell the difference between a dispensary cart and Binoid's Live Rosin THCa vape carts.
Well, the answer is – I couldn't. The effects were just as good (if not better).
My only complaint would be that the metal cartridge used doesn't hit quite as smoothly as the all-glass or ceramic cartridges. Binoid also has the best THCa vape pen of 2023 with their "Exclusive Series".
Strains
Hybrids — Avatar OG, Baked Alien
Sativas — Cranberry Haze, Blue Walker
Indicas — Exotic Kush, Mango Tango
Ingredients
78.23% D9 THCa (premium distillate)
Live rosin cannabis terpenes
Pros
Dispensary-level potency and quality
Third party lab testing at 78.23% THCa per cart
6 strains available
Cons
Metal cartridge
May be too potent for those with lower tolerance
About Binoid
Binoid CBD was founded on the belief that hemp cannabinoids are essential components for a healthy lifestyle. Their products are designed to provide health benefits and pleasurable experiences in equal measure. Collaboration is key, whether it's working with Oregon hemp farmers to utilize the highest-quality genetics or incorporating customer feedback and suggestions into product development. Third party lab testing results can be found on their website.
Read my full review on Binoid here.
OK, I would actually consider this product to be more of a Delta 8 vape cart than a THCa vape cart, but you'll notice that didn't stop it from landing a spot on my top 5. And that's because, despite the THCa potency being a lot lower than I would like, there's no denying that this vape does still manage to create a buzz that just isn't possible by Delta 8 on its own.
The entourage effect really kicks in here with the combination of such a broad range of cannabinoids, offering an enjoyable vaping experience and a pleasant high.
This would be the perfect vape for anyone looking to dip their toe in the water of THCa vaping, rather than dive in head first.
Another thing I couldn't ignore were the flavors.
The Berry Pie x Apple Fritter duo was delectably warm and cozy. Meanwhile the Grape Kush x Tangie Banana duo was refreshingly fruity, like a smoothie in a vape pen. You can really tell the amount of care that was put into developing these unique flavor profiles.
I also took the price into account here, because you're definitely getting your money's worth. With two cartridges in each pack (and two grams in each cartridge) it's almost like getting four grams for the price of one. Again, perfect for beginners who want a sampling of strains without breaking the bank.
Strains
Berry Pie (Sativa) x Apple Fritter (Hybrid)
Grape Kush (Indica) x Tangie Banana (Hybrid)
Ingredients
≈3% THCa (exact amounts vary slightly from strain to strain)
≈0.5% Delta 9P THC (Delta 9 THC + THCP)
≈75% Delta 8 THC
Delta-8 THC Live Resin
Pros
You can't beat the price
Convenient two pack
Entourage effect due to unique cannabinoid blend
Cons
Low amount of THCa
Mainly contains Delta-8 THC
About Delta Extrax
Delta Extrax is a part of a fully-integrated network, meaning that they are involved in their entire process from development to manufacturing. They are known for being on the cutting edge of emerging cannabinoids. High-quality extraction processes yield first-rate cannabinoids and terpenes and they are focused on creating products that are legal, affordable, and safe.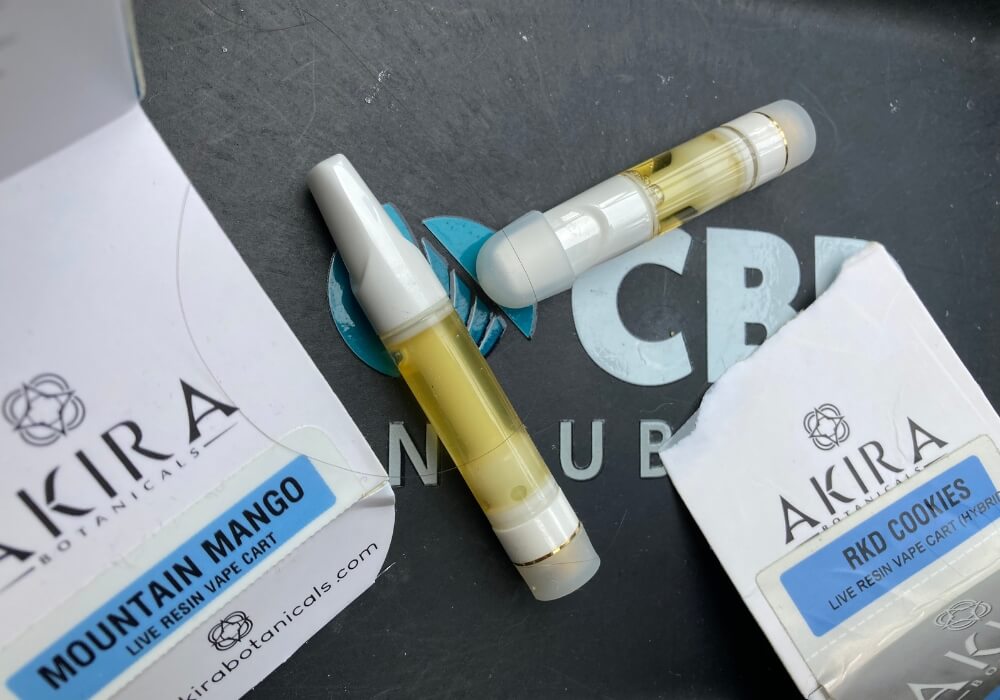 This vape cartridge contains authentic live resin in a ratio of (roughly) one part THCa to two parts CBDa. When I say authentic live resin, I mean that the THCa and CBDa live resin used has come straight from the hemp plant as nature intended. You might be surprised to hear that most other companies build their carts from the ground up with distillates and terpenes to mimic a particular strain.
I get so excited about trying products like these (and they're more rare than you'd think)!
I was slightly worried I wouldn't get the effects I wanted from the 1:2 ratio used here, but Akira Botanicals really knows what they're doing. Immediately after taking my first couple of hits, I felt my muscles begin to relax as the tension melted away. Shortly afterwards, a spacey mental effect kicked in as well, making this a perfect bedtime vape.
The indica dominant Sour Meringue strain is a cross between Sour Lifter and Blue Meringue. Truth be told, I do have a bit of a soft spot for anything with Blueberry genetics, but believe me when I say the taste of this THCa cart is on point. It was a perfect balance of sweet and tangy, reminiscent of a sour raspberry. You can really tell that this strain was cultivated with vaping in mind.
The fantastic quality of Akira's products is proof of their keen attention to every detail of the development, cultivation, and extraction processes. I also have to applaud them for their use of a ceramic cartridge. The ceramic cartridge hits smoothly every single time, keeping the quality of the flavor consistent throughout the life of the cart.
Strain
Indica — Sour Meringue (they sell out quickly but have new flavors being added all the time)
Ingredients
30.47% THCa live resin
53.35% CBDa live resin
Pros
Authentic live resin
Amazing taste
Third party lab tested at 30.47%
Strong body buzz
Ceramic cartridge
Cons
Limited strain options
Most expensive option on this list (but you can use our discount code CBDINC25 for 25% off!)
About Delta Akira Botanicals
Akira Botanicals utilizes a small-batch, organic cultivation process in order to ensure highly potent products. All of their cannabis-derived ingredients are sourced from their own farm in North Carolina. By cutting out the middleman, Akira is able to offer products of superior quality at an affordable price. The results of third party lab testing are included along with every purchase, proving Akira's commitment to full transparency.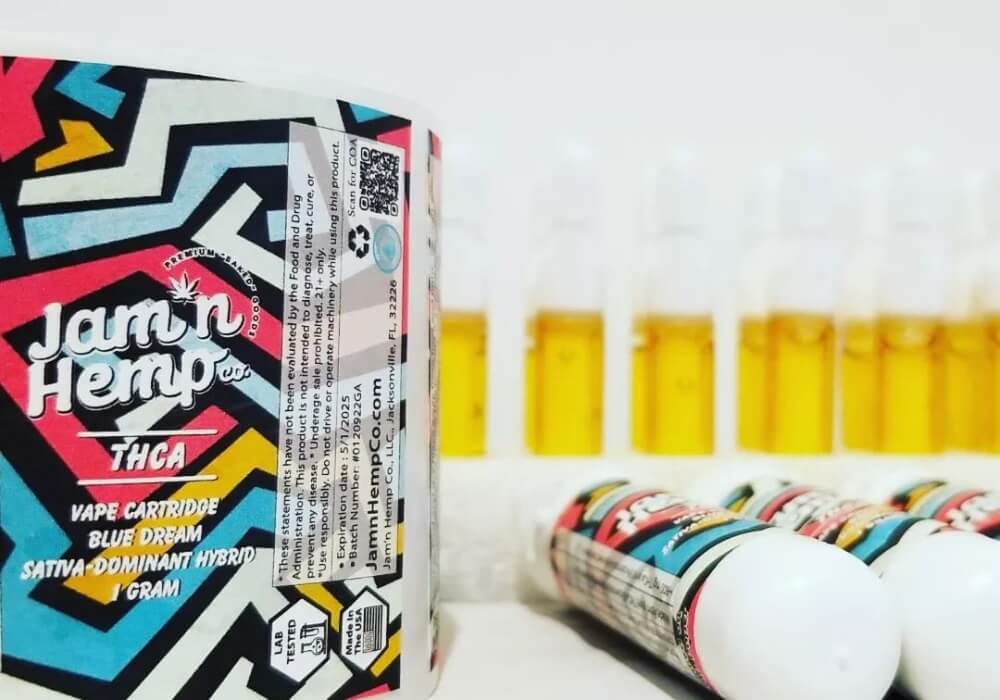 This is an exceptional product for both new and experienced THCa vapers. These carts are filled with a blend of either 50% or 80% pure THCa extract and 5% cannabis-derived terpenes. When I say pure, I mean pure THCa with undetectable levels of CBD. That means the euphoric and psychoactive effects aren't being tamped down at all.
Like the carts from Binoid, these higher concentration THCa carts are essentially indistinguishable from dispensary carts. They are incredibly potent and the ceramic cartridge ensures that you're getting the most out of each puff. The effects can be felt almost instantly.
The Blueberry Kush (80%) THCa cart absolutely smacked. By which I mean, it smacked me in the face with its heavy indica effects. My eyes were drooping after just a few puffs and before I knew it, I was snoring away on the couch. I awoke totally refreshed and relaxed.
Strains
50% THCa (500 mg) – DISCONTINUED
Sativa — Blue Dream
Indica — GMO
80% THCa (800 mg)
Sativa — Blue Dream, Purple Haze, Sour Diesel, White Lime Haze (rosin extracted)
Hybrid — Cherry Runtz, Rainbow Sherbert
Indica — Blueberry Kush, GMO, Mendo Breath
Ingredients
51.51% / 88.71% THCa (live resin diamonds)
Cannabis-derived terpenes
Pros
Highest potency on the market
Third party lab tested at 51.51% and 88.71% THCa per cart
Ceramic cartridge
Cons
Limited stock available (get 'em while they're hot)
About Jam'n Hemp Co.
Jam'n Hemp Co. is a company born out of the necessity to find safe and affordable forms of holistic, alternative medicine. Like the other carts chosen here, their vape products contain no cutting agents of any kind, making them healthier to use than many other disposable vape cartridges on the market. As an added bonus, environmental sustainability is integral to their mission and each product's sustainable packaging features a QR code that links directly to the third party lab test results.
How to choose the best THCa vape cartridges
The wide variety of THCa vape products available can be overwhelming to even the most experienced users. Here are some of the factors you should consider before you buy THCa vape carts online:
Identify your intended effect
This will help you know what blend of cannabinoids and terpenes will be ideal for you, as well as which types of strains to lean toward. Are you looking for relief from chronic pain? THCa vapes with a high ratio of CBD will be your friend. Do you need a little extra help to fall asleep? Turn your attention to indica strains.
Review third party lab testing
Always review third party lab test results for purity and potency. Ensure there are no heavy metals, pesticides, or other contaminants present. Be sure the specific blend of cannabinoids fits what you're looking for in terms of effects (on the lab reports).
Trustworthy companies make their third party lab test results readily available for you to view online.
Consider the build of the cartridge itself
Before purchasing a THCa vape cartridge, first ensure that it will fit your vape battery. Learn how to pick the right vape battery here.
Next, consider the materials used to manufacture the cartridge. If it's made from metal, there is the potential for undesirable impacts on the flavor and smoothness of the hit. Glass and ceramic cartridges have gained notoriety for their superior taste and even heating. But, ultimately, it will come down to personal preference.
Where to buy quality THCa vape cartridges
It's important to purchase vape carts from reputable businesses, to ensure that your hard-earned cash is being spent on a safe and enjoyable vaping experience.
You should always know exactly what you're inhaling and be able to confirm that with third party lab test results. Though the convenience may be tempting, you should avoid purchasing THCa vape carts from gas stations, because there's just no telling what's in half of them.
We've made it easier for you to hunt down the best THCa vape cartridges on the market by providing our top picks above. Stick to our list if you want to know exactly what you're getting.
Tips for storing THCa carts
There are three main aspects to consider when storing vape cartridges of any kind: light, temperature, and orientation. When not being used, THCa vape cartridges should be stored upright in a cool, dry location.
Potency can be negatively impacted if THCa carts are exposed to excessive UV rays and heat. Both UV rays and high temperatures can degrade the cannabinoids and terpenes in your cart. Storing carts at high temperatures can also cause leakage. Be careful not to let your cart get too cold either, as freezing will prevent the distillate from vaporizing effectively.
The most common mistake when it comes to vape cart storage is not storing them upright. When your cart is thrown haphazardly into a drawer or bag, it's more prone to clogging and leaking. A pro tip I swear by is storing your carts (upright) in their original packaging.
Frequently asked questions
Can you vape THCa?
Yes. THCa is incredibly potent when vaped and produces similar effects to Delta-9 THC, due to the decarboxylation that occurs when the distillate is heated.
What are THCa vape carts?​
THCa vape carts are simply disposable vape cartridges that are filled up with THCa distillate.
The distillate typically consists of THCa blended with various other cannabinoids and/or terpenes (the concentration of each will vary across different products) and it's contained within a cartridge that is designed to fit onto a vape battery.
How do you vape THCa?
First things first, you'll need a battery to attach to the disposable THCa cart. It's important to confirm that your cart and vape battery are compatible. Many vape batteries and cartridges utilize a standard 510 thread, but not all, so be sure to check before making a purchase.
It's also important to vape THCa at the proper temperatures. Lower voltages and temperatures are ideal for vaping THCa. Batteries that offer 2.5V (around 220-240℉) are perfect for maximizing effects and flavors.
If your vape battery has multiple voltage settings, feel free to experiment with different temperatures. Just remember to always start low and work your way up.
What is the best type of cartridge?
The way the cartridge is built can have a major impact on your vaping experience. Metal cartridges were the standard until more information came to light about their potential hazards. Heavy metals have been known to leach into the distillate, putting the user's health at risk, especially with heavy use.
While still common, metal cartridges have been upstaged (in the eyes of many vapers) by ceramic and all-glass cartridges. Both offer unique advantages due to their heat resistance, which offers enhanced flavors, smoother hits, and more efficient vaporization.
What to do if your THCa cart gets clogged?
Proper storage can reduce the risk of clogging, but what if it still happens? Gently insert a thin tool like a toothpick or needle into the mouthpiece of the cart and spin it around to clear out any built-up resin stuck in the airway. Be careful not to damage the coil inside the cartridge.
Are THCa carts legal?
Yes. Hemp (cannabis plants containing less than 0.3% Delta-9 THC) was legalized with the passing of the 2018 Farm Bill. No matter the concentration of THCa in the cart, so long as the Delta-9 THC content does not exceed 0.3%, they are federally legal in all 50 states.
How to use THCa carts?
Attach your THCa cart to your vape battery and turn it on the lowest setting. Because the strong effects of vaping THCa can come on quickly, it's important for even the most experienced cannabis users to begin with 1-2 puffs to establish tolerance of a new cart.
Even though THCa vape carts are legal in every state, they still may be mistaken for a dispensary cart. If recreational marijuana isn't legal in your state, this may be an important consideration in deciding when and where to hit your cart.
What are the benefits of THCa vape carts​?
Depending on concentrations of other cannabinoids included in the distillate blend, THCa vape carts can offer a wide range of benefits and effects. The more potent THCa vape carts will offer effects comparable to the Delta 9 THC vape carts available in dispensaries.
If you're looking to obtain the medicinal effects without getting too high, look toward THCa vapes that contain higher concentrations of CBD and Delta 8 THC. The best part is that these recreational and medicinal benefits can be legally enjoyed in every state.
Best THCa carts – which will you pick?
If you're stranded in a cannabis-prohibition state, you may have just found your saving grace. THCa vape carts offer all of the medical and recreational benefits of dispensary carts without the same legal constraints.
We've identified the top 5 best THCa vape carts available on the market to make your search easier. No matter your intended effect or your tolerance level, you're sure to find a THCa cart on this list that fits your needs.
Stay safe and happy shopping 🙂