⚡️ Top #5 THCa vape Pens
an experience almost identical to traditional dispensary vapes
Welcome to a world of elevated experiences with our top 5 list of the best THCa vape pens, renowned for their potent psychoactive effects.
Surprisingly, many people still don't know that THCa vape pens offer an experience almost identical to traditional dispensary vapes while avoiding the associated legal constraints. But word is getting out and the market is now flooded with a variety of THCa products for you to choose from.
In this article, we unveil a handpicked selection of the finest THCa vape pens on the market, catering to both seasoned connoisseurs and newcomers alike.
What is THCa?
THCa is one of the most highly abundant cannabinoids found in hemp and cannabis plants alike. Although non-psychoactive in its raw form, THCa quickly transforms into Delta 9 THC when exposed to heat and/or light. In other words, when you light up a joint, the THCa in the cannabis or hemp turns into psychoactive Delta 9 THC which makes you feel high.
You can learn more about THCa here.
THC vs THCa vape
THC vapes differ very little from THCa vapes. As far as effects go, high quality THCa vapes are nearly indistinguishable from THC vapes. The biggest difference between the two is legality. While traditional THC vapes are legal only in a limited number of states, THCa vapes can be enjoyed almost anywhere in the United States in the form of pens or THCa carts.
The #5 Best THCa vape pens of 2023
Even after recreational marijuana was legalized in my state, I still find myself opting for THCa vapes nine times out of ten. I prefer to research and buy my legal highs online and take advantage of good deals wherever I can.
As you can imagine, I've lost count of how many different THCa vape carts, HHC cartridges, and disposables I've tried over the years. But I can tell you that some are way better than others in terms of the quality of the ingredients, the smoothness of the hit, and the potency of the effects.
One thing's for sure though: no matter how many I've tried, I always remember the good ones. Based on my own personal experience, I've hand-selected the best THCa vape pens available on the market today to share with you. Check out my top picks below.
Binoid CBD's "Exclusive Series" 5 Gram THCa Disposables top this list for a number of reasons. As well as being one of the most potent THCa disposables on this list, the value offered for a five gram disposable is absolutely incredible – you can be sure you're getting your money's worth with these bad boys.
And those of you who are frequent vapers with higher tolerances will love the convenience of such a large and potent disposable.
Even with the large capacity tank, the device itself is compact and well-designed. It's not too bulky, fitting well into the palm of my hand. Clumsy people will find the sturdy, durable design incredibly useful – I know I did. It can withstand being dropped (several times), making it great for those looking to vape on the go. Add in the great battery life and compatibility with a standard android charger – it's perfect to take with you anywhere and everywhere (and I do!).
There is only one voltage setting with this device but it gets the job done nicely. Even small hits produce comparably large amounts of smoke. I find it best to take it slow, as the coughing can get a little intense with larger tokes straight off the bat.
If you remember to keep that in mind, the hits are smooth, accompanied by a strong flavor that's pure terpene powered (not syrupy like artificially flavored vapes). You only need two or three puffs to induce strong effects that can last up to four hours.
No matter which cannabinoid blend you choose (THCa w/Delta 9P or THCm), the effects are as powerful as they are enjoyable. I experience deep relaxation and effective pain relief with these THCa disposables.
Potency remained consistent throughout the entire life of the device, but my only complaint would be the slight degradation in flavor toward the end of its life.
Desert Diesel is a true hybrid, offering an evenly balanced mind and body high. The vibe with this strain is chill and talkative. I find the Tropical Zkittlez strain also improves my physical and mental state, relaxing and sedating both the mind and body (I love this heavy indica at bedtime). The live resin terpenes ensure that the flavor of each strain is on point and perfectly preserved.
Ingredients
Premium Delta 9 THCa distillate (30.84%)
HHCP
Delta 9P or THCm (two formulas of premium distillate available)
Live resin terpenes
Strains
Indica — Tropical Zkittlez (Delta 9P), Vice City (THCm)
Hybrid — Desert Diesel (Delta 9P), Hot Lava (THCm)
Sativa — Alaskan Lights (Delta 9P), Space Mountains (THCm)
About Binoid
Binoid CBD believes hemp cannabinoids are essential components for a healthy lifestyle. They offer products that provide maximum health benefits without compromising on experience, keeping their customers both healthy and high.
Read my full review on Binoid CBD here.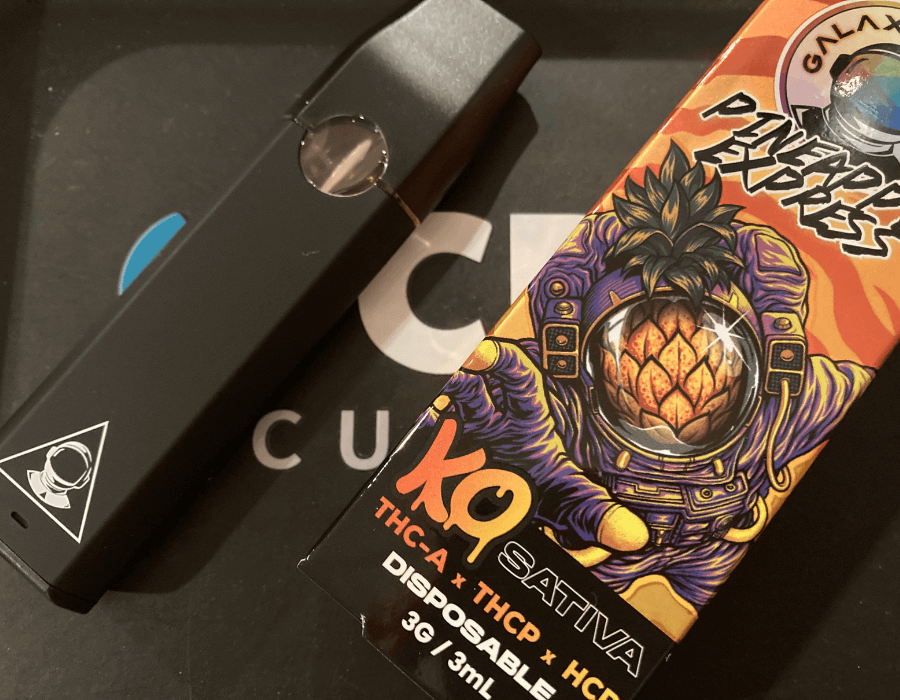 Galaxy Treats definitely runs the THC edibles game, but I've not tried a huge number of their disposable vapes in the past. Having said that, compared to the others I've tried, the overall design and potency has vastly improved with these new 3 gram THCa live resin disposables.
And I dig the new packaging (did you notice the space dude's pineapple head?).
This vape has just one heat setting, making it simple to use, and the heat setting is just right, delivering a decent amount of vapor and a smooth hit with every puff.
One of the main reasons I picked this vape pen (for this list) is the incredible quality of the live resin terpenes. Each puff is packed with a deliciously sweet pineapple flavor perfectly balanced against a rich, earthy pine. Tangy citrus notes punctuate every puff.
This THCa disposable does produce a slightly lighter effect than some of the others on this list, consisting of: primarily Delta 8 THC (78.02%) with a smaller concentration of THCa (7.46%), as well as small amounts of THC-P and HHC-P. But, even with my high tolerance, I find it produces an incredibly pleasurable buzz.
I found it brightening up my outlook on life with every puff. I could feel the tension lighten in my body as the creative synapses in my brain began to light up. I found that it could even help alleviate my symptoms of pain and depression.
I think heavier users will love this disposable for it's mood-boosting effects throughout the day, but beginner's should proceed with caution (low and slow).
The device will also last quite a while since it contains 3 grams and, for $35, it's well worth the money. Plus you're able to use a standard charger (that you likely already have 10 of, lying around at home) to charge it back up when it needs it.
Ingredients
THCa (7.46%)
THCp (1.93%)
HCP
Delta 8 THC (78.02%)
Live resin terpenes
Strains
Sativa — Pineapple Express
Hybrid — Birthday Cake, Gushers, Grape God
About Galaxy Treats
Galaxy Treats are focused on getting their customers sky high without the anxiety and paranoia some people experience from THC. Made in the United States using only the highest quality industrial hemp, their products always have me over the moon.
Read my full review on Galaxy Treats here.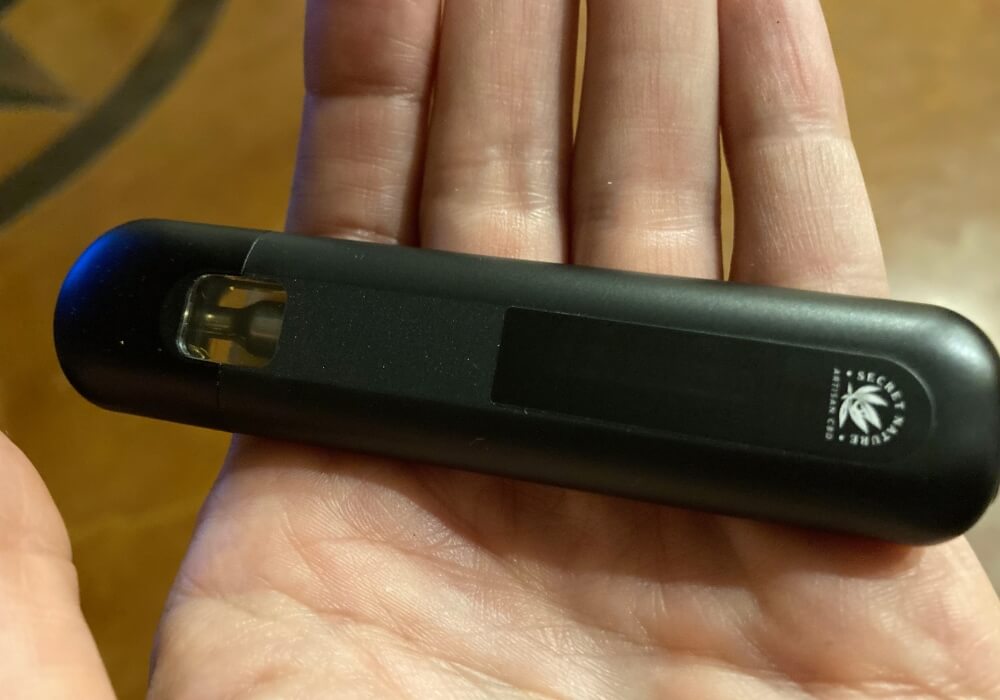 This one gram disposable has pretty high levels of THCa (37%). However, this is balanced out by CBDa (31.92%) and CBD (8.09%) in almost equal measure. Add in the expertly-extracted terpenes, and you've got a delicious THCa disposable vape that makes excellent use of cannabinoid and terpene synergy.
The effects of this disposable are creeping but surprisingly strong. Be sure to pace yourself, as you may not feel the full impact of each hit immediately.
As a smaller 1g vape, it's a highly discreet device, but this particular disposable doesn't last me very long. And it's also one of the more expensive THCa disposables on this list, so I tend to try to eek them out, by having one of the others on the go at the same time. It's definitely a luxury pick, but worth every cent in my opinion.
The other vapes on this list are built from the ground up (with distillate and terpenes to mimic specific strains) but Secret Nature's THCa disposable vape pens use authentic THCa live resin, extracted from whichever THCa flower strain you choose (their THCa flower is also awesome btw – more on the best THCa buds here).
I love the fact that Secret Nature's vapes come in a wide variety of (authentic) strains. Of all the strains I sampled, Melon Frost was definitely a standout product. The experience was uplifting, but still calm and focused. Despite being a sativa, it still induces chill, relaxing effects, probably due to the high CBD content. And the flavor was sublime – super gassy with undertones of sour watermelon.
Having said that, I'm working my way through the Forbidden Fruit one at the moment and each time I try a new strain, I fall in love all over again.
The device itself doesn't necessarily scream with durability, but I've never had one fail on me yet (I've probably had 10 to 15 of these Secret Nature devices over the years (CBD & THC varieties). This FF one also won extra brownie points recently when I dropped it in Lake Superior and it still works today! I'm lucky I dropped it in a shallow part of the lake, eh? It probably wasn't the best idea to take it kayaking with me… 🤣
Ingredients
Authentic THCa live resin (37%)
Full spectrum CBD (8.09%)
CBDa (31.92%)
CBDv
Strains
Indica — White Fire OG, Forbidden Fruit, Frozen Colada
Hybrid — Gelato, Cherry Slushy
Sativa — Melon Frost, Mimosa, Poison Banana
About Secret Nature
Secret Nature is focused on helping people feel better both physically and mentally. They specialize in high-CBD and high-THCa cannabis that offers optimal relief for whatever ails you.
Read my complete Secret Nature review here.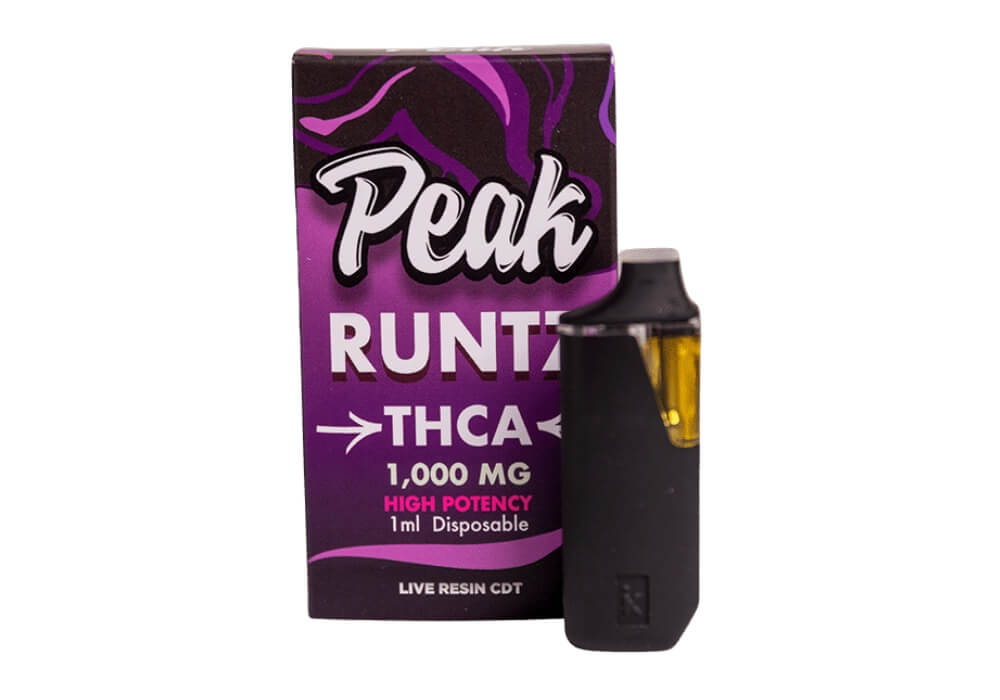 I absolutely love the sleek, compact design of the Peak (by CannaAid) two gram THCa disposables and the battery life is much better than I'd expect for such a slimline device.
The potent distillate blend contains high levels of THCa (32.31%) and Delta 8 THC (30.87%) boosted by small amounts of ultra-potent THCp and warming and energizing HHC. The entourage effect is out in full force with this vape, which is enhanced further by a variety of terpenes, depending on your choice of strain.
I found myself quickly enveloped in a lifted sense of happiness that was simultaneously stimulating and soothing. The euphoric, uplifting high is evenly balanced with a strong calming effect and the long-lasting effects left me with a silly smile on my face all night long.
The Northern Lights strain is an indica true to the stereotypes. I took one puff and within seconds, I could feel my muscles begin to relax and my mind was quickly put at ease. I spent my evening on the couch worry-free and munching away on my favorite snacks. I highly recommend a pint of peanut butter ice cream as a perfect chaser to this pungent and earthy strain.
If you have a sweet tooth like me, the Lemon Cheesecake strain is absolutely excellent. It tastes exactly like you would expect – a deliciously sweet, creamy and buttery bite of lemon cheesecake with every puff. This hybrid strain is definitely sativa-leaning with its uplifting, cerebral effects. My mind was bursting with new, exciting ideas, and I was energized to act on them. I was in a great mood all throughout my incredibly productive day.
Ingredients
THCa (32.21%)
Delta 8 (30.87%)
THCp
HHC
Strains
Indica — Hindu Kush, Northern Lights
Hybrid — Lemon Cheesecake, Stoney Pebbles, Train Wreck
Sativa — Super Sour Diesel
About Peak by CannaAid
CannaAid wants to take you on a journey with Peak, accomplishing this by offering a wide range of high potency products. They also take affordability seriously – even offering to price match their competitors.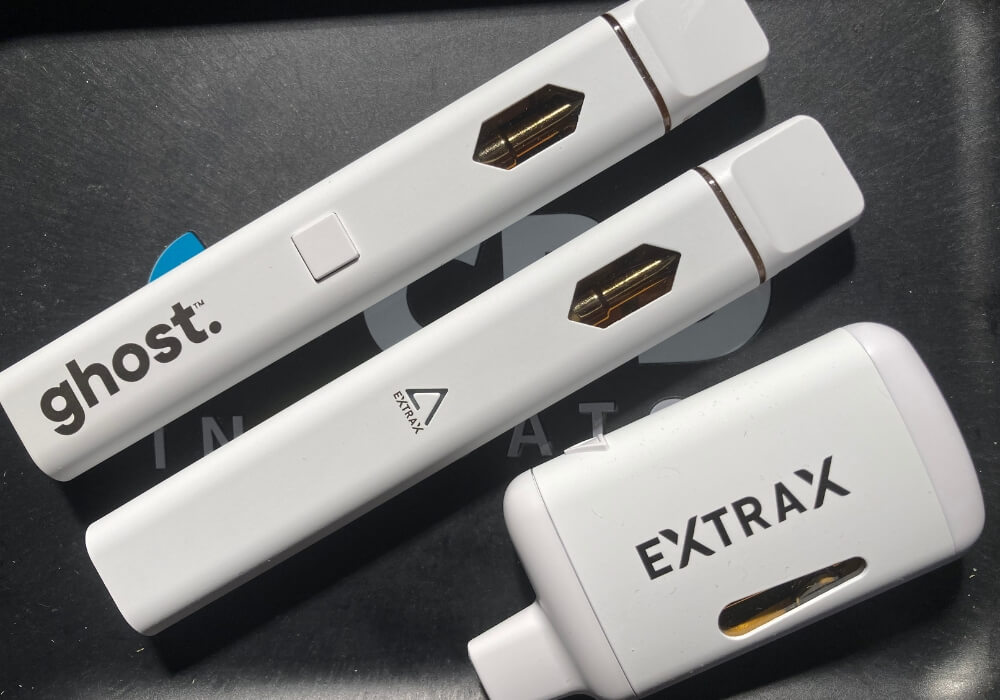 I didn't know it at the time of vaping, but the concentration of THCa in this disposable is actually pretty low (2.73%), accompanied by mainly Delta 10 THC (77.18%). Delta 10 is more uplifting and energizing than sedating. Even with my heavy tolerance, I found myself in a state of euphoria and a silly, goofy mood with only a few puffs. Each hit was super smooth and delivered surprisingly strong effects.
This Ghost Extrax duo pack offers excellent value, containing two vape pens containing 3.5 grams in each. I always love getting these two packs because it's so much fun to try out the two strains together. The way they interact can really bring out the best of both strains.
The hybrid duo pack is my absolute favorite. More calming than energizing, the Horchata strain is both relaxing and uplifting. I personally found myself to be extra chatty after vaping this strain. My girlfriend and I couldn't make it two minutes into a youtube video without having to pause it to talk about something the video had reminded us of.
Ingredients
THCa (2.81%)
Delta 8 THC (77.32%)
Delta 9 THC
HXY9 THC
Terpenes
Strains
Indica — Cheesecake + XXX OG
Hybrid — Horchata + Lava Cake
Sativa — Lemon Pie + Apple Sundae
About Delta Extrax
Delta Extrax is in control of their entire process from development to manufacturing. By staying on the cutting edge of emerging cannabinoids, they are able to create products that are not only safe, but completely legal and affordable for everyone.
How to choose the best THCa disposable vape pen
Here are a few factors you might want to consider before choosing the best THCa disposable vape pen for you.
Design and ease of use
Vaping pros may prefer THCa disposables that feature options like variable voltage or a pre-heat button. While these can certainly be beneficial for those who know what they're doing, they can also just add more confusion into the mix for novice vapers.
Plus, there is such a thing as an "ideal vaping temperature" for THCa (usually between 2.5 and 3.3V) so, even as a seasoned pro, I prefer devices that are easier to use and more affordable, as long as they produce a nice amount of vapor.
Battery life
There's nothing more frustrating than your vape pen dying in the middle of a long hike where you don't have access to a charger. That's why it's important to select a THCa disposable with a powerful, long-lasting battery. On top of offering good battery lives, the THCa disposables on my list are all compatible with standard chargers that you're likely to have lying around the house already.
Quality and durability
The construction of the THCa disposable itself is essential. There's no use in having a high-quality THCa distillate if your apparatus for vaping it is ineffective. It should also be sturdy enough to stand up to normal wear and tear, but it's even more ideal if they can withstand a quick bath in Lake Superor (one of the vape pens above did!).
How it hits
Smoothness of the hit is a big factor to consider. Nobody wants to be coughing after every hit. The voltage of your THCa disposable is one factor to consider, as the heat the distillate is vaporized will influence how much smoke is produced with each hit. You should also consider whether the quality of the hits remains consistent throughout the life of the product.
Flavor
Terpenes make or break the flavor in THCa disposables. In my opinion, cannabis- and hemp-derived terpenes are far superior to artificial flavors. They embody the true essence of the strain and help optimize its true potential effects. If the terpenes are live resin-derived, that's even better, as the flavors will be perfectly preserved from live plant biomass.
Safety
Confirm via third party lab testing that your THCa disposable is free from any harmful heavy metals, pesticides or other contaminants. If you can find a THCa disposable free from all cutting agents and artificial ingredients, that's even better.
Frequently asked questions
What is a THCa disposable?
A THCa disposable is basically any disposable vape pen that contain THCa distillate. Similar to THCa vape cartridges, THCa disposables have the added convenience of coming as a fully functioning vape pen (no additional battery purchase necessary). They're designed to be thrown away once all the distillate has been used.
How to use a THCa disposable?
THCa disposables function exactly the same as other types of disposable vape pens. Many are autodraw, meaning you don't have to push any buttons to make it work. You just remove the cap and sticker from the mouthpiece and bottom of the device (respectively), put the mouthpiece in your mouth and take a hit!
If the device has a button, then this will either pre-heat the device or you may have to press this in when you take a puff. You can check the manufacturer's advice on operating the device to know for sure.
When trying out a new THCa disposable, always begin by taking just one or two hits to establish your tolerance level.
Can I recharge a THCa disposable?
Yes, rechargeable disposables are becoming the norm these days and I would avoid any device that you can't recharge (it's a must for larger THCa disposables especially!). Unlike nicotine vapes, most THCa don't come with chargers but they are compatible with standard android chargers that most of us will have lying around the house.
How long do THCa disposables last?
The amount of time a THCa disposable will last depends on a wide range of factors, including the voltage setting of the disposable, the amount and potency of THCa distillate contained within, and most importantly, the frequency of use. How often you hit your THCa disposable will be the biggest indicator of how long it will last you.
Are THCa disposables legal?
Yes, THCa disposables are legal at the federal level in every state, as long as the concentration of Delta 9 THC in the product does not exceed 0.3%. However, some states have banned all forms of THC outright (Idaho, for one), so you should be aware of your local laws before attempting to make a purchase.
How should I store THCa disposables?
The quality of your THCa disposables can be maintained throughout the life of the vape pen with proper storage techniques. Make sure you store them in a cool, dark location, as exposure to excessive heat and light can cause degradation of the cannabinoids.
You should also try to make sure that your THCa disposable is stored in an upright position to prevent leaking and clogging. I've started keeping mine in an empty cup next to my bed to keep them upright overnight!
Are THCa vapes suitable for beginners?
It's important to remember that the effects of vaping THCa are highly potent due to THCa converting into Delta 9 THC when heated. Beginner hemp and cannabis consumers may feel more comfortable starting with a more mild cannabinoid such as Delta 8 THC.
What are the strongest THCa disposables?
Binoid CBD's Exclusive Series 5 Gram THCa Disposable and Peak's High Potency THCa Disposable Vape are two of the most potent THCa disposables available on the market today. They offer the strongest effects, the best value, and they're personally tried, tested, and approved by me.
A highly honorable mention goes to Secret Nature's THCa Disposable Vape which also contains a very high level of THCa, however it's balanced out by the equally high concentration of CBDa, which offers it smoother experience.