⚡️ Featured products
High quality CBD cigarettes with rich peppermint flavor.
On vendor's website
Creme by Sugar review
I tested Crème cigarettes (Crème by Sugar) alongside 11 other brands. I researched all 12 companies, looked at lab reports, cut them open to look inside, had them independently tested for potency, poked, prodded, and squeezed, and finally… smoked them.
Below you'll find my full review of Crème CBD cigarettes, which resulted in them winning first place for best hemp cigarettes to use as a tobacco alternative in 2022.
View full CBD cigarettes top list
Pros
Great tasting, smooth cigarettes
Mild but noticeable effects from CBD
Accurate potency reports
Affordable price
Higher quality than other CBD smokes in this price range
Fantastic alternative to tobacco cigarettes
Cons
The lab reports for vanilla flavor are missing a test for microbials
Read about our testing process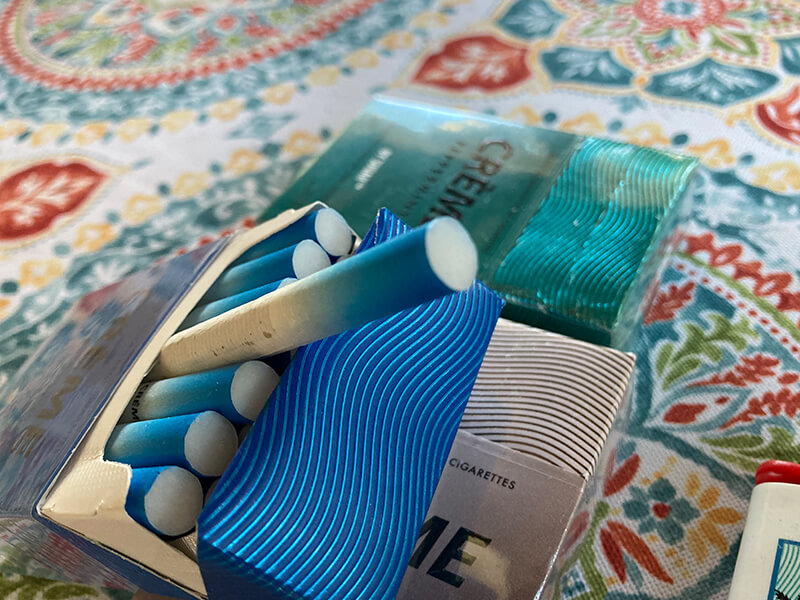 Intro
"Finally, a hemp cigarette that doesn't taste like sh*t!" proclaim Crème by Sugar as soon as you land on their homepage. From what I understand, they don't actually think hemp tastes like sh*t, just that it's difficult to find good quality, nice-tasting hemp cigarettes on the market (and I do agree with them there).
Creme by Sugar is a fairly new brand on the market, specializing in high quality CBD cigarettes and nothing else, and they appear poised to interrupt the entire industry by setting new standards in quality and experience.
I'm keen to find out what they're doing differently, as well as what their cigarettes taste like.
Crème Cigarettes Review
As soon as you visit this brand's website, you'll see that it's really informative and obvious to anyone that a lot of time and research went into the production of these smokes.
They sampled a lot of hemp strains before finally settling on three of their favorites to create their cigarette blend. They tested the material to the strictest California standards, sifted the stems and seeds out, hunted down the best paper to use, and then perfected the ideal "roll density" (not too tight and not too loose).
After all this work, Crème by Sugar has created a product that they're clearly very proud of, claiming it to be the nicest tasting hemp cigarette you've ever tried (we'll be the judge of that) with 50mg of CBD per smoke (1000mg per pack).
The lab reports were easy to find online and, true to their word, do include full panel potency, purity, and safety testing, verifying that the hemp used for cigarettes is free from pesticides, heavy metals, and other potentially harmful contaminants.
One of the other things that sets them apart from other brands is that they use sweetened paper wrapped around their filters. You can buy them in original, peppermint, or vanilla flavor in packs of 20 for just $11.50.
High quality CBD cigarettes with rich peppermint flavor.
On vendor's website
First impressions
These cigarettes smoke really smoothly (not in the least bit harsh on your throat) almost all the way to the filter. I just found the last one or two draws to be a little bit harsh, which is easily solved by taking smaller "sips".
They do taste great too. I can't really tell that the tip is sweetened as it doesn't make my lips taste sweet or anything, but it does still taste considerably better than most of the brands I've tried over the years.
When it comes to effects, you will definitely feel calmer and more relaxed after smoking one of these cigarettes, but it's a pretty mild body buzz, so you don't have to worry about getting tired when you're out and about. I actually feel a little more energized and focused after smoking one of these.
I always look forward to lighting up one of these cigarettes and also think that their peppermint variety is better than any menthol I've tried.
Experience
To me, these cigarettes pull through really nicely, at a fairly slow, smooth rate that isn't harsh on the throat at all. Blāz hemp cigarettes are probably the most similar to smoking a traditional tobacco cigarette that I've come across, so I think they would be great for people that want to give up smoking tobacco.
Are Blāz cigarettes safe? smoking hemp is safer than smoking traditional tobacco cigarettes and you won't get high from smoking one, but it does make me feel uneasy that they haven't been tested for purity or safety.
However, they are still a great alternative to cigarettes and I am going to finish the packs they sent me as I really like them. Generally-speaking, I would be cautious about smoking them with any sort of regularity, but from time to time and as an emergency crutch they're ideal.
Effects were fairly subtle, but I definitely felt more relaxed after smoking a whole one.
What's really inside?
There's only one way to find out what's inside, so I grabbed a boxcutter and sliced open a Crème cigarette to take a look. Crème tested very highly in this test, ranking third out of all of the 12 brands tested.
The quality of the contents really was miles ahead of all the other brands in its price range.
I also sent a few Crème CBD cigarettes off to ACS Labs to run some potency testing of my own and found that each cigarette contains around 54mg of CBD, less than 10% discrepancy in what they advertise, which is great!
There literally wasn't one test in this entire process that this brand didn't excel in. Creme by Sugar appears to be refreshingly transparent and above board, producing some of the very best hemp cigarettes on the market right now. I highly recommend them to anyone looking for an alternative to traditional cigarettes.
Final word
Creme CBD Cigarettes won first place in our best hemp cigarettes for 2022 for being the best tasting and smoothest smokes around. We tested 12 brands in total and Creme by Sugar excelled in every single area that we tested them in.
The company is reputable and honest and provide comprehensive lab reports to prove that the hemp they use is potent and safe. They're also some of the most affordable CBD cigarettes we came across and can highly recommend that you give them a try!