⚡️ Our Galaxy Treats top picks
My favorite product from Galaxy Treats. Mellow and stimulating at the same time 10/10!
20% off with code:
CBDINC20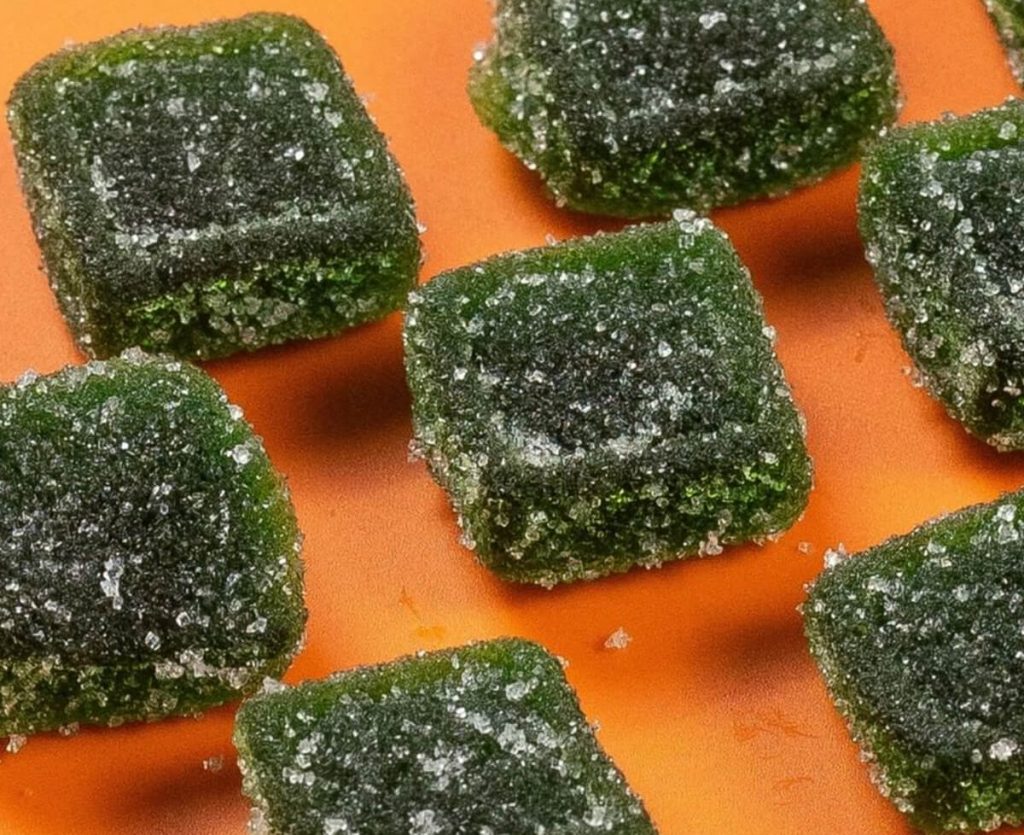 Uplifting and euphoric Delta 8 gummies. The only D8 gummies to actually give me the giggles!
20% off with code:
CBDINC20
…I carried on puffing away, lost count of how many puffs I took, and just a few minutes later, was high as a kite.
20% off with code:
CBDINC20
A reputable brand with legal highs
If you're looking for high-quality, effective legal THC products, for medicinal or recreational use, then I'm happy to be able to recommend Galaxy Treats to you. I was actively searching for reputable companies within the rare cannabinoid market when I came across Galaxy Treats and, believe it or not, great brands like Galaxy Treats are harder to find than you might think.
I've tried a number of their products now and in this Galaxy Treats review I'm going to tell you what I thought about them, as well as what I like about the brand and why they deserve your business.
Galaxy Treats review summary
Galaxy Treats is a highly reputable manufacturer and supplier of legal, hemp-derived THC products in the USA. Their fun brand is space themed, whereby all of their products and flavors are named after various space-ey sounding objects or words. With products called Moon Babies and Blast Bars and flavors like Orbital Peach and Pluto's Punch.
The company is fairly new to the market as they only started selling to the public in the last couple of years, but they've quickly established a fantastic reputation for supplying clean, highly effective products at affordable prices.
Pros
Premium rare cannabinoid vendor (D8, D9, HHC, and THC-O)
High Times 2022 Hemp Cup Winners (Moon Babies)
Highly effective Delta 8 & HHC products
Competitive pricing
All products are third-party lab tested for potency and purity
Great variety of gummy flavors
Disposable vapes can be recharged (so no waste)
Vegan-friendly gummies
Spend just $30 and get free shipping
Use code CBDINC20 to receive 20% off your order
Cons
Product line is limited to edibles and vapes
Gummies contain artificial flavors and colors
Return policy isn't great
Galaxy Treats reviews: All products
The products I tried from Galaxy Treats that I was most impressed with included the Galaxy Treats Moon Babies (Delta 8 gummies), their brand new Delta K gummies, as well as the Galaxy Treats Blast Bar (disposable vape bar with HHC).
See the best legal highs of 2023
Galaxy Treats Moon Babies reviews
I was especially excited to try Moon Babies by Galaxy Treats because of their recent award win from High Times Magazine (best edibles in the 2022 Hemp Cup). I tried the Plutos' punch HHC Moon Babies and the BlueRazz Rockets Delta 8 Moon Babies and you can read my Moon Babies Delta 8 review below.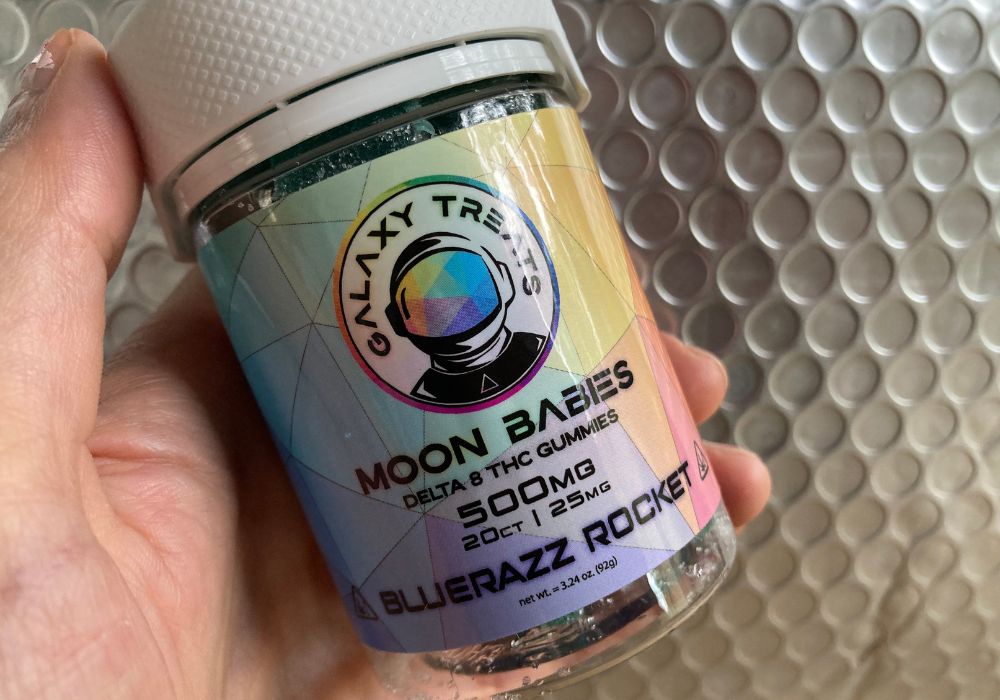 When I first took Galaxy Treats Moon Babies Delta 8 gummies I had certain expectations of them, based on my previous experience of other Delta 8 gummies of this strength. Since then, I've realized I need to leave my expectations at the door when it comes to trying Delta 8 products as I seem to get quite a unique experience each time I try a new brand.
I found the Galaxy Treats Delta 8 gummies to be much more uplifting and euphoric than other Delta 8 gummies I've tried. In fact, this is probably the first time I've had the actual giggles on Delta 8. And I didn't just feel giggly, I actually couldn't stop giggling for a little while there.
Memory impairment was also probably a little more than I'd experienced in the past, but I didn't have anything important to do, so that was ok. I didn't feel any anxiety or paranoia, despite being a little more baked than I bargained for, I just felt very happy and energized.
Delta 8 Moon Babies come in several spacey-sounding flavors, including Starberry (presumably strawberry), Mars Mango, and BlueRazz Rocket. The blue raspberry flavor is amazing, which you would usually view as a positive, but what this actually means for me is that my husband is constantly stealing them when I'm not looking (luckily he knows well enough not to touch my gummy stash before work!).
Overall, I had a blast on these Delta 8 THC gummies from Galaxy Treats, would recommend them to others, and am quite keen to experiment with them further. For example, what would happen if I just took half a gummy? Will it allow me to experience the same unbridled joy with less impairment, so I might be able to take it during the day as a mood-booster?
And what would happen if I took two gummies? More importantly, will I ever have the guts to try two gummies?
I'll report back either way.
NB. If you're more daring than me and want to try Delta 8 from Galaxy Treats, then I recommend you try the Galaxy Treats Cosmic Krispies which contain a massive 100mg of Delta 8 per portion! If you do, please leave your Galaxy Treats Delta 8 review in the comments below, so we might all learn from your bravery and experience.
Code CBDINC20 gives 20% off your order
Galaxy Treats' Delta K gummies blend a light helping of Delta 8 THC (15mg) with 10mg of Kanna (also known as Sceletium tortuosum). Kanna has been used in South Africa for hundreds of years to boost mood, ease anxiety, and improve focus.
Kanna is often referred to as "nature's MDMA", a schedule I stimulant also known as Molly or Ecstacy, and at higher doses (+25mg), Kanna can be pretty intoxicating, reminiscent of MDMA in more ways than one, including massive increases in energy, empathy, and pleasure. This will be my first experience with Kanna, so I'm interested to see what 10mg will do!
I took my first Galaxy Treats Delta K gummy on a Friday afternoon, as I was curious to see how it would affect my concentration and mood at work (without too much pressure to carry on working, just in case).
Just one Delta K gummy had pretty noticeable effects, making me feel really happy and energized, but at the same time I still felt like I wanted to relax rather than move about. I found it to be oddly stimulating and sedating at the same time.
I felt like I was able to think more clearly and get work done, but I did end up wrapping up earlier than usual as I wasn't 100% confident on the quality of my output and I really just wanted to relax and enjoy my happy, positive, smiley mood.
Overall, I found the experience to be really uplifting. I'll definitely be disappointed when these gummies run out and I think that I slightly prefer them to other straight Delta 8 THC gummies.
Code CBDINC20 gives 20% off your order
My Galaxy Treats Delta 8 gummies experience was still fresh in my mind when I tried one of the Galaxy Treats Blast Bars, so I made sure I had all of my chores finished before sitting down to sample this device one Thursday evening. My Blast Bar contains two grams of Planet Blue, Sativa HHC.
The ingredients list is very short and shows just the HHC concentrate and terpenes and it's nice to see vape products that don't contain any unnecessary fillers or additives.
As a disposable vape with auto draw, this product is extremely easy to use. You just take it out of the box, remove the silicon mouthpiece plug and start puffing away.
I took around three or four puffs at first and didn't really feel anything. So, I carried on puffing away, lost count of how many puffs I took, and just a few minutes later, was high as a kite. Well done me!
This vape had very stimulatory effects on me at first. I felt very happy and became super chatty for the next 20 minutes or so, then I started to feel really relaxed and peaceful, content to just sit there and listen to others chat away, until I was distracted by the sounds of nature.
NB. I've also noticed that the silicon plug sometimes gets oil on the end of it, so now I have to wipe the mouthpiece before using it each time.
Code CBDINC20 gives 20% off your order
More about the HHC cannabinoid
Why choose Galaxy Treats?
If my Galaxy Treats product reviews don't already have you convinced, then what about all these fabulous reasons why Galaxy Treats deserves your attention.
Highly effective products
Galaxy Treats are selling highly effective products and although I can only testify to the effectiveness of their Delta 8 and HHC products, I would have great confidence in all of the rare cannabinoids they supply.
Their Moon Babies Delta 8 gummies didn't just win me over either as they also won 2nd place in the High Times Hemp Cup this year in the "Best Edibles" category. An award from High Times is high praise indeed!
Competitive pricing
Galaxy Treats Moon Babies are very reasonably priced at around $35 for 20 gummies, which works out at $1.75 per serving. If you want to try them out for yourself and see how they affect you, before committing to a 20 count, then you can also buy them in a pack of two for just $4.99.
🤑 Plus, you can use our Galaxy Treats discount code to receive 20% off. Just type in CBDINC20 at the checkout and the discount will be applied.
All products are third-party lab tested for potency and purity
As mentioned previously, it was Galaxy Treats' lab-results that made me want to work with this brand in the first place. Unfortunately, due to the lack of regulation that exists in this market, many companies that sell Delta 8 and other rare cannabinoid products are just here to make a quick buck and will sell you anything to do so.
However, Galaxy Treats have all of their products tested by third parties to verify not just their advertised potency, but also the purity of their products, meaning each product comes with an assurance that it is free from pesticides, heavy metals, microbials, mycotoxins, and residual solvents.
Delta 8 products (especially) need residual solvent testing to ensure that the compound was manufactured and distilled correctly. The fact that Galaxy Treats pays for this testing to be carried out, despite not having to, is a great testament to the quality of the products and ethos of the company.
In my opinion, having this testing carried out proves that the brand puts product and customer safety above their profit margins, which is awesome to see.
Great variety of gummy flavors
The texture and flavors of the gummies I tried from Galaxy Treats were up there with the best and (for anyone wondering) yes, they are vegan-friendly.
The BlueRazz Rockets flavor is phenomenal (I'm always a sucker for blue raspberry flavor) although as I was nearing the end of the bottle, I did start to notice a weird sharp after-taste that I hadn't noticed before. The Pluto's Punch and Orbital Peach flavors were also very delicious and the gummies didn't suffer any melting problems, despite the fierce temperatures that can be experienced on my porch at this time of year.
Disposable vapes can be recharged (so no waste)
The Blast Bars are a bit chunkier than some other disposables I tried, but they come with 2mg of vape juice, so they last for ages, making them superb value for money. I hate it when disposable vapes run out of battery before they run out of vaping juice as it's such a waste, so I was really pleased to see that the Galaxy Treats Blast Bars can be recharged with a standard USB Type C charger.
I haven't had to charge it yet (it's lasting forever!), but I am very glad that I will be able to when needed.
Free shipping
You also get free shipping from Galaxy Treats when you spend over $30 which is great because in this digital shopping world, no-one likes having to pay for shipping these days.
And $30 isn't difficult to spend. For $30 you could either buy a few different sample packs of gummies to see which cannabinoids and flavors work best for you, or just order one full size product.
Amazing customer reviews
Finally, Galaxy Treats have thousands of glowing, five-star reviews from previous customers that just can't be ignored. Their customers rave about everything, from the product effectiveness, flavor, and quality.
It's especially great to see that these legal THC products are improving the quality of people's lives. Delta 8 and HHC are really helping some people manage chronic pain and sleep issues, so it's great that we have a reliable and quality supplier, like Galaxy Treats, around.
"Have tried a nice variety of Delta 8 products and the Galaxy Treats are my favorite. Wonderful taste but most importantly for me, they really help with the daily pain from fibromyalgia and arthritis (I'm 64) 1/2 a gummy if I need to be out, but evenings a whole one and I sleep the night. Take on an empty stomach for best relief..and enjoy the mellow buzz in 20 to 30 minutes." ELIZABETH R.
"These are some of the BEST delta 8 edibles I've ever tried. Hands down best quality and flavor. Will definitely recommend!" AARON C.
Can I get Galaxy Treats Moon Babies near me?
Having read my Moon Babies Delta 8 review, you're probably wondering where you can buy Galaxy Treats Delta 8 products. Well, all of their products are available online on their official website, but they are also available in lots of stores nationwide. If you want to find out if they're available in a store near you, then you can check this link below.
Galaxy Treats will send you to space, man
If you're looking for a reliable, quality, and affordable supplier of hemp-derived Delta 8, Delta 9, HHC, or THC-O, then I highly recommend that you give Galaxy Treats a try! All of their products are comprehensively tested by third parties for potency and safety and they have a great range of deliciously flavored gummies and vapes for you to sample, so what are you waiting for?
Whether you want to get high, relieve pain, or sleep better at night, Galaxy Treats have been setting a new standard for clean, high-performance products in the rare cannabinoid market.
Don't forget to use our special Galaxy Treats coupon code at the checkout! Inputting our CBDINC20 code will get you a massive 20% off your entire purchase.