⚡️ Our top picks 2023
Very potent even though the 10mg THC is paired up with 10mg CBD.

⭐️ Editor's choice
⭐️ Potent!
On vendor's website
Great if you want a high dose of THC without breaking the bank. It's delicious too!

⭐️ Economical
⭐️ Delicious
On vendor's website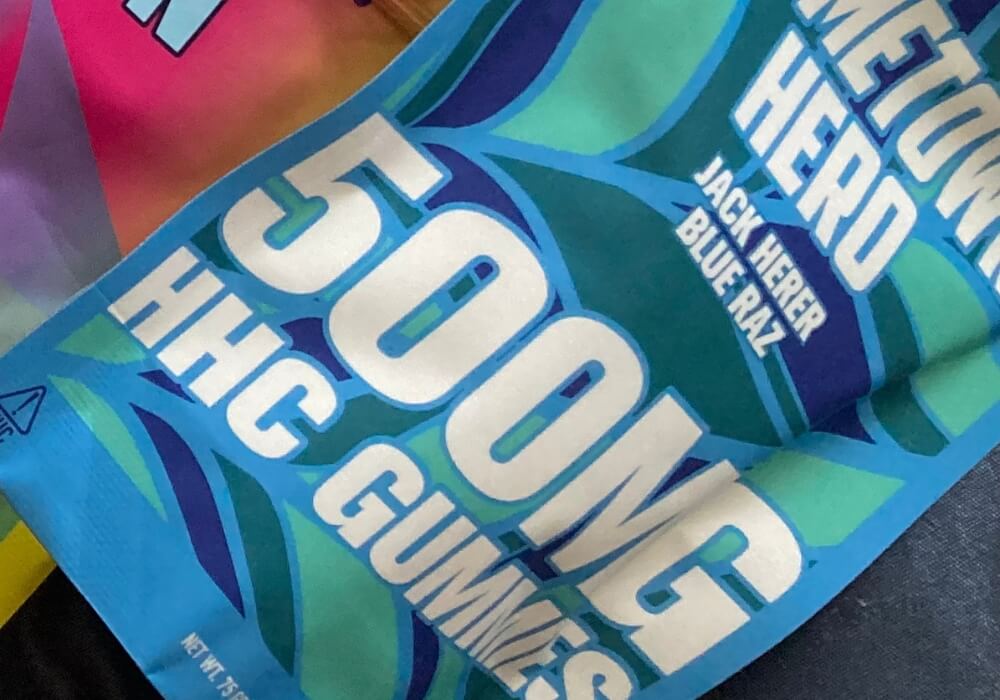 The HHC gummies are a great option if you want to try something new with great effects.

⭐️ Euphoric effect
⭐️ Potent dose
On vendor's website
A true Hero!
If you're searching for a reputable brand producing high quality legal cannabis, then you can stop looking now, because you just found it.
Not only does Hometown Hero produce some of the best quality THC edibles on the market, but they also help veterans in need, meaning every purchase you make with them goes towards supporting a fantastic cause.
Hometown Hero review summary
When you hear about a company that's regularly donating a share of their profits to charity, you really want to like them. So, you can imagine my huge relief when I first sampled one of their gummies (their Select Spectrum gummies (https://hometownhero.sjv.io/m5OkbM) to be exact) and found the effects to be a lot stronger than I expected.
In case you don't have the time (or inclination) to read my full Hometown Hero CBD review below, let's take a quick look at the main pros and cons of ordering with this brand.
Pros
Incredibly effective and award-winning edibles
All purchases help support veterans in need
Potent THC options available
Premium extracts used (including live rosin)
Always made from organic, USA-grown hemp
Great selection of edible types
D9 taffy and cocoa squares are some of the tastiest edibles around
Comprehensive third-party testing for potency and purity
Fast shipping and first-class customer service
Sometimes offer free samples for you to try THC
Offer a 14-day, risk-free guarantee
Cons
Gummies aren't as tasty as some others I've tested
No CBD-only products
Is Hometown Hero legit?
Absolutely. Hometown Hero is a highly reputable hemp brand that is doing everything right when it comes to producing safe, quality, and consistently effective hemp products, with thousands of loyal customers all across America.
All Hometown Heroes products are third-party tested for their potency and purity, ensuring that they're free from contaminants, such as pesticides, heavy metals, residual solvents, microbials, and mycotoxins.
Hometown Hero Delta 9 gummies review
Hometown Hero has a great menu when it comes to legal cannabis edibles, offering a couple of different Delta 9 gummy options. Their Select Spectrum gummies contain a 1:1 blend of Delta 9 THC and CBD and their Delta 9 THC live rosin gummies come in two different strengths of pure THC, 5 mg and 25 mg.
Total Score
i

Individually tested by CBD Incubator
I'm not sure why, but I originally thought that eating one of Hometown Hero's Select Spectrum gummies wouldn't affect me too much. Although 10 mg of Delta 9 THC is usually plenty for me to experience a noticeable high, I think I thought that the 10 mg of CBD in the gummies would do more to counteract that effect.
What was I thinking?! 😲
It's safe to say that I definitely felt way more high from taking one of these gummies than I expected to!
I ate it shortly after dinner and, although I found the mango taste to be fairly pleasant, it wasn't necessarily something I'd look forward to eating again if it didn't have cannabinoids in it, if you know what I mean.
However, what these gummies lacked in awesome candy vibes, they more than made up for in effects. I noticed I was feeling pretty high after about an hour. It was a really nicely balanced high feeling, very relaxed and calm, but also a little floaty and euphoric. The effects lasted for hours too, well into the evening and past my bedtime.
In the interest of full disclosure, I did experience about a very short period of anxiety while on these gummies (just a few minutes), but I put that down to the effects being a lot stronger than I was expecting. I talked myself down from the anxiety quickly and easily and enjoyed the rest of the ride. I definitely wouldn't be able to work or drive on a whole one of these.
After my first experience, I read some other Hometown Hero gummies reviews online and found that many people take just quarter or half a gummy (oops), so the next time I tried these Select Spectrum gummies, I only ate a quarter of one.
With a dosage of 2.5 mg each of THC and CBD, I didn't expect to feel too much (haven't I learned my lesson?), but I did notice a significant improvement in both my mood and focus within the hour. They really take the edge off and clear my head.
After a long, busy, or stressful day, I might take another small dose in the early evening. It offers me an immediate unwind from work that still allows me to get stuff done around the house, like cooking and cleaning.
I think the more I experiment with THC these days, the more I prefer the high when it's mixed with CBD. These gummies are very impressive. Oh, and I much preferred the strawberry flavor when I opened a new pack.
I highly recommend these gummies for anyone that wants to try microdosing THC or wants to smooth out their THC high with a 1:1 blend like this.
Total Score
i

Individually tested by CBD Incubator
If you have a higher tolerance for THC, or have to watch your budget, then you might be better off with Hometown Hero's Select Spectrum Cocoa Squares, which offer more THC bang for your buck. They're also very yummy which is quite scary for me as I always want to eat more of the square than I should.
The $40 packet contains 300 mg of THC and 300 mg of CBD in four x cocoa square servings. I wouldn't personally eat a whole 75 mg THC / 75 mg CBD square, preferring to chop it up into smaller, more manageable pieces, but many would (and have).
In fact, these are my husband's favorite new edible.
Total Score
i

Individually tested by CBD Incubator
The people that chose the Delta 9 gummies (mainly the weed smokers among us) were impressed with the efficacy of these gummies and everyone that took them said the taste and texture was also very good, soft and easy to chew but not squishy (like some other vegan gummies on the market).
The effects ranged between happy and upbeat to more euphoric and giggly (for one person), but everyone reported feeling very relaxed and said that the effects lasted for a long time.
On this particular evening I actually chose to take one of Hometown Hero's Delta 8 gummies instead, but I've since tried one of the indica gummies (Grand Daddy Purple). I ate it around 8pm and had a very pleasant, super chilled-out (horizontal) evening. I went to sleep around 10.30, slept like a baby, and woke up feeling refreshed and clear-headed.
In the past I've experienced a noticeable weed hangover when I've used THC gummies for sleep, but I didn't get that this time and I think it was because I took it a bit earlier in the evening rather than right before bed. So, new top tip – eat your THC sleep gummies a little earlier than bedtime so they have time to properly work their way out of your system before your alarm goes off!
Total Score
i

Individually tested by CBD Incubator
Having tried hundreds of Delta 8 gummies at this point in my life, I have to say that my experience with Hometown Hero's Delta 8 gummies was pretty great. The effects come on smoothly and just one 25 mg gummy puts me in a good place, emotionally, mentally, and physically.
I felt happy, relaxed, and comfortable, and the entire experience felt more clean than what I've been used to (I like Delta 8 but often find that it feels a bit more chemically than Delta 9).
I also found that the effects of these gummies seemed to last longer than others.
When I run out of the Select Spectrum gummies, I'm definitely going to try microdosing with these next.
If you're not sure which THC will be right for you then we have another article that will help you choose between Delta 8 or Delta 9 THC here.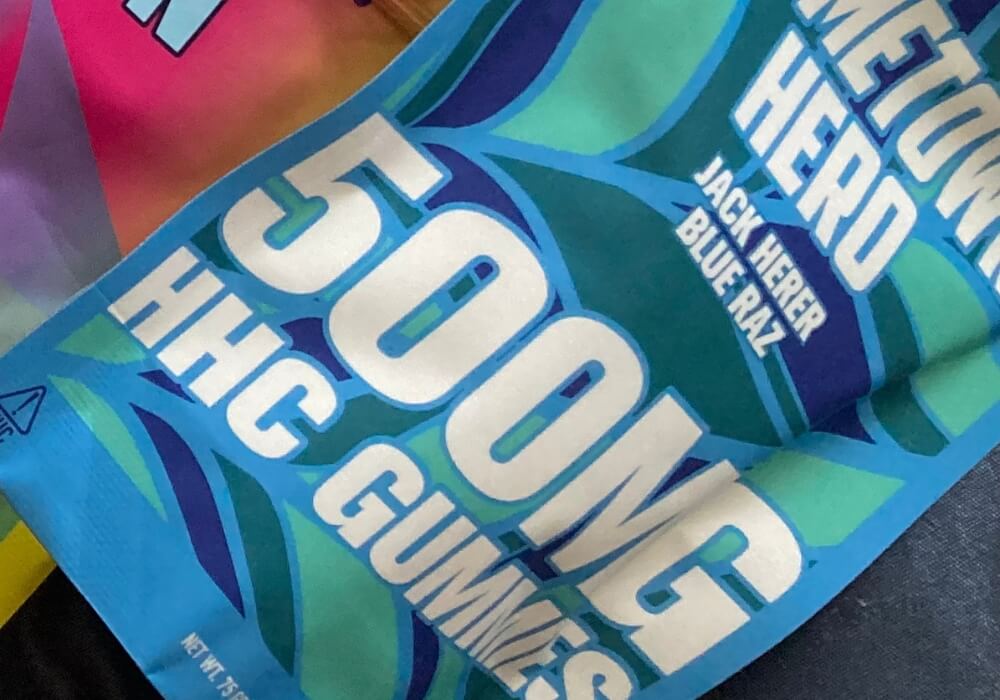 Total Score
i

Individually tested by CBD Incubator
The HHC gummies produced by Hometown Hero contain a massive 50 mg of HHC in each gummy and, because HHC is easily one of my favorite minor cannabinoids, I was probably the most excited about trying these over all the other Hometown Hero gummies.
Since receiving my care package, I've had several thoroughly enjoyable evenings after taking just one of these gummies. If you've not taken THC or HHC before, then these gummies may be a little strong for you, so you might be better off starting with a quarter or half. My husband, on the other hand, jumped straight in with two gummies because his THC tolerance is a lot higher than mine.
The effects were euphoric, uplifting, and energizing, so when I saw (online) that they contain a dash of sativa dominant live rosin, I wasn't overly surprised.
The BlueRazz flavor was delicious (my favorite Hometown Hero gummy flavor so far) and I thought the texture was better than that found in the other gummies too.
Some of the benefits of buying from Hometown Hero
Here are some of the main benefits you can enjoy when you buy your legal THC and HHC products from Hometown Hero:
1. High quality products
When I arrived on their website to start doing some research, one of the things that stood out to me straight away was their commitment to product quality.
Despite their fun and playful packaging, this brand knows that many of their customers take their products for health reasons, as opposed to wanting to get high, and it's easy to see that Hometown Hero takes product quality and testing so seriously.
All of the hemp used in their products is grown organically on clean, arable farmland in the USA. Their extracts are also the highest quality extracts available, with many of them being made from live rosin (the most expensive extract type on the market).
Live rosin helps to preserve more of the hemp-plant's naturally-occurring cannabinoids and terpenes, so that the end product is much closer to the way Mother Nature intended.
According to the information provided on their website, Hometown Hero also puts each one of their products through no less than six different round of purity testing, to ensure that their products are free from contaminants, such as pesticides, heavy metals, microbials, mycotoxins, and residual solvents.
2. Highly effective products
All of the products I tried from Hometown Hero worked harder (better) than I expected them to. I don't know if it's the quality or delivery but, mg for mg, these products just seem to elicit stronger effects than many others.
Overall, they are slightly more pricey, which could be a turn-off for those on a budget, but when you consider the fact that you don't have to take as much, I think these products could possibly end up working out to be more cost effective.
3. Supporting Veterans with Hometown Hero
Another great reason to support Hometown Hero is that every purchase you make goes towards helping veterans in need.
Raising money for veterans is at the very heart of their business model and this has been a cause that they've been supporting for many years already, even before they were involved in the hemp industry. One of the owners is actually a vet himself, but both owners are equally passionate about increasing the donations they make year on year.
4. A note on price
After all my researching and mystery shopping with Hometown Hero CBD, I could only find a couple of things to complain about (although it's more nit-picking than complaining, because that's my job).
As mentioned previously, at first glance I thought that some of their products were a bit pricey, but when you take the superior extracts, more stringent testing, and huge donations to charity into consideration, the extra you pay on these few products is negligible.
After giving this a bit more thought, I also price-checked their live rosin Delta 9 gummies against five other random brands I found on Google search and found:
One product was slightly cheaper and was tested for potency and some purity tests were present (incomplete testing)
Two products were comparable in price (mg for mg) but only supplied proof of potency testing (neither of these products had third party testing for purity/safety)
Three products were cheaper but neither offered any proof of third-party lab testing (both companies claim that they'd been tested, but there was no evidence)
Contrary to what I said earlier in my review, their prices, in comparison to others, are actually quite awesome.
Final word
Having tried a range of Hometown Hero products, it's easy to see that they care about their products and customers. Whether it's their passion for the hemp industry or for helping veterans (or both), the standards they set for product quality and effectiveness are hard to beat.
They do have a distinct lack of CBD-only products, especially for a company whose website is hometownherocbd.com, but if you're looking for legal cannabis edibles, then I HIGHly recommend you check out this brand.
If I had to choose just one product to recommend, it would be their Select Spectrum gummies.
Enjoy!