⚡️ Staff picks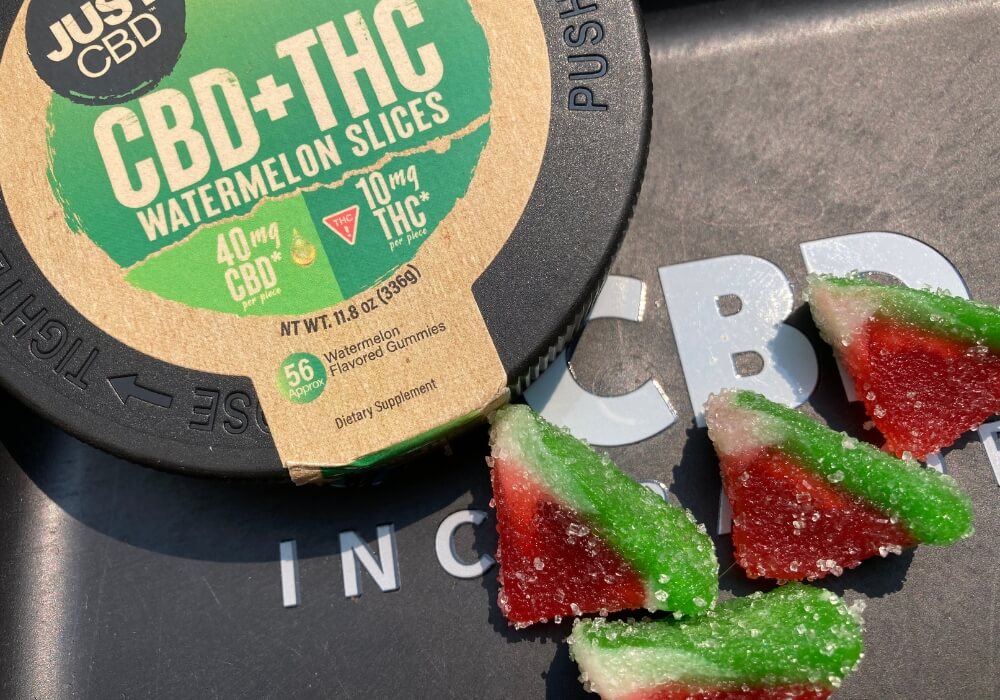 These gummies are ideal for anyone looking for stronger relief. They also offer a smooth and nicely balanced high.

⭐️ Editor's choice
⭐️ Mellow high
On vendor's site
These gummies will help you chill like you've never chilled before. Perfect to help you wind down after a particularly stressful day at work or for a blissful Sunday movie sesh.

⭐️ Anxiety killers
⭐️ Nice flavor
On vendor's site
These disposable vapes are strain specific and come in many different options. I love Pineapple Express!

⭐️ Strongest high
⭐️ Strain specific
On vendor's site
So much more than just CBD
On top of their wide CBD product selection, JustCBD also offers a range of products containing more sophisticated, tailor-made cannabinoid blends to help cater for more specific needs. Over the years, I've tried a bunch of them and am going to share a little bit about what I've found here, in this Just CBD review.
So, if you're in the market for a new CBD brand and are considering investing in JustCBD, then stick with me as I share my honest opinion (the good and the bad) of this brand and its products.
Just CBD review summary
If you consider yourself a bit of a candy connoisseur and/or gummies are your go-to consumption method for CBD or THC, then you'll be doing yourself a massive favor by acquainting yourself with Just CBD.
On top of producing the widest selection of gummy flavors on the market, JustCBD also produces a great range of other high quality CBD products, all of which are safety tested and affordable for all.
Pros
Extracts are made from organic, US-grown hemp
Great selection of products
Affordable prices
Biggest and best range of gummy flavors
One of the best relief gels on the market
Comprehensive product testing (potency and purity)
GMP certified
All products are medically-reviewed
Nearly 100,000 five-star customer reviews
30-day, money-back guarantee
Friendly and highly responsive customer service team
Also available in the UK and Europe
Cons
Gummies and capsules aren't vegan-friendly
Gummies contain artificial colors and flavors
Just CBD review: The products
When I say that Just CBD has a great product range, I really mean it. Among the different types of products they sell, you'll find:
CBD tinctures, oils, and capsules
CBD vape pens, carts, and juice
CBD, Delta 9 THC, and Delta 8 THC gummies (including sugar-free options)
CBD skincare (body lotion, creams, and bath bombs)
CBD topical products (creams, gels, and roll-ons)
CBD for pets
This is great for lazy shoppers like me, as it means you can buy everything you need in one place. As I said, I've been lucky enough to try a number of their products now, but these are the ones that stand out the most…
JustCBD gummies review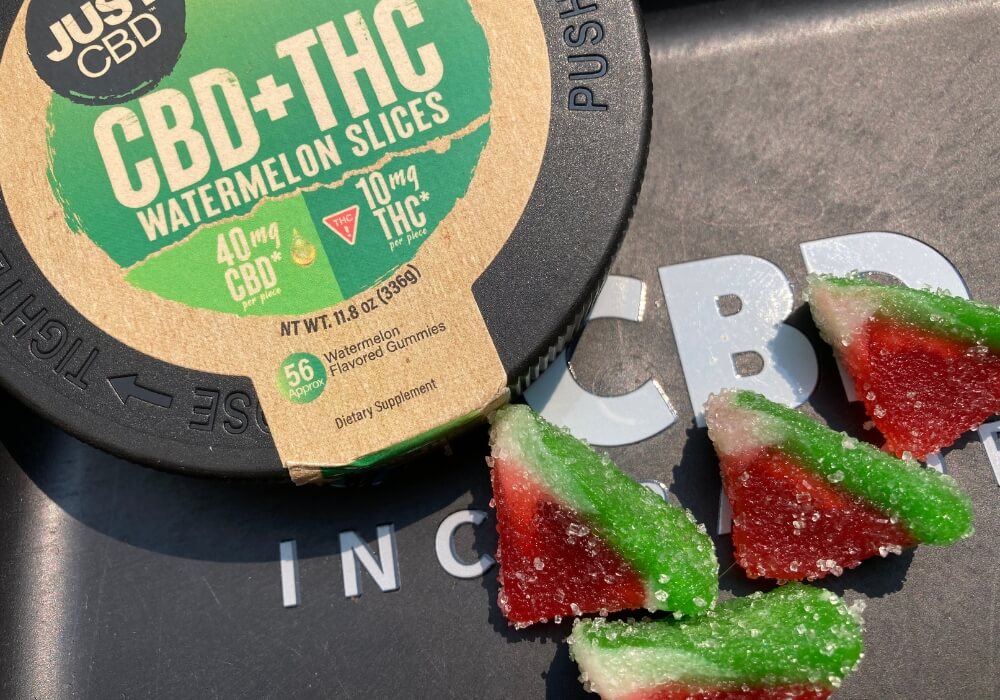 I couldn't write a review on Just CBD without mentioning their gummies, nor would I want to, because Just CBD excels on the gummies front.
The long and short of it is, if you love gummies then you're going to love JustCBD, because this brand has gummies galore!
You're literally spoiled for choice when it comes to delicious flavors (sour cherries, peach rings, rainbow ribbons, clear bears, sour bears, clear worms, sour worms, apple rings, blue raspberry rings, watermelon rings and slices). And if you can't choose, then why not go for the party-pack which contains a mixture of all their most popular flavors?
They even sell sugar-free gummy worms, which is fantastic for anyone who needs or wants to watch their sugar intake. Not such good news for vegans though as despite their wide range of gummy options, none are suitable for vegans.
Gummies are literally my favorite candy, so it's impossible to narrow them down to just one favorite flavor (OK, maybe the sour cherries) but every flavor I've tried so far has been just as good as the candy you'll find at your favorite pick 'n' mix counter, so I don't think you'll be disappointed with any flavor you choose.
These gummies do contain artificial colors and flavors but then, so does the vast majority of candy I eat, and I don't get any benefit at all from eating that, so I'm more than happy to swap out the "useless" candy in my life for these medicinal candies 😋
One of the most important things for me, when it comes to CBD gummies (and other CBD products) is that they're potency and purity tested. And, like all of their products, JustCBD's gummies are comprehensively tested for both (by third-parties). Up-to-date lab reports, verifying the gummies' cannabinoid content and showing that they're free from contaminants, can be found on their website.
Depending on what you want the gummies for, JustCBD has regular CBD gummies, Delta 8 Gummies, CBD and THC gummies, and CBD+ calming gummies (with CBG, CBN, and HHC). They also have CBD gummies for sleep (with melatonin), but I actually prefer taking their CBD+ Calming Gummies for sleep.
My three favorite gummy types from Just CBD are:
ℹ️ CBD content varies depending on gummy flavor/type
These gummies are great for relieving anxiety, boosting mood and focus, as well as everyday general wellness.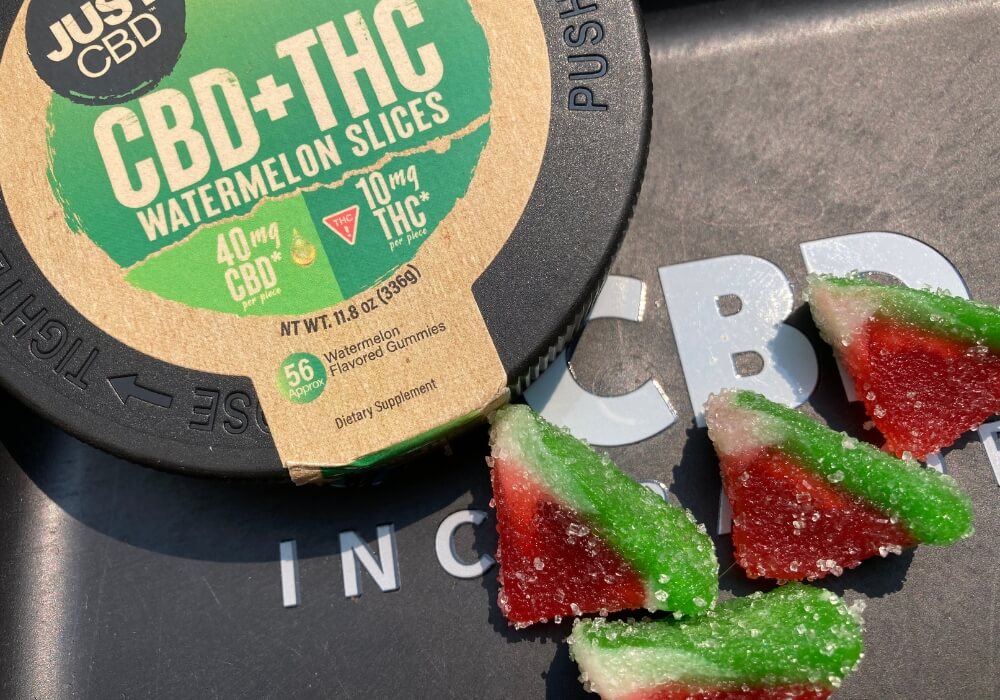 ℹ️ 40 mg of CBD and 10 mg of THC in each gummy
These gummies are ideal for anyone looking for stronger relief. They also offer a smooth and nicely balanced high.
60 mg of CBD and 5 mg each of HHC, CBG, and CBN in each gummy
These gummies will help you chill like you've never chilled before. Perfect to help you wind down after a particularly stressful day at work or for a blissful Sunday movie sesh.
All of their gummies are delivered in plastic pots with child-safe, screw-top lids, and they come in a range of sizes to suit your budget.
A word of warning though: Remember to check the serving size for each gummy type as it will change depending on the type/size of the gummy.
Just CBD vape reviews
If you prefer a faster-acting product than CBD gummies, then you should check out Just CBD's range of vaping products instead. Inhalable products like these allow the CBD to enter your bloodstream quickly and easily through thousands of capillaries in your lungs, meaning you'll feel the effects much faster than you will with gummies.
And when it comes to vaping products, Just CBD has it all, including vape juice, vape carts, vape batteries, and disposable vape pens, so you can choose the one that best suits your needs. I prefer their disposable vape pens and carts but, if you have a vaping device that you can refill, then their vape juices will work out to be a more affordable option for you.
Just CBD has five 2ml disposable vape options that contain 1000 mg of CBD per device. At $24.99 per vape, they're incredibly affordable so one of these ready-to-go vapes could easily become your new go-to CBD vaping device.
I love the fact that Just CBD's vapes are strain-specific as it means no artificial flavors (which can cause damage to your lungs). Plus, they offer enhanced effects due to the synergy that exists between cannabinoids and terpenes.
Pineapple Express is one of my all-time favorite strains and Just CBD does it really well. I do love the fruity flavor, but I choose this one over the others every time mainly due to the effects. It's one of those "one-size-fits-all" kinds of strains that you can smoke at any time of day without getting too jazzed up or too sleepy.
The first thing I notice when I take a couple of puffs is all my muscles relax and tensions melt away. I don't think I'm a particularly wound up person, but when I use this vape it feels like my body is sighing in relief, like I didn't even realize I felt tense in the first place.
It's also great for anxiety and for lifting my mood at any time of day, without making me feel tired or lazy.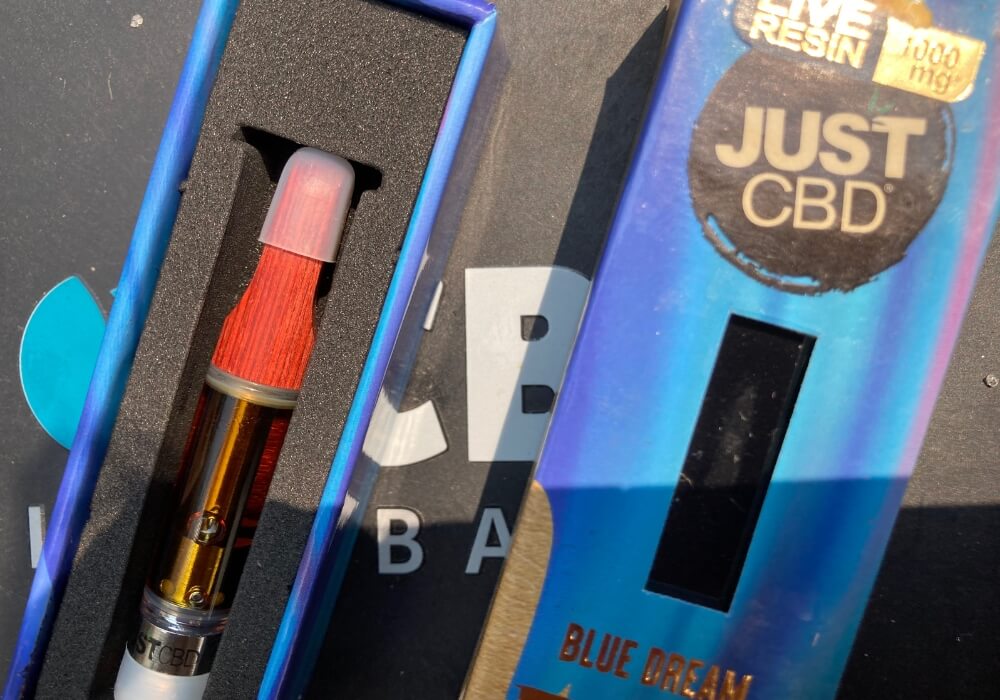 Just CBD vape carts are also available in the same five strains/flavors as their disposables (Blue Dream, OG Kush, Northern Lights, Pineapple Express, and Sour Diesel), but they contain a greater concentration of CBD (1000mg of CBD in a 1ml cart).
This higher concentration makes them ideal for people who need greater symptom relief and/or want to vape less for the same great effects (as the disposables).
I only tried this Ultra Relief CBD gel (for the first time) quite recently and it's one of the best pain products I've come across in a long time, providing surprisingly quick relief from a variety of muscular aches and pains.
This gel scores 4.8 stars (out of 5) from over 1,000 customers, so I had particularly high expectations going into the test, but this product is absolutely worth all 5 stars if you ask me.
It comes in two different strengths and, since I don't have any serious pain issues, I went for the lower strength option and it worked perfectly for what I wanted.
Alongside 1,000 mg of CBD in each bottle, the formula also includes menthol, camphor, rosemary, thyme, and tea tree oils, all of which possess potent analgesic and anti-inflammatory properties. Menthol and thyme can also help improve circulation and camphor and tea tree are also known to exhibit antibacterial and antifungal effects.
Judging by the ingredients list (found on the back of the bottle), this gel contains an absolute powerhouse of pain-relieving ingredients.
The gel comes in a slim, pump-action bottle, which makes it really easy to hold and dispense with one hand (which is handy when you're holding your t-shirt up with the other). At first, I thought I had a faulty bottle but, as it turns out, it just took ages for the gel to come up through the pump. So, don't give up, just keep on pumping and the gel will appear eventually!
I love the thicker consistency of this gel because it means you can dispense it straight from the pump onto the area you need it and then rub it in. It spreads and rubs in easily and absorbs impressively fast (I was surprised with how quickly my skin was dry again after applying it).
I usually have reservations about products like these containing menthol, as I sometimes find the menthol to be too overpowering, but the balance of menthol in this particular product is absolutely perfect.
The cool feeling of the gel on my skin is immediately soothing and, even as the feeling builds over the next 30 minutes or so, it doesn't feel too overwhelming at any point, just cool and delicious.
I also really like the way this gel smells, which is really clean, slightly sweet, and minty fresh.
I love using this product after working out as it relieves my tired muscles and helps cool me down after a tough workout. Plus, after applying it, I'm able to get dressed again straight away (no waiting around for a cream to absorb) and I feel much more refreshed.
I've also used this gel in the middle of the afternoon at work when my back's been aching. It provides almost immediate relief for my lower back and the cool feeling on my skin helps to revive me, as well as remind me to sit up straighter in my seat.
I've only tried the 1,000 mg strength, so I can only imagine how effective the stronger 5,000 mg CBD option is!
Just CBD brand review
Aside from having a great range of effective products, Just CBD has the best range of gummy flavors on the market, a fantastic customer service team, and thousands upon thousands of loyal customers, proving that they're one of the truly great CBD brands around right now.
Awesome range of gummy flavors
As mentioned earlier, JustCBD has THE BEST selection of gummy flavors on the market, hands down. From sour cherries to gummy bears to peach rings, once you switch to this brand, you'll never get tired of eating the same gummy, day-in, day-out, ever again.
Great customer service
In all my years of buying vaping products from Just CBD, I did once have one turn up that was leaking. Device leaks like this are pretty common with some cheaper brands but more rare with reputable brands like this one.
However, in Just CBD's defense, the week this happened we were having a ridiculous heatwave and I expect the extreme temperatures were the cause of the problem.
Anyway, the reason I'm sharing this information is that I emailed the customer service team (telling them what had happened) and they replied within an hour(!) offering me a free replacement product. I think you'll agree that an understanding and responsive customer service team is sorely under-appreciated until you need them!
Nearly 100k positive customer reviews
JustCBD also has nearly 100,000 five star ratings from extremely satisfied customers. Previous (and current) customers rave about the gummy flavors, but they also show their appreciation for how effective, affordable, and reliable this brand's products are.
Just CBD offers a lot more than just CBD
If you're a big fan of CBD and/or THC gummies then you'll be bowled over by the huge and truly fantastic selection of gummies on offer at JustCBD. Whether you prefer sour cherries, orange slices, or gummy bears, every single gummy I've tried is delicious (and terribly more-ish).
But it's not just the gummies that impressed me as their Ultra Relief CBD gel is literally one of the best pain products I've tried in ages. Their vapes are high quality, tasty, and effective, and their dog treats were a godsend on 4th July for keeping two of my friends' dogs calm during the fireworks.
I highly recommend that you try Just CBD's wide range of products for yourself. It goes without saying that they get a massive thumbs up from me. Great job guys!