⚡️ Featured product
Summary
I tested Plain Jane CBD cigarettes alongside 11 other brands in the market. I conducted research into all 12 companies, looked at lab reports, cut them open to look inside, had them independently tested for potency, poked, prodded, and squeezed, and finally… I smoked them.
In this Plain Jane CBD review, I'll give my honest opinion of their cigarettes, which are also sometimes called Plain Jane Hemp Rolls on their website. Keep reading to find out why this brand is one of my top recommendations for best hemp cigarettes in 2022.
Pros
Enjoyable, smooth smoke
Mild but pleasant effects
Reasonable price
Cons
No purity/safety testing available
Potency was 11% under what was advertised
View the best CBD cigarettes of 2022
Read about our testing process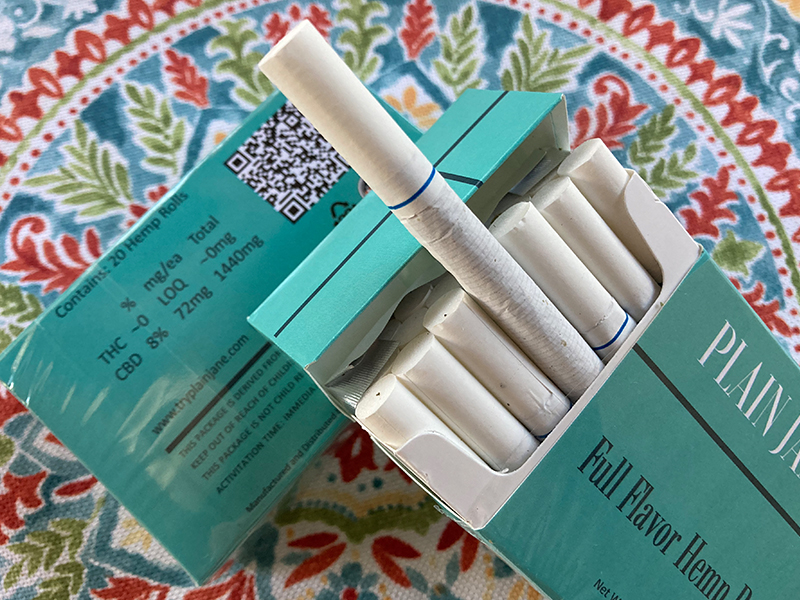 Plain Jane
Plain Jane entered the CBD market to provide affordable CBD products to a wider audience. The brand's fairly low pricing point has caused many people to ask "is Plain Jane a good brand?" and if so, "why is Plain Jane so cheap?".
From what I've personally tried, I can quite honestly say that Plain Jane is producing some great products. I assume the reason their pricing is low is because of their business model. Just like in every other sector of business, you have more affordable options and more luxury options available.
I also believe (correct me in the comments if I am wrong) that PJ was acquired by Industrial Hemp Farms when founder Evan Marshall sold the company in 2021. Today their farm remains in Southern Oregon but the new muscle provided by IHF allows them to push the prices down.
A lower priced brand may not be able to offer you the same premium quality, packaging, and customer service than a higher priced brand, but it doesn't mean that their products aren't going to work.
The Plain Jane brand has been making a good name for itself for a couple of years now and I would say their prices are very reasonable for the great quality they're producing.
One of the things they do well is provide great quality smokable hemp flower. In fact, we included a brief Plain Jane CBD Flower review as part of our best CBD flower companies article this year. This is also the second year running that their cigarettes have featured on our best CBD cigarettes list.
When it comes to CBD cigarettes Plain Jane has a decent variety to choose from, including original full flavor and menthol, as well as their unique offering of low-odor cigarettes, which are designed for situations when you need to be more discreet about smoking hemp.
If you prefer more of a buzz from your cigarettes, then Plain Jane delta 8 cigarettes might fit the bill (and I'll be uploading a full review of these soon).
Plain Jane CBD Cigarettes Review: Full Flavor
Plain Jane cigarettes are available in packs of 2 or 20 for just $3 or $13 respectively. Then once you've established that you like them, they're also available in cartons (10 packs of 20) which will save you even more money, unless of course you think you'll end up smoking more simply because you have more(!).
Their cigarettes are made from a blend of Elektra, Lifter, and Sour Space Candy CBD-rich hemp flower strains (a few of my favorites), so I'm genuinely looking forward to trying these out. I also appreciate the brand telling me what I'm smoking, as most brands leave their hemp strains unidentified.
They're advertised to contain approx 72mg of CBD in each cigarette and their third-party lab reports are published online, but their lab tests verify potency only. I emailed the team to ask if they had any evidence of purity or safety testing available (perhaps on the flower itself?), but unfortunately they don't at this time.
First impressions
Plain Jane hemp cigarettes come in a standard, sturdy cigarette box that holds 20 firm, well rolled cigarettes. They have a pretty standard-looking cigarette filter and there is a faint smell of hemp before lighting up.
Experience
Once lit, the pleasant flavor of hemp hits you and offers a nice, smooth, and enjoyable smoke. It pulls through a little faster than I like, so I have to take slightly smaller hits, but it burns evenly all the way down and having the pack there when I want to smoke is just so convenient.
PJ cigarettes burn a tad faster than some I've tried and much faster than CBD pre-rolls, but overall, they offer a great user experience and definitely help me stay away from traditional tobacco cigarettes.
The CBD effects offer a mild feeling of relaxation after smoking a full cigarette, and I feel slightly as more motivated and uplifted too.
What's really inside?
When you spend hours researching different hemp cigarette brands, you'll see that the vast majority of them claim to contain 100% premium hemp flower, but I thought I'd take a look for myself by cutting one from each brand open, to examine the contents.
Plain Jane did fairly well in this "dissection experiment" as although it didn't look as premium quality as the top three contenders, it did have a healthy green color and some fluffiness to the biomass, which made me place them in 5th place. I think you'll agree that 5th place out of 12 is pretty respectable.
I also sent some cigarettes to a third party lab of my choosing to check the potency of each. My lab reports showed Plain Jane cigarettes to be around 11% weaker potency than advertised (at 64mg per smoke). I guess that explains why the effects I felt were fairly mild. It's not ideal, but it was a long way away from the worst result I saw.
Does Plain Jane CBD get you high?
No, Plain Jane CBD won't get you high as all of their hemp is third party tested to prove its compliance under the Hemp Farming Act, meaning it contains only trace amounts (less than 0.3% THC) of THC.
Is Plain Jane discreet?
Like most CBD flower vendors, Plain Jane is a very discreet packer. Their boxes give no mention as to what's inside and upon request, their CBD flower will be vacuum sealed to conceal odor free of charge.
Final word
Out of all the 12 cigarette brands I tested over December '21 and January '22, Plain Jane CBD Cigarettes were immediately one of my favorites for tobacco replacement (not effects), so it's a shame they don't offer full panel third party testing.
They're also well made, hugely convenient, and their low odor cigarettes are a great option for people that are worried about a strong cannabis smell wafting down their corridors or streets.
NB. It's important to note that they are low-odor (not no-odor!), so they're not designed for stealth smoking, but they're nowhere near as potent smelling as the other CBD cigarettes out there.
Where to buy Plain Jane Cigarettes
If you'd like to try Plain Jane cigarettes for yourself, I recommend that you buy direct from the company themselves online (go to their website here). Not only will you secure the best deals by going direct and cutting out the middleman, but you can also sign up for their newsletter and use discount codes that you're sent via email.
If you're looking for a Plain Jane CBD Cigarettes coupon code to use right now, then you can check to see if we have one on our current list of CBD discount codes. They change them frequently, so I recommend you join their mailing list to receive the latest ones.
If you liked this Plain Jane Cigarettes review, please check back soon for my honest reviews of other PJ products, including Plain Jane delta 8 products. Or better yet, join our mailing list to keep up with all the latest CBD news and reviews from all of us here at CBD Incubator.
Coming soon:
Plain Jane CBD Tincture review
Plain Jane Delta 8 Cigarettes review