More than just CBD cigarettes
I remember a time when the only products produced by Vance Global were CBD and Delta 8 cigarettes, but those guys from Wisconsin were doing one hell of a fantastic job. After stringent testing of over 12 brands, they won #1 spots in both our best CBD cigarettes and best Delta 8 cigarettes features.
Over the years, I've watched their product line-up evolve and I'm happy to say that their focus on quality, safety, and affordability, has never wavered.
In this Vance Global review, you'll find my honest account of testing their CBD, Delta 8 THC, and HHC products, which includes potent (af) gummies, brand new vape carts, and (of course) their award-winning cigarettes, where it all began.
Vance Global review summary
In short, I've personally been nothing but impressed with every single one of this brand's products and attitudes towards quality, safety, and prices, since day one. Every single product, as standard, is highly potent, purity tested, and affordable. What's not to like?
Pros
Highly potent products
Premium quality ingredients
Incredible value for money
Comprehensive full-panel (potency and purity) lab testing
Award-winning cigarettes
Organic, locally-grown hemp
Great product consistency (small batch production)
Cons
Only one potency option (apart from the CBD cigarettes)
High product potency may not be ideal for beginners
What is Vance Global?
Vance Global CBD is a CBD, D8, and HHC brand that is owned and operated by two young Wisconsin entrepreneurs that specialize in manufacturing high quality hemp cigarettes, gummies, and vapes. They source their premium, organic hemp flower locally (just a couple of counties away) and take their product quality very seriously indeed.
Is Vance Global legit?
Vance Global is 100% legit and their products are not-only superior in quality to most others on the market, but they're also more affordable too.
In-depth Vance Global reviews: The products
The writing of this review was inspired by Vance Global's brand new vape carts, so that's where I'll start. I heard they had carts in development last year, but Brandon told me from the start that it might take them a while to produce something they were happy to sell. In other words, something that met their incredibly high standards. Talk about setting high expectations…
Vance Global CBD cigarettes review
At the time of writing, Vance Global offer four different types of cigarettes, including two CBD options, one with Delta 8, and one with HHC.
Vance Global Pure Hemp cigarettes – contain nothing other than organic hemp, hemp paper and biodegradable filters (150mg of CBD per cigarette, pack of 10 for $12.99)
Vance Global All Natural Blend cigarettes – organic hemp plus a blend of organic herbs (100mg of CBD per cigarette, pack of 10 for $9.99)
Vance Global Delta 8 cigarettes – organic hemp enriched with delta 8 (100mg CBD & 50mg D8 per cigarette, pack of 10 for $24.99)
Vance Global HHC cigarettes – contain organic hemp enriched with 50mg of HHC distillate (50mg of HHC per cigarette, pack of 10 for $29.99)
For a while they also had THC-O cigarettes available (as well as gummies), but recently switched these out for HHC cigarettes and gummies. Possibly in response to the DEA's statement about deeming THC-O to be a controlled substance.
First impressions
These cigarettes had no problem making an impression as soon as they arrived as they were the only brand to actually stink of weed (in a good way) as soon as I opened them. They must be using some of the freshest and highest quality flower in the CBD cigarette business as no other cigarette brand smelled this strongly when I opened them up.
Vance Global packaging utilizes a standard cigarette box but the addition of a resealable mylar bag over the top of it means that you can keep the cigarettes much fresher for much longer.
The telltale smell does mean that these cigarettes wouldn't be any good for people wanting to be discreet about what they're smoking as, apart from the way they look, there is nothing discreet about these cigarettes (and I haven't even gotten to their Pure cigarettes yet).
The filter looks normal, but feels a little different to a regular cigarette filter, which must be due to the fact that it's a special high-flow, biodegradable filter.
The paper is a very thin, natural hemp paper, which makes them look a bit more fragile than the others, but they're actually fairly robust and stuffed so full of bright green hemp that it poke out of the end.
Experience
The cigarettes smell and taste great, very much like a pure hemp flower joint (I didn't notice the lavender). The high-flow filter means that the smoke pulls through pretty fast, so I find myself having to take smaller puffs than I usually would.
These cigarettes burn more slowly than many of the other cigarettes which may be down to the biomass not being as dry or old, but it could also be something to do with the thin, natural paper used to encase the cigarette.
Once or twice, I had a cigarette start to side-burn a little as I got closer to the filter, but apart from that they're really well made and have awesome effects.
They made me feel really relaxed and content, but with a sharpened focus and new appreciation for my immediate environment (you know when you start spotting details you hadn't noticed before).
What's really inside?
As part of our investigation for "Best CBD Cigarettes", I was keen to find out what was really inside all of the cigarettes I was smoking and wondered if there would be a noticeable difference in quality across the 12 different brands I was testing. So, I cut them all open and sent them away for independent testing.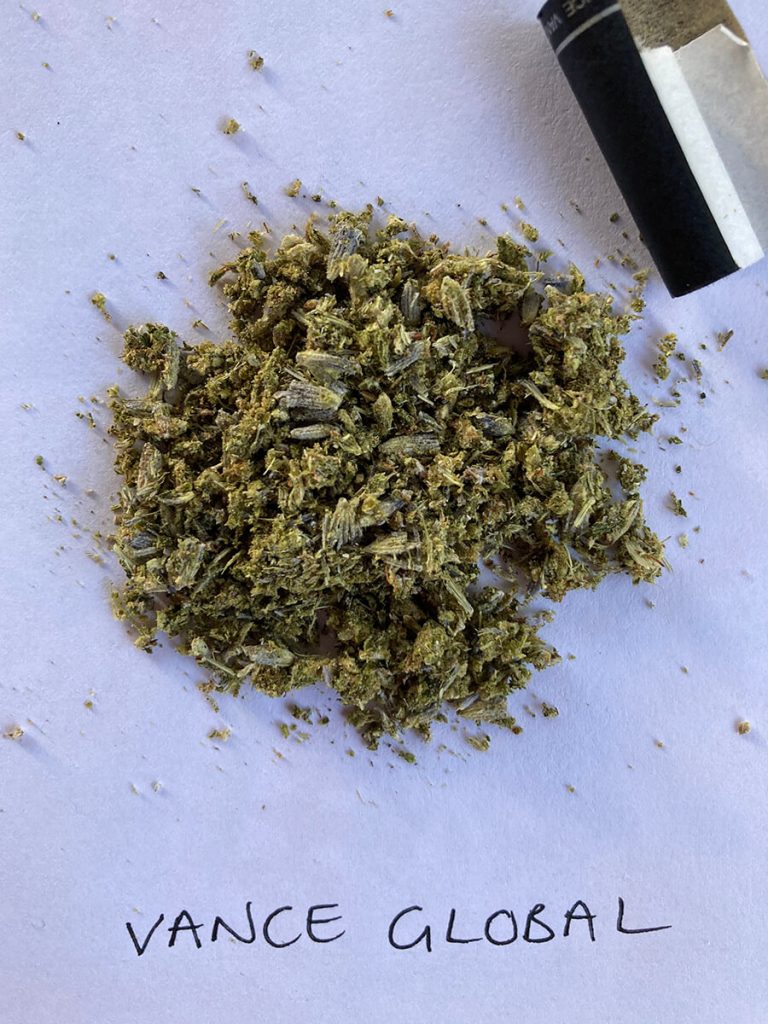 As it turned out, there really are massive differences in quality (find out more about the CBD cigarette testing process here, including pictures of all the different brands).
Vance Global CBD cigarettes placed at the number one spot in this test.
After third party lab testing for potency, these ANB cigarettes tested at a hefty 97mg of CBD per cigarette, just 3% off the advertised potency, which is a superb result.
Vance Global Pure CBD cigarettes review
If 100 mg per smoke isn't enough for you, then Vance Global's Pure cigarettes will be right up your alley. The effects are so strong, they actually make me feel a little bit giddy!. The production and quality is every bit as good as their All Natural Blend too (see above), so you won't be disappointed with these.
Vance Global Delta 8 cigarettes review
Vance Global smashed all of the competition out of the park once again, when I tested their Delta 8 cigarettes against some others on the market.
You can read more about them in our article about the top 3 best Delta 8 cigarettes.
Vance Global HHC cigarettes review
When it comes to their HHC cigarettes, I just tested them for the first time the other day. It was a weeknight, so I only smoked half a cigarette and saved the other half in an empty stash jar. I felt pretty light-headed and happy almost immediately, and then I walked back into the house and ended up having full-on conversations with my dogs.
OK, it was a little one-sided, but I was having a great time (side note – my husband was in the shower and actually thought someone had come round to visit). Aside from putting me in a great mood, these cigarettes also made me feel energized and motivated, so they'd make a great alternative to alcohol on a night out.
Does Vance Global get you high?
Many of Vance Global's products are designed to get you high and will, if that's what you're after. Whether you prefer Delta 8 THC or HHC, their cigarettes, gummies, and vapes, are all potent as hell. For me personally, one of these gummies is enough to send me to space for hours, but my husband prefers two (with other brands, he'd be taking three or four!).
If you're talking about Vance Global's CBD products, however, then you won't get high, as CBD is a non-intoxicating compound.
Where to find Vance Global products
If you're wondering where to find Vance Global, then I'd recommend heading over to their website and buying from them directly. This will ensure you get the best price possible by cutting out the middleman.
My top #3 reasons to shop with Vance Global
If you're still with me and need any more convincing that this is a smashing brand, then here are my favorite things about shopping with Vance Global:
Highly potent & effective products
First things first. You want products that work, right? Well, you definitely get that from Vance Global. If anything, their high potency is one of the brand's only drawbacks, as some users may have to half or quarter the serving size to get where they want to be.
Quality, safe ingredients
These guys don't cut any corners either. Their production costs are probably a lot higher than most other brands, because buying premium ingredients and having all their products tested for potency and purity, like they do, doesn't come cheap.
But I get the feeling that the guys behind this brand only develop and produce products that they actually would (and do) take themselves. Which, I think you'll agree, is pretty awesome.
Low prices
The crazy thing is that their prices are actually lower than most other CBD brands, meaning they must be working with a lower profit margin. They're making clean, safe, quality hemp products accessible to more people, and I really admire them for it.
And I almost forgot to mention that they also offer free shipping (I hate being stung with shipping costs at the end of an order). They do ask you to sign up for an account to access the free shipping, but their email newsletters are pretty entertaining, sometimes hilarious, and almost always contain special discount codes. Plus, they don't bombard you with them (off the top of my head, I'd say I get one every few weeks or month).
Final word
Vance Global ticks all of the same boxes that other high-end, luxury CBD cigarette brands do, but without the high-end price tag to go with them.